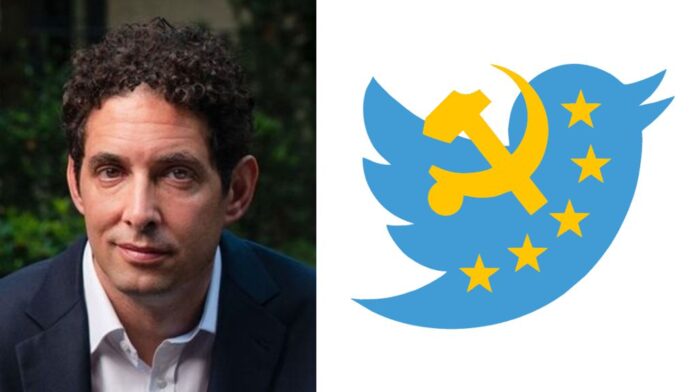 Twitter has permanently suspended former New York Times journalist and author Alex Berenson, an outspoken critic of CCP virus mandates and lockdowns—as well as Big Tech censorship.
"The account you referenced has been permanently suspended for repeated violations of our COVID-19 misinformation rules," a Twitter spokesperson told news outlets on Aug. 28.
Berenson, on his Substack page, also confirmed the suspension, writing: "Goodbye, Twitter."
"This was the tweet that did it," he wrote, referring to a now-deleted tweet that downplayed the efficacy of COVID-19 vaccines. "Entirely accurate. I can't wait to hear what a jury will make of this. Meantime, guess you'll be getting more Substacks."
Berenson later noted that the ban didn't surprise him.
"I expected this day was coming," he wrsocialote. "And Twitter can't touch my Substack (in fact, it reportedly tried to buy Substack last year, but Substack fortunately said no)."
Berenson also hinted at possibly filing a lawsuit against Twitter over the suspension.
The Centers for Disease Control and Prevention (CDC) and other health agencies have said that COVID-19 vaccines "are safe and effective" after clinical trials and say that side effects are rare. CDC Director Dr. Rochelle Walenksy and others have cited studies saying that the vaccines don't necessarily prevent transmission of COVID-19, but have stated that the shots limit the severity of the illness.
Berenson worked for The New York Times from 1999 until 2010 before becoming a full-time author.
In July, Dr. Anthony Fauci, one of President Joe Biden's COVID-19 advisers, criticized Berenson for his speech at the Conservative Political Action Conference.
"It's horrifying. … I just don't get that. I mean, and I don't think that anybody who is thinking clearly can get that," he said of the crowd's response to Berenson's speech.
Before his suspension, Berenson had often cited the results of a preprint Israeli study that found that previous COVID-19 infection provides better protection against the Delta variant than any of the COVID-19 vaccines.
"SARS-CoV-2-naive vaccinees had a 13.06-fold increased risk for breakthrough infection with the Delta variant compared to those previously infected, when the first event (infection or vaccination) occurred during January and February of 2021," the study reads.
SARS-CoV-2 is another name for the CCP virus.
Those who were vaccinated, the study found, were also at a higher risk of being hospitalized compared to people who were previously infected.
Berenson also assailed what he described as Big Tech censorship, writing for The Wall Street Journal in December that the pandemic has ushered in a "new age of censorship and suppression."
"Information has never been more plentiful or easier to distribute. Yet we are sliding into a new age of censorship and suppression, encouraged by technology giants and traditional media companies. As someone who's been falsely characterized as a coronavirus 'denier,' I have seen this crisis firsthand," he wrote, with Amazon twice having allegedly blocked the publication of his book.
By Jack Phillips
Read Original Article on TheEpochTimes.com