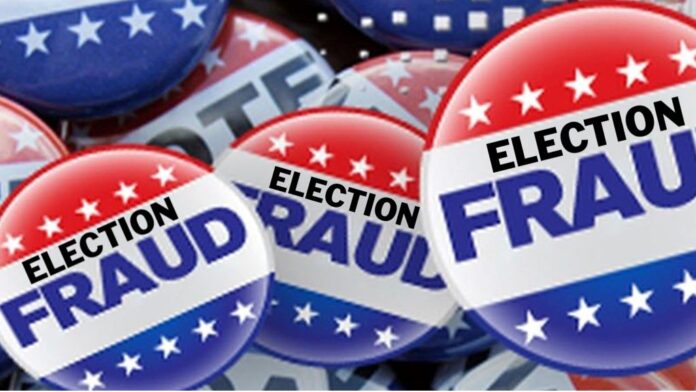 Dominion voting system is a Canadian owned company with global subsidiaries. It is owned by Staple Street Capital which is in turn owned by UBS Securities LLC of which 3 out of their 7 board members are Chinese nationals. The Dominion software is licensed from Smartmatic which is a Venezuelan owned and controlled company. Dominion Server locations have been determined to be in Serbia, Canada, the US, Spain and Germany.
Contrary to MSM claims, many cases filed by Republican and/or private plaintiffs in courts around the country were not "lost." In most cases the courts refused to even hear the evidence, or the cases were dismissed because of "lack of standing." No court had all the evidence because new data arose daily.
Sudden and sharp vote dumps fo Biden in battleground states were systematically larger than other vote dumps that came into other states, making them especially crucial for swaying election outcomes in the respective states.
No sitting president in 132 years has gained votes between his first and second race and lost re-election.
Trump won at least 11 million more votes in 2020 than in 2016, including the highest percentage of the non-white vote of any Republican candidate in 60 years (making significant gains among African-American, Latino, Jewish and even Muslim votes), yet allegedly lost.
Despite Biden allegedly receiving 15 million more votes Obama did in his 2012 re-election, the democrats lost 13 house seats.
Biden undrperformed Hillary Clinton's 2016 vote in every major metro area, yet somehow outperformed her in the major swing state cities of Milwaukee, Detroit, Atlanta and Philadelphia.
Biden also allegedly won dspite having received a record low share of the Democrat primary vote, while Trump set a record for primary votes for an incumbent – 18 million primary votes, doubling the previous record, set by Bill Clinton.
Trump is one of the only incumbents to win more than 90% of the primary vote since 1912.
No incumbent who recieved at least 75% of the primary vote total has ever, until 2020, lost the re-election.
In Pennsylvania, only 19% of the vote additions favored Trump from November 4th through November 7th. Moreover, the integral of all vote update differenced in this time range results in 578,014 votes for Biden with and only 3,290 for Trump.
McCandless precinct in Allegheny County, PA, has a ration of 86 Democrat votes to every 14 Republican votes 2020, but in 2016 the same county had a 47 Democrat votes for every 53 Republican votes. An obvious severe departure from statistical norms.
In Arizona 22,093 mail in ballots were "received" the day BEFORE they were mailed.
In Arizona 33,400 illegal immigrants were estimated to have voted.
In Georgia, after the recount, the original numbers were used to ceritfy the results. Even though the recount had differing results.
Thousands of citizens filed affidavits under oath, (under penalty of perjury) asserting irregularities and illegal activities in voting places.
A Georgia polling manager testified that stacks of hundreds of "mail in" ballots that were tallied, were on perfectly flat "pristine" paper that had never been folded. (If a ballot is really mailed, it has to be folded in two places to fit in the envelope.)
Georgia's Secretary of State Brad Raffensperger, without legislative approval, unilateraly abrogated Georgia's statue governing the signture verification process for absentee ballots.
A sworn affidavit from mathmatical analysis of the publically available vote update data showed that:
"The repitition of the many different ratios transferring simultaneously across many different precincts located many miles away from each other strongly demonstrates a clear, intentional, deliberate manipulations of the votes completed via software."
In Arizona, 2,000 voters were "registered" to a vacant lot.
In the Antrim Michigan forensic report of the audit of Dominion Voting System tabulator machines software, it was found that someone had attempted to zero out all election results at 13:53:09 on November 21, 2020. This is clear and unchallenged example of direct tampering with evidence.
Arizona election law states that "procedures shall allow party observers to effictively observe the election process." But many Republicans were escorted from the building by election officials when protested the illegal situation of not being alloed to effictively observe the process.
Lastly, the same party that told us in 2016 election was stolen by Russia, and warned us of the election fraud by use of electronic voting systems, now say the integrity of this election was unsurpassed and it's impossible to steal an election.
See Original Video on PureData on Rumble