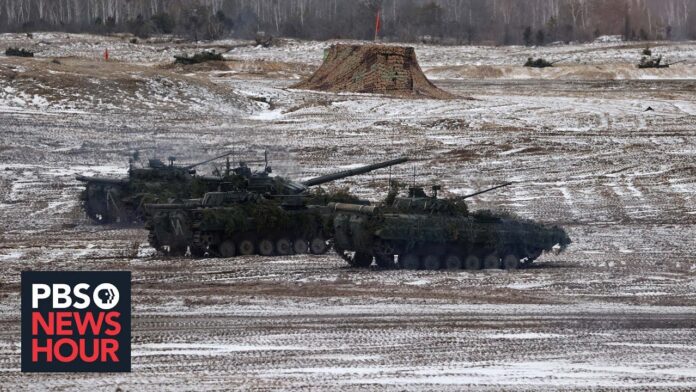 The United States is set to issue sanctions directed at Russia following Russian President Vladimir Putin's announcement that Russia will regard two areas in Ukraine's Donbas region as independent, and his subsequent signing of a decree that authorized Russian troops to be sent into the area for so-called "peacekeeping operations."
Ukrainian President Volodymyr Zelensky in a presidential address to the nation criticized Russia's recognition of the pro-Russian separatist-held Luhansk and Donetsk regions, saying that Russia's actions violate Ukraine's sovereignty and territorial integrity.
After an emergency U.N. Security Council meeting late Monday, U.S. Ambassador to the United Nations Linda Thomas-Greenfield announced the impending U.S. actions.
"Tomorrow, the United States will impose sanctions on Russia for this clear violation of international law and Ukraine sovereignty and territorial integrity," she told reporters, adding, "We can, will, and must stand united in our calls for Russia to withdraw its forces, return to the diplomatic table, and work toward peace."
At the emergency meeting, Thomas-Greenfield dismissed Putin's actions as "nonsense."
"[Putin] has since announced that he will place Russian troops in these regions. He calls them peacekeepers," Thomas-Greenfield said. "This is nonsense. We know what they really are."
The White House had earlier announced sanctions in response to Putin's actions aimed at the two separatist regions, to prohibit Americans from investing and conducting business in the areas.
"The Departments of State and Treasury will have additional details shortly. We will also soon announce additional measures related to today's blatant violation of Russia's international commitments," Press secretary Jen Psaki said in the statement.
Putin justified his decision in a pre-recorded speech blaming NATO for the current situation and calling the U.S.-led alliance an existential threat to Russia. The Russian president described today's Ukraine as a modern construct that is inextricably linked to Russia. He charged that Ukraine had inherited Russia's historic lands and after the Soviet collapse was used by the West to contain Russia.
"I consider it necessary to take a long-overdue decision: To immediately recognize the independence and sovereignty of Donetsk People's Republic and Luhansk People's Republic," Putin said.
Read Full Article on TheEpochTimes.com