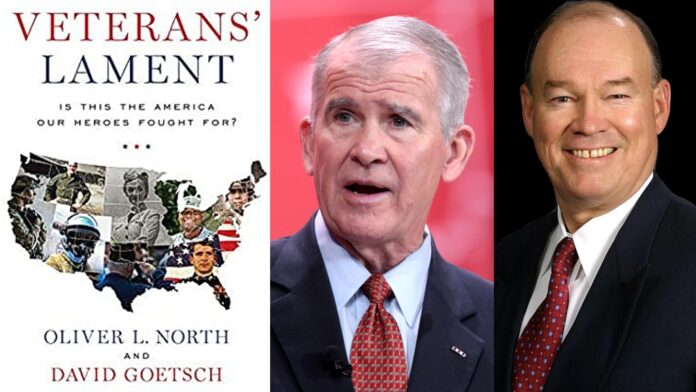 Based on interviews of military veterans by the authors, Veterans' Lament explains why so many of our American military heroes—those willing to put their lives on the line to protect the United States—now question if our nation is still the country they fought for.
What is happening to our country? This question is heard more and more frequently these days as Americans worry about the unrelenting attacks by so-called progressives on the foundation, core values, and history of our nation. Nobody is more concerned than those Americans who volunteered to serve in uniform and willingly put their lives on the line to protect the United States and all it represents. Based on interviews by the authors, this book explains why many of our American heroes believed in and loved our nation enough to go into harm's way to defend it, and why so many of them now question if America is still the country they fought for. More importantly, it asks—is America still worth fighting for?
Editorial Reviews
Review
"Veterans' Lament, written by two fellow Marine veterans Oliver North and David Goetsch, does Americans a great service by exposing the left's strategy of denying and revising our historical record to provide a false foundation for their 'progressive' narrative. Evidence of the Christian foundation of our country is overwhelming and undeniable, but the left's intentional removal of that evidence has set America up for a militantly secular, anti-Christian, unlimited government. This book can help us avoid that tragedy and rebuild our sabotaged foundation." — Archie P. Jones, Ph.D., co-author of Liberal Tyranny in Higher Education and U.S. Marine Corps veteran
"In light of the polarization we see all around us, I recommend Veterans' Lament especially to young people at any point on the political spectrum. Here is an accessible volume in which you hear directly from many veterans who have earned the right to be heard. You will find the words, heartfelt concerns, and commitment of those who have gone before and sacrificed a great deal to secure the blessing of liberty we enjoy and have inherited as a fragile stewardship." — Ben Rossell, pastor, Trinity Presbyterian Church/Communion of Reformed Evangelical Churches
"Veterans' Lament is an excellent new book by two Marine veterans, Lt. Col. Oliver North and Dr. David Goetsch. It makes the important point that appeasement and compromise have weakened the soul of our nation. The rights of our military personnel, students, and citizens, in general, are being methodically stripped away by a vocal minority." — Lt. Col. (Retired) Sean Aland, U.S. Air Force
"Veterans' Lament is a must-read not just for military veterans and their families, but for all Americans who are concerned about our nation's future. Veterans are rightly concerned about the internal attacks on our culture, values, and liberty by anti-Christian progressives who distort our history. Lt. Col. Oliver North and Dr. David Goetsch deliver a book that will equip you to help restore our culture and the liberty for which our veterans fought." — Jennie Jones, professor of political science and American history
"This excellent new book by Oliver North and David Goetsch is a thought-provoking read for all Americans of all political affiliation and persuasions." — David King, Senior Non-Commissioned Officer (Retired), U.S. Air Force
"In this new book, Oliver North and Dr. Goetsch demonstrate in clear terms why I have great concerns for future generations unless our country is turned around and our national sovereignty respected once again."
— Dr. Charles E. "Chuck" Merkel, Jr. Major (Retired), U.S. Army
"In their new book, Veterans' Lament, Lt. Col. North and Dr. Goetsch make the important point that the farther America has drifted from its Christian roots, the worse things have become. This book shows in clear terms how to turn things around." — Pastor Walter Williams, U.S. Air Force veteran –This text refers to the hardcover edition.
About the Author
Oliver North is a combat decorated U.S. Marine, #1 bestselling author of The Rifleman. He was a syndicated columnist and host of War Stories on Fox News Channel. Most recently he served as the 66th president of the NRA. LtCol. North and his wife live in Virginia and prize time with their four kids and eighteen grandkids.
David Goetsch is a Marine Corps veteran and member of the Florida Veteran's Hall of Fame (Class of 2016). While serving in the Marine Corps, he received the George Washington Medal of Freedom from the Freedoms Foundation in Valley Forge. Dr. Goetsch is a professor of business, Christian counselor, and author of seventy-six books. Several of his books are bestsellers that have been translated into various foreign languages. –This text refers to the hardcover edition.