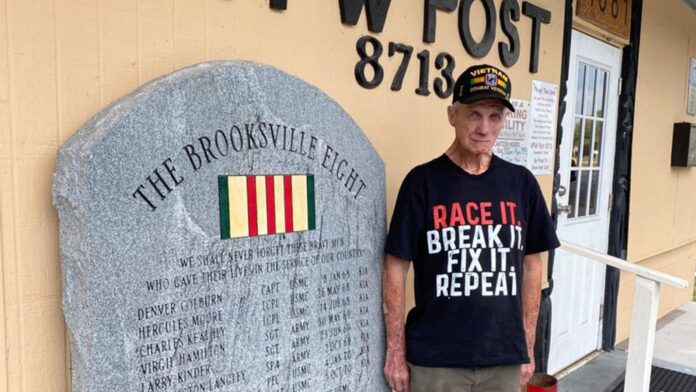 On Monday, May 31, Americans from sea to shining sea will observe Memorial Day. However, veterans are quick to remind you: "It's not about us."
"Monday is not about us," Sergeant J.O. Batten, Commander of VFW Post 8713 in Brooksville, Florida told The Epoch Times. "It's about the men on that wall out there. A lot of people don't realize that."
Batten, a United States Marine, served in Vietnam from 1968 to 1969.
"The wall" is a granite monument, which stands guard at the front door of VFW. It bears the names of a group of men known as "The Brooksville Eight," men who were killed in action during the Vietnam War.
They are:
Capt. Denver Colburn, Lance Corporals Hercules Moore and Charles Keathly, Private First Class Danny Overton, and First Lieutenant Denis Vacenovsky of the United States Marine Corps; Sergeants Virgil Hamilton and Larry Kinder and Specialist Washington Langley of the United States Army.
"Memorial Day is not about veterans who are still alive," Ron McCombs told The Epoch Times, standing at attention before the wall as he looked at the names engraved into the stone. "It's about those men, the ones who didn't make it."
McCombs, now 73-years-old, was an E5 in the U.S. Army. He also served in Vietnam from 1968 to 1969.
Batten said there aren't many veterans left from the Vietnam war at his post, and those members who served in World War II and Korea have all passed away.
"Ron and I are the only ones left here from the Vietnam era," Batten said.
Originally known as Decoration Day, Memorial Day originated in the years following the Civil War. However, it didn't become an official federal holiday until 1971. Still, in the 50 years that have passed, veterans have observed how the sacred meaning of Memorial Day is becoming diluted and lost.
Read Full Article on TheEpochTimes.com