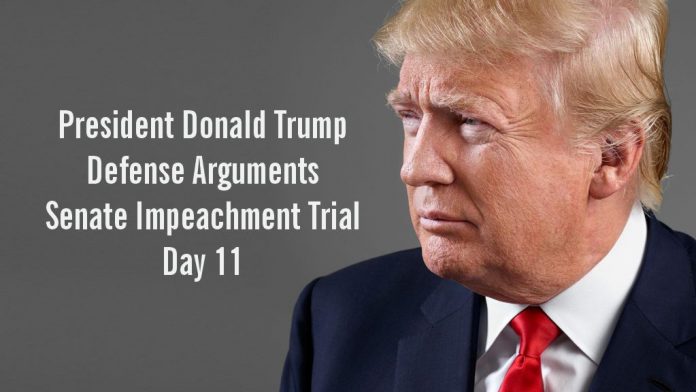 House managers and the president's legal team are each delivering their closing arguments in the impeachment trial on Feb. 3, 2020 before senators began to weigh in with debate on whether to remove Trump from office. In December, the House of Representatives charged him with two articles of impeachment — abuse of power and obstruction of Congress. After the Senate on Friday voted to bar new witness testimony and subpoenas for documents, Trump's acquittal has seemed all but assured.
All Video Playlist: Trump impeachment Trial – February 3, 2020
Below are videos of just President Donald Trump's defense team delivering their closing arguments
Video 6: Ken Starr claims that House managers didn't follow the rules | Trump impeachment trial
Defending President Donald Trump, attorney Ken Starr suggested that House managers didn't follow proper procedures in presenting their case against the president's actions. "It's why we don't allow deflated footballs or stealing signs from the field. Rules are rules. They are to be followed," he said. Starr then asked: "Have the facts presented to you, as a court as the high court of impeachment, proven trustworthy? Has there been full and fair disclosure in the course of these proceedings?"
Video 7: Trump lawyer Michael Purpura says impeachment articles are 'deficient and must fail'
Deputy White House counsel Michael Purpura argued that there were several reasons "why the articles of impeachment are deficient and must fail." Purpura also mentioned comments made by acting White House Chief of Staff Mick Mulvaney about the connection between a hold on aid and investigations, saying that either media reports were "misinterpreting" Mulvaney's comments or he had misspoken.
Video 8: Trump lawyer Philbin argues impeachment inquiry wasn't designed to 'search for truth'
Deputy White House counsel Patrick Philbin said the House of Representatives "didn't follow the law" in pursuing its impeachment inquiry into President Donald Trump's actions. Philbin said, at the beginning of the inquiry, a number of "totally invalid" subpoenas were issued. From there, he argued, the "House violated every principle of due process and fundamental fairness in the way the hearings were conducted." Philbin continued: "Denying the president the ability to be present through counsel, to cross-examine witnesses and to present evidence fundamentally skewed the proceedings in the House of Representatives." Philbin said the House's inquiry wasn't "truly designed for a search for truth."
Video 9: Trump lawyer Sekulow calls impeachment inquiry 'partisan' and 'reckless'
Jay Sekulow, the personal attorney to President Donald Trump, argued that the articles of impeachment "fail to allege impeachable offenses," and thus should fail. "This entire campaign of impeachment, that started from the very first day that the president was inaugurated, was a partisan one and it should never happen again," he said. Sekulow further described the proceedings as "reckless."
Video 10: Trump lawyer Cipollone argues impeachment inquiry is 'purely partisan and political'
White House counsel Pat Cipollone asked the Senate to end "the era of impeachment" and reject the articles of impeachment against President Donald Trump, saying the inquiry had been "purely partisan and political." Cipollone further said the impeachment proceedings were a "waste" of people's time and congressional resources.
Senate Impeachment Trial Day 12