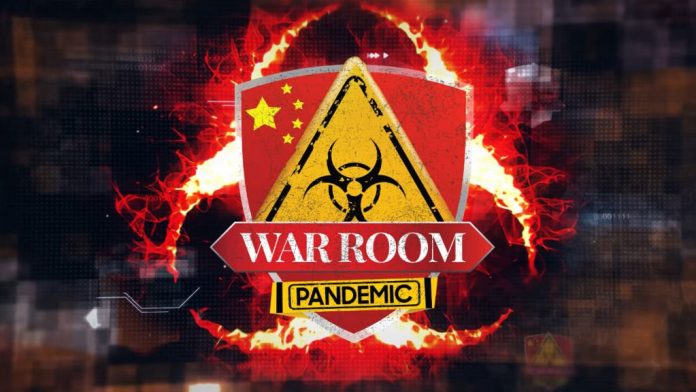 WAROOM: PANDEMIC articles cover the Chinese Communist Party and coronavirus, designated 2019-nCoV, including China's disinformation and propaganda in the wake of the global outbreak and the media's willingness to continue to act in the dark about the Chinese Communist Party's role in the global viral outbreak.
Links to Important Articles
Michael Pack Stands His Ground Amid D.C. Firestorm
Analysts: Trump Should Bring Back Bannon
Two US Navy Carrier Strike Groups Deployed to South China Sea
London-based HSBC Pledges MORE Investments in China
Experts: China's Atrocities Against Uyghurs Are "Genocide"
Chinese Cyber Security Law May Make Companies Disclose ALL Security Plans
"Anonymous" Targets TikTok: "Delete TikTok now"
SHOCK VIDEO: US Students Targeted With CCP Propaganda
California Rejects Chinese Firm's Push to Access US Genetic Material
China Never Reported Existence of Coronavirus to WHO
Behind the $7M PR Firm Backing CCP's Hong Kong Crackdown
Why Duterte Backflipped on His Divorce Plans with US Military
China Threatens WTO Action Over India's Chinese App Bans
Protest Erupts At China's DC Embassy: "Take Down the CCP"
UK Summons Chinese Ambassador Over Hong Kong Repression
Hundreds Arrested As Hong Kong National Security Law Takes Effect
U.S. Border Agency: 11,000 Assault Weapons Parts Smuggled In From China
U.S. Border Agency Seizes Almost 13 Tons of HUMAN HAIR from China
State, Treasury, Commerce, & DHS Issue Warning on China's Slave Labor
China's "FakeSpy" Spyware Masquerades As Postal Service Apps
China's "GoldenEagle" Spyware Has Stalked Uyghurs Worldwide for Seven Years
Mark Simon: Biden Team Stacked With China Appeasers
Top Religious Freedom Watchdog: Chinese Regime May Be Engaged in Genocide
Gulags: Hong Kongers May Face LIFE IN PRISON Under New "Security" Law
FCC Designates Huawei, ZTE As National Security Threats
Chinese National Guilty of Laundering Millions for Mexican Drug Cartels
India Bans Chinese Apps on National Security Grounds
Details Behind Raid of Australian MP Released; China Connection Suspected
Hauwei's Darkest Secret Could Pose a Big Problem
Four Charged for Attempting to Tear Down Statue of President Andrew Jackson
China's 'Confucius' Propaganda Institutes Operate In Hundreds Of US K-12 Schools
US Bars Dual-Use Defense Exports to Hong Kong
Report: China Committing Genocide via Forced Abortions, Sterilization
DHS Scientists Rushing to Unlock Secrets of CCP Coronavirus
Swine Flu w/ Human Pandemic Potential Being Found in Chinese Pigs
As Critics Rage, Pack Aims to Pierce China's Info Firewall
Chinese Mega-Fraud "Luckin Coffee" to Delist from NASDAQ
Professor Convicted of Stealing Trade Secrets for China
Jewish Organization Celebrates Passage of Uyghur Sanctions Bill
NYT Columnist David Brooks: Trump Should Listen to Bannon over Kushner
Nat Sec Advisor O'Brien Calmly Destroys CCP in Half-Hour Speech | (WATCH HERE)
CCP Tries to Hijack US Foreign Policy W/ Trade Deal Purchases
China Pushes "Palace Diplomacy" In Africa, Bribing & Spying On Rulers
DOD Produces List of Chinese Military-Linked Companies
China Using Counter-terrorism As Pretext to Detain Uyghurs
CDC Claims CCP Virus Cases May Be 10x What's Being Reported
The "United Front" — How China Has Co-opted the US Media
Top Zoom Investor Funded Chinese Communist Party-Linked AI Program
State Dept. Designates More Chinese Media Companies as "Foreign Missions"
CNN Reporters Now Working for Chinese Propaganda Outlet
Trump Admin Shuts Down Radio Station Run by Chinese Propaganda Outlet
A Fundamental Change: AG Barr Says US Is Cracking Down on Chinese Spying
China Accused of Targeting, Intimidating Uyghur Refugees in Europe
Poll Shows Highest Ever Support for Taiwan Independence
Chinese Navy Gets Closer to Next Generation of Nuclear Subs
Apple Kowtows to China; Thousands of Games to be Deleted from App Store
Citing Intrusion Into India's Ladakh Region, Pompeo Blasts China as "Rogue Actor
IRS Expands Criteria for Withdrawing Retirement Funds Due to CCP Virus
China To Create Hong Kong "Security Bureau," Further Smothering Freedo
Australia Under Sophisticated, Sustained Cyber Attack
China Falsely Charges Two Canadians With Espionage in High-Stake Huawei Hostage Ploy
Ex-Google CEO: "No Question" Huawei Routed Data to Beijing
China's Surprise Years in the Making: An EMP Attack
Three Ex-Aides to Taiwanese Legislators Exposed as Spies for China
US Is Taking Action on Uyghurs… Now Other Nations Must, Too
China Building Massive DNA Database of Men and Boys
China's Media Influence Has Gone Global; So Has the Pushback
Inndia's Intel Agencies Blacklist 52 Mobile Apps w/ Links to China: LIST
PLA suffers '43 casualties' in border clash with India: Report
Users of Chinese App TikTok Requesting Trump Rally Tix They'll Never Use
Chinese Appliance Billionaire Held Hostage By Attackers With Explosives
CCP Virus Survivor Gets Hit With $1.1 MILLION Medical Bill
Chinese Consulates Deploying "Mask Diplomacy" Across US
The India-China Border Dispute Explained in 400 Words
54 Scientists Have Lost Jobs Due to NIH Probe into Foreign Funding
Bannon: 2020 Election is All About China
Over 1,300 Chinese Medical Device Suppliers Using Bogus Registration Data
MORE Probably-Chinese Spyware Found Targeting Uyghurs, Tibetans, Others
American Express Latest Firm to Bend Knee for Chinese Market Access
Lockdowns Are Back As Virus Re-Emerges in Beijing
Biden Promised He'd Pay China Despite China Owing U.S. 1.6 TRILLION
Bannon, Bass, CPDC Call on Mnuchin to BAN China from US Markets
Chinese Military Officer Arrested at LAX for Visa Fraud; Had US Lab Info
Bipartisan Group of Lawmakers Demand Answers from Zoom
China, Notorious for False Charges, Sentences Australian to Death
China Ignored Sanctions on Venezuela, Bought Oil Anyway
Twitter Admits China Using Massive Army to Influence Politics
Zoom Confirms It Censored Tiananmen Activists at China's Behest
US Deploys Two Carrier Strike Groups As China Threatens Taiwan, Japan
EU Diplomat Channels Neville Chamberlain: "China Not A Military Threat"
Huawei, Hong Kong, HSBC… Pompeo Calls Out China For Bullying UK
Huawei's Future Fading Quickly As Global Alliance Emerges
"5-Eyes" Intel Alliance Will Boost Supply Chain Security
Harvard Scientist Indicted for Lying About Wuhan "Thousand Talents" Research
GOP Calls for Sanctions on China's Shadowy "United Front"
ICYMI: How All-American Mom Became a Informant for Chinese Spies
UK Study Examines Why Some Ethnicities Are Hit Harder By CCP Virus
Lax Oversight Letting Chinese Telcos Conduct Espionage in U.S.
Chinese Propaganda Outlet Has Paid US Media $19 Million For Advertising, Printing
Australia Must Help Win a 'New Cold War' Against China and Defend Democracy
Coronavirus Obliterated Best African-American Job Market on Record
Grad Student Files Class Action; Wants Tuition Refund for Online Class
China's Censorship Likely Slowed World's Response to Pandemic
Sat Data Suggests Pandemic Might've Started in China Earlier Than Admitted
Navarro: China Has Exploited Pandemic to Advance Its Strategic Interests
Brazil's Bolsonaro Threatens W.H.O. Exit, Accuses of Idealogical Bias
TIME Op-Ed: US Must Use New Law to Sanction China Over Religious Persecution
Students Call to Shut Beijing-Funded Confucius Institutes
New Evidence China KNEW Virus Was Contagious & Lethal Before It Told World
Pompeo Blasts China over "Obscene Propaganda" Over George Floyd
Raising $400M From US Markets, Chinese Firm Has Biggest Ever NASDAQ Biotech IPO
Lawmakers From Around World Form Alliance to Tackle China Challenge
China's WHO Goodwill Ambassador is a CCTV Reporter, Aired Forced Confession
Chinese Soccer Superstar Calls for Overthrow of Communist Party, Stunning World
China Threatens UK AGAIN… This Time Over Hong Kong Refugees
Former British Intel Head Says Pandemic Was Likely A Lab Accident
Australia & India Sign on To Comprehensive Strategic Partnership
China's Official Narrative on Wuhan Wet Market Contradicted by Leaked Document
Chinese Company Charged With Exporting Misbranded, Defective Masks
Hong Kong: Thousands Defy Ban, Gather to Remember Tiananmen Massacre
China: Knife-Wielding School Security Guard Goes on Rampage, Injuring Dozens
Dr. Thayer: The Chinese Regime Is Not Legitimate
Hong Kong Fears for Internet as Freedoms Disappear
Reporters Without Borders: China Remains #1 Enemy of Press Freedoms
State Dept. May Demand Hit More Chinese Media Outlets With Reciprocal Restrictions
Facebook To Stop Chinese & Russian State Media From Buying Ads
Google: China & Iran Are Attempting to Hack Trump & Biden Campaigns
Feeding the Dragon, Google DELETES App That Helped Users Delete Chinese Apps
Chinese Mask Maker Gets Sweetheart Reprieve on $1bn Cali Mask Deal
Chinese Propagandists Seize on George Floyd Protests
Chinese State Media Claims Chinese Citizens Cheering Unrest
Bombshell Recordings: China Withheld Virus Info from WHO Even as Org Praised
China's New High-Security Compound in Pakistan Hints at Naval Threat
US Issues Bipartisan Rebuke to China for Border Aggression With India
Indian App to Remove Chinese Apps Skyrockets to 1M Downloads in 2 Weeks
Ex-Chinese Official Extradited to US on Money Laundering Charges
Peter Morici: Sanction Chinese Banks for Hong Kong Repression
Health Officials Worry Protests Will Spark A Second Virus Wave
China Predictably Doesn't Honor US Trade Deal, Halts Some Ag Purchases
China Furious That US Is Protecting S. Korea from N. Korean Missiles
China Prepping Effort to Seize Control of Airspace in South China Sea
Opinion: US Should Ignore any new China ADIZ in the South China Sea
Trump Takes Action to Eliminate Hong Kong Special Status
President Announces US 'Terminating' Relationship with WHO
Top Chinese General Says China May Attack Taiwan
10 Nation Alliance Forming, Could Clean Path to Huawei-Free Future
Australian University Suspends Undergrad for 2 YEARS for Protesting China
U.S. to Expel Chinese Grad Students With Ties to China's Military Schools
China Approves Hong Kong "National Security" Law; World Preps Response
The Hong Kong Dollar: The Next Black Swan?
Wuhan Police Raid Christian Pastor's Home, Drag Him Away During Zoom Event
Pompeo: Hong Kong 'No Longer Autonomous,' Sets Stage for Sanctions
Rogin: We Must Find Bipartisanship on China Issue… NOW
House Passes Bill to Sanction Chinese Officials Over Human Rights Atrocities 413-1
Huawei Princess Loses Extradition Decision; HSBC Implicated in Iran Malfeasance
China Frets Lawsuits; Drafts Law to Its Let Citizens Arbitrarily Sue US States
Three Chinese Nationals Murdered In Zambia As Resentment Over Racism Grows
Twitter Hires Chinese Regime-Linked AI Expert
Dictator Xi Orders Military to Prepare for War
How India Can Deter China: Push Back in South China Sea
Taiwan Accelerates Missile Program In Response to Increasing Mainland Threats
Israel Chooses Wisely: Rejects Chinese Bid for Major Project
Pandemic Casts Light on Decades of Chinese Regime's Racism Towards Africans
China Building Government Buildings in Africa, Probably to Spy on African Leaders
Roger Kimball: Let's Blame China
Trump: "As One Nation, We Mourn"
Bannon: "If We Blink, We're Heading On a Path to War"
China's 'Bat Woman' Says Coronavirus Is Just Tip of the Iceberg
Economic Warfare: China Drops Currency to Lowest Vs Dollar Since 2008
US Is Ahead of China in Vaccine Race, For Now
China's Orwellian Health Scores Aren't Going Away
Uyghurs Being Disappeared in Forced Labor At Accelerating Rate
Chinese Regime's Racist Coronavirus Measures Against Africans Spark Outcry
Australian Undergrad Student Stands Up to CCP, Exposes University's Kowtowing
Silicon Valley Collaborating With Sanctioned Chinese Entities
China Prepping Orwellian National Digital Currency
China Blocking US Flights As Airlines Struggle
UK, Australia, Canada Sternly Warn China Over Hong Kong
Pompeo: China's Law "Death Knell" for Hong Kong; Warns of Consequences
Sky Turns PITCH BLACK in Beijing As Hong Kong Crisis Looms for Communist Party
Trump Warns US Will "React Strongly" If China Passes Hong Kong Law
UK Shares Plunge as Over China's Attempts to Destroy Hong Kong Freedom
Atlantic: Hong Kong's Revolutionary Anthem Is a Challenge to China
Chinese Communist Party Prepares "National Security" Law to Strangle Hong Kong
Fauci: Being Closed for Too Long Could Cause "Irreparable Damage"
Aussie TV Host: China In Hands of Thugs And Gangsters
Another Massive Lockdown Underway in China; WHO Covers It Up AGAIN
Bannon Predicts "American Jobs for American Workers" As Supply Chains Return
President Reveals He's Taking Hydroxychloroquine
China Declares Economic War on US Ally Australia
Pompeo Warns China Over Hong Kong Autonomy
Australia Wins Support from 120 Countries for Virus Inquiry
Pompeo Warns China Over Hong Kong Autonomy
Australia Wins Support from 120 Countries for Virus Inquiry
Taiwan's Inclusion in W.H.O. Under Consideration, China Likely to Block
Chinese Journalist Goes on Trial FOR TWEETS After 9 Months in Jail
China Has Arrested At Least 500 For Talking About Coronavirus
Revealed: China's Plans to Censor the Entire Internet
Charles Kolb: It's Time To Tear Down China's Internet Firewall
Democrats Push $3T Stimulus Bill Through House
Beijing Biden Attacks Trump for "Playing the China Card"
House of Representatives Approves "Remote Voting"
Investigational Vaccine Yields Promising Results in Monkey Study
President Announces "Super-Duper" Missile to Counter China, Russia
US Deals Massive Blow to Huawei With Export Controls; China Vows "Counterattack"
Think Tank: Evidence for China's Organ Harvesting from Prisoners of Conscience
Gertz: Chinese Deception Fuels Fears of Ethnic-Genetic Experiments
Chinese State Media: China Will Interfere in US Election
Revealed: China's Plans to Censor the Entire Internet
Charles Kolb: It's Time To Tear Down China's Internet Firewall
Senate Passes Bill to Address China's Human Rights Atrocities
POTUS Preparing Executive Order to Spur Domestic Pharmaceutical Production
FBI: China Trying to Steal Vaccine, Treatment Research from America
Leaked Chinese Military Database Shows China's Lying on Infection Numbers
Canadian Gov't Partners With Chinese Military to Test Vaccine on Humans
Trump Order Pulls Federal Retirement Funds Invested in Chinese Stocks
George Soros: Don't Work With China on Coronavirus
Virus Collector Miffed His US-funded Wuhan Contract Was Cut? A Hillary Donor.
Chinese Military Deeply Involved in Wuhan Coronavirus Research
Surge in Cybertheft; Chinese Military, Intel Targeting Vaccine Research
Brahma Chellaney: World Faces Moment of Truth on China
Satellite Imagery Shows Chinese Overseas Naval Base Expanding
Chinese State Media Launches Pitiful Attack on Bannon. Why Now?
German Intelligence: China Asked W.H.O. to Cover Up Pandemic
Mysterious Cellphone Data Indicates Possible Wuhan Lab Accident
US Navy Warns Chinese Communist Party: Stop Bullying Neighbors
Senate Majority Leader Expects Vote on Chinese Regime's Human Rights Abuses
Pence Press Secretary Positive for CCP Virus
SHOCK: Coronavirus Survivors Banned From Joining Military
GOP Bill to Rename Street Outside Chinese Embassy for Hero Whistleblower
YouTube Kowtows; Demonetizes Chinese Dissident's Video
Chinese Virus Testing Firm Liked to "Serious Human Rights Abuses"
China Suspected of Bio-Espionage in Heart of European Union
Mysterious Shipment of Ebola from Canada to Wuhan Under Investigation
Pompeo Presses Case Against China Over Virus Origin Cover-up, Taiwan
Steve Bannon: The Chinese People Want to Be Whistleblowers
Lawsuits Against China's Communist Party Are Multiplying
Chinese Regime's Media Takes Direct Aim At Bannon, Pompeo
London School of Economics Analyst Pushes CCP Propaganda Attacking Bannon
LEAK: "China's CIA" Is Terrified of a Tiananmen-Style Backlash Over Virus
Trump Official Warns China of Populist Backlash Over Repression
CCP Virus Survivors Want Answers; China's Communist Party Is Silencing Them
POTUS Trump Suspects Communist Regime Let Virus Spread on Purpose
DHS Intel: CCP Hid Virus Severity to Siphon Up World's Medical Supplies
LEAKED FIVE EYES INTEL DOC SAYS CHINA COVERED UP CORONAVIRUS
Dems Enlist AI Firm to Attack Trump Response to Coronavirus
GOP Rep. Unveils Bill to Probe WHO's Response to Coronavirus
China Scrambles to Erase Data from Wuhan Lab Website… Too Late
Cyber-spies Out to Steal Our Coronavirus Vaccine Secrets
POTUS Announces Remdesivir Emergency Use Authorization
Education Dept. Takes Aim At Uni. of Texas Over Wuhan Lab, Huawei, Zoom
GOP Pleads for Bipartisanship on WHO, Chinese Influence to Protect World Health
Poll: Overwhelming Majority Believe Virus Came From Wuhan Lab
Top Spy Agency Says Wuhan Lab Being Investigated As Possible Origin
Washington DC May Not Re-Open for THREE Months
CCP Virus May Kill 100K By End of Summer, Approaching WW1 Numb
Pompeo Says China Responsible for Outbreak: Must Detail Origin
US Gov Analysis: Wuhan Lab Most Likely Source of Outbreak
Ex-Clinton Official, Biden Staffer, WHO Expert Says Wuhan Lab Most Likely Source
DHS: China May Be Spying Via Zoom; Zoom Attacks US Gov't As "Misinformed"
House Cancels Returning To Work, Citing Too High Risk
US Imposed New Export Restrictions on Sensitive Goods to China
China's Virus Deaths May Have Been FIFTY TIMES What Communist Party Claimed
China Threatens Australia over Virus Inquiry
China Threatens EU over Disinformation Report
Chinese Hackers Hit US, Allied Research Institutions, Universities, Companies
"Frontline" Chinese Research Firm Hacked, Data for Sale on Dark We
LEE SMITH: How Sen. Feinstein Used Her Power to Help China
LEE SMITH: The China Rethink: US Politicians Realizing China At War With
Pandemic Reveals Horrifying Lack of Ethics and Biosafety at Chinese Virology Labs
China's Communist Regime Now Responsible for 50K+ Dead Americans
Bat Lady of Wuhan "Kept a Large Reservoir of Bat Viruses & Related Vaccines"
China Was Behind US "Lockdown" Disinformation Panic & Chaos
Missouri Files First State Lawsuit vs. China Over Coronavirus "Deceit"