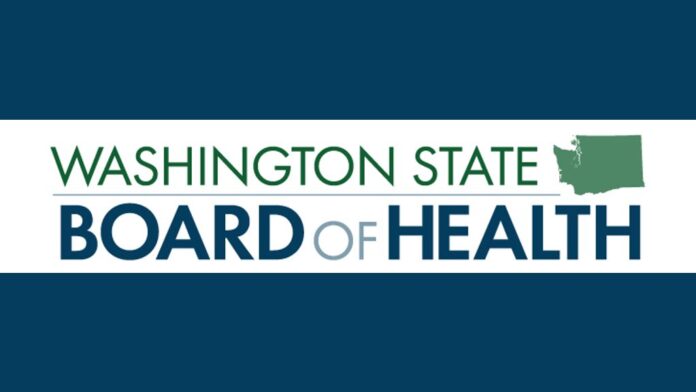 "The confusion regarding this agenda really speaks to the lack of transparency that we've seen coming from the Washington Board of Health regarding their agenda items for meetings"- Bob Runnells of Informed Choice Washington
Many have seen and shared the social media post posted below, regarding an up-coming Washington Board of Health meeting scheduled for January 12, 2022. The meeting's agenda is vague and has scared residents of Washington State. Daily Clout's Associate Editor Breeauna Sagdal is joined by Bob Runnels of Informed Choice Washington, who explains that transparency is an ongoing issue when it comes to deciphering meeting agendas created by Washington's Board of Health. While the meeting is very important, the facts surrounding this meeting are vital for citizens of Washington State to understand. As Runnells explains, the agenda also includes a discussion about reviewing the addition of the COVID-19 vaccines as a requirements for children to attend private and public schools, as well as a resolution put forth by Informed Consent Washington to ban the requirement of unlicensed medical products.
To learn more, visit Informed Consent Washington here: https://informedchoicewa.org/
To read the full Meeting Agenda click HERE
In addition, while not all the viral warnings are accurate in how they cite the Washington Administrative Code, it is true that at 11:00am PST, and 1:30pm PST, WAC 246-100 will indeed be discussed and this Administrative Code does contain a subsection (WAC 246-070) related to empowering the Board of Health with police powers, and detention powers.
Public comments are due today (January 07, 2022) at Noon PST. Please share this video with all interested parties.
UPDATE 01/10/2022- The emerging story, which Daily Clout is breaking, is that the Board of Health closed the public commentary deadline prior to releasing the supporting meeting materials. Public comments were due by noon, and the BOH did not release supporting documents until after 5pm PST the same day, which has led to confusion and panic.

The Washington State Board of Health is holding a meeting on January 12, 2022 at 9:30am-3:30pm
On Jan. 12th at 9:30 AM — 3:30 PM, the WA State Board of Health will discuss applying current infectious disease WAC codes to include Covid-19 for all WA State residents.
• To voice your concerns, register for the live webinar here:
https://us02web.zoom.us/webinar/register/WN_DjusYlOWTj-EyOyDTdyxsw
• You can also dial-in using your phone for listen-only mode: Call in: +1 (253) 215-8782 (not toll-free) Webinar ID: 894 7406 4216 Passcode: 957396 • Location: 101 Israel Rd. SE, Tumwater, WA 98501
• Comments must be in by this Friday, Jan. 7th at noon. Don't wait!
PROPOSED POLICIES:
• Allowing local health officers to use law enforcement (WAC 246-100-070) to force an emergency order to involuntarily detain a person or group of persons (families) to be isolated in a quarantine facility (WAC 246-100-045) following refusal to voluntary comply with requests for medical examination, testing, treatment, counseling, vaccination (WAC 246-100-040). These specifics come from WAC 246-100.
• Including the Covid-19 injections as part of school immunization requirements using WAC 246-105.
DETAILS HERE: https://sboh.wa.gov/Meetings/MeetingInformation/2022/January12Online
WAC CODE LAWS:
https://app.leg.wa.gov/WAC/default.aspx?cite=246-100-070
https://app.leg.wa.gov/WAC/default.aspx?cite=246-100-045
https://app.leg.wa.gov/WAC/default.asPx?cite=246-100-040
https://apps.leg.wa.gov/wac/default.aspx?cite=246-100
https://apps.leg.wa.gov/wac/default.aspx?cite=246-105
USO2WEB.ZOOM US
Welcome! You are invited to join a webinar: January 12 State Board of Health Public Meeting. After registering, you will receive a confirmation email about joining the…
Welcome! The meeting is scheduled to begin at 9:30 a.m. on Wed., January 12. Please remember to add this to your online calendar. Thank you for attending.