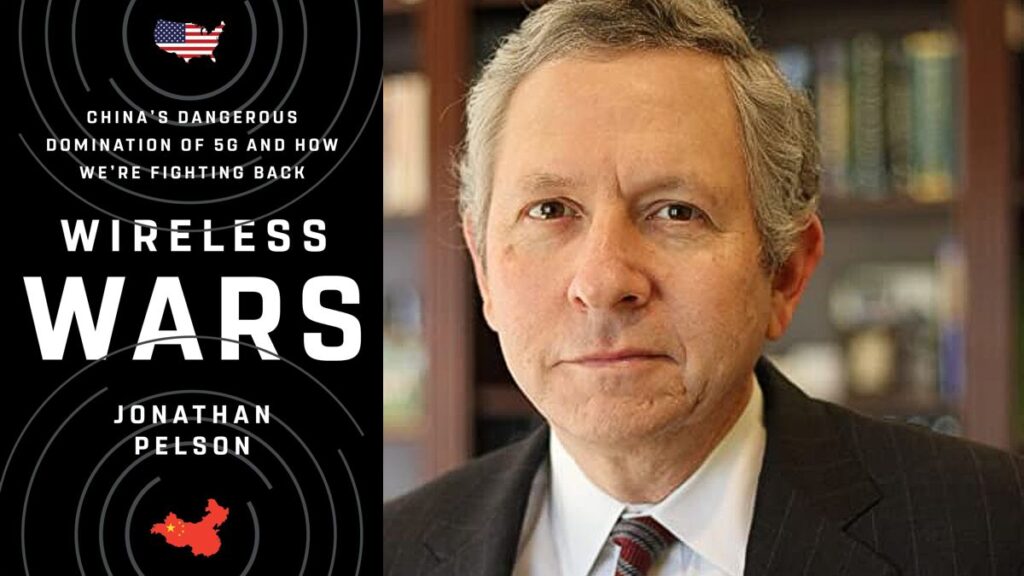 NATIONAL INDIE EXCELLENCE AWARDS WINNER — TECHNOLOGY
As the world rolls out transformational 5G services, it has become increasingly clear that China may be able to disrupt—or even access—the wireless networks that carry our medical, financial, and even military communications.
This insider story from a telecommunications veteran uncovers how we got into this mess—and how to change the outcome.
In Wireless Wars: China's Dangerous Domination of 5G and How We're Fighting Back, author Jon Pelson explains how America invented cellular technology, taught China how to make the gear, and then handed them the market. Pelson shares never-before-told stories from the executives and scientists who built the industry and describes how China undercut and destroyed competing equipment makers, freeing themselves to export their nation's network gear—and their surveillance state. He also reveals China's successful program to purchase the support of the world's leading political, business, and military figures in their effort to control rival nations' networks.

What's more, Pelson draws on his lifelong experience in the telecommunications industry and remarkable access to the sector's leaders to reveal how innovative companies can take on the Chinese threat and work with counterintelligence and cybersecurity experts to prevent China from closing the trap. He offers unparalleled insights into how 5G impacts businesses, national security and you. Finally, Wireless Wars proposes how America can use its own unique superpower to retake the lead from China.
This book is about more than just 5G wireless services, which enable self-driving cars, advanced telemedicine, and transformational industrial capabilities. It's about the dangers of placing our most sensitive information into the hands of foreign companies who answer to the Chinese Communist Party. And it's about the technology giant that China is using to project its power around the world; Huawei, a global super-company that has surged from a local vendor to a $120 billion-a-year behemoth in just a few years.
For anyone curious about the hottest issue at the intersection of technology and geopolitics, Wireless Wars offers an immersive crash course and an unforgettable read.

Editorial Reviews
Review
"Wireless Wars translates a complex subject into a clear, articulable framework on how we got into this predicament and how we can get out of it . . . An extremely compelling must-read for industry experts, intelligence professionals, policy makers, and concerned citizens interested in protecting our nation."
—William Evanina, former director of the National Counterintelligence Center
"Wireless Wars shines a bright light on the ongoing battle for national supremacy and global security in cyberspace . . . Jon Pelson has an insider's knowledge of this territory, and his book has important implications not only for policy makers, defense leaders, and technology investors, but for interested citizens, as well."
—Geoffrey A. Moore, international bestselling author of Crossing the Chasm

"Jon Pelson accurately depicts the transfer, both consciously and unconsciously, of US wireless equipment manufacturing to China . . . This is about what happens when a hostile government subsidizes vendors to take over a market, force the bankruptcy or mergers of vendors who played by the rules, and the resulting national security threats of having untrusted vendors subject to government control."
—Eric Burger, former chief technology officer of the Federal Communications Commission and professor at Georgetown University
"Wireless Wars chronicles how America squandered a virtually insurmountable technological lead in the telecommunications equipment market, allowing China to gain preeminence. It makes a compelling argument on the necessity of the US regaining leadership in this vital sector. More important, it charts a path for achieving that goal."
—Joseph B. Fuller, professor of management practice at Harvard Business School and founder of Monitor Group
"China's rulers are waging a war for global dominance on many fronts—the technological battlefield prominent among them. In Wireless Wars, Jonathan Pelson brings clarity to how we got here, how high the stakes are, and how we can win."
—Clifford D. May, president of the Foundation for Defense of Democracies

About the Author
After an early career as a writer and marketer with Young & Rubicam, Jonathan Pelson joined Lucent Technologies during the telecom boom of the '90s, helping create and market some of the company's breakthrough technology solutions. He later served as the Chief of Convergence Strategy for British Telecom, developing a global wireless plan for the company. During his time with these and other telecom companies, he traveled to China and saw that country's fledgling telecommunications companies grow and eventually seize the world lead. With deep personal experience in the sector and rare access to the people who ran the world's largest telecom companies, he decided to investigate how the lead was lost to the Chinese and what we could do to take it back. Jon has a degree in economics from Dartmouth College and an MBA from the Darden School at the University of Virginia.