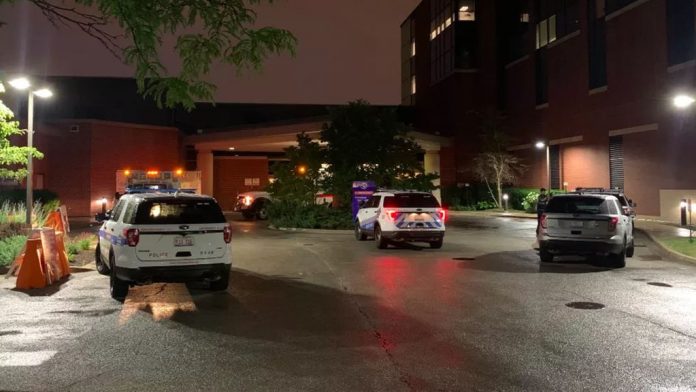 Chicago saw its highest number of gun violence victims in a single weekend this year with 104 people shot across the city from Friday evening to Monday morning, 14 of them fatally. Five of those killed were minors.
The weekend saw more shooting victims but less fatalities than the last weekend of May, when 85 people were shot, 24 of them fatally — Chicago's most deadly weekend in years.
In a Sunday news conference, Chicago Police Supt. David Brown reflected on the surge in gun violence. "Bullets don't just tear apart the things they strike," Brown said. "Bullets also tear apart families. Bullets destroy neighborhoods and they ruin any sense of safety in a community."
Five children killed
The latest child fatality happened early Monday in Austin on the West Side.
Two boys, 15 and 16, were walking in an alley at 12:18 a.m. in the 4700 block of West Superior Street when someone fired at them, possibly from a gray sedan, according to Chicago police. The 15-year-old was shot in his leg, chest and abdomen. He was taken to Stroger Hospital and pronounced dead. The other boy, 16, was hit in the ankle and also taken to Stroger. He was in fair condition.
Saturday night, a 13-year-old girl was killed and two other teens were wounded in Austin on the West Side.
The girl was inside a home about 8:30 p.m. in the 1000 block of North LeClaire Avenue when the shots were fired, and she was struck in the neck, police said. Amaria J. Jones was taken to Stroger, where she was pronounced dead, authorities said.
Two boys, 15 and 16, were sitting on a porch when one of them noticed a red laser pointing at him and heard gunfire, police said. The younger boy was struck in the back and the older boy was struck in the leg. They were taken to Mt. Sinai Hospital in good condition.
Two hours earlier, a 3-year-old boy was fatally wounded when someone opened fire at his father while they were driving in Austin.
The toddler, identified as Mekay James, was struck in the back about 6:25 p.m. when someone in a blue Honda pulled behind the black SUV the boy's 27-year-old father was driving in the 600 block of North Central Avenue and fired several rounds, authorities said.
A police source said the father was believed to be the intended target of the shooting.
The father drove the boy to West Suburban Medical Center in Oak Park, police said, but the boy was pronounced dead shortly after arriving. The father was also treated for a graze wound to the abdomen.
Two teenage boys were killed just over an hour before that in South Chicago.
Jasean Francis, 17, and the 16-year-old were in an alley about 5:10 p.m. in the 7900 block of South Luella Avenue when a male suspect approached them and fired shots, authorities said. Francis was shot in the back, chest and hand while the 16-year-old was shot in the back and side. Both were taken to the University of Chicago Medical Center, where they were pronounced dead.
Read Full Article on Chicago Sun*Times Website