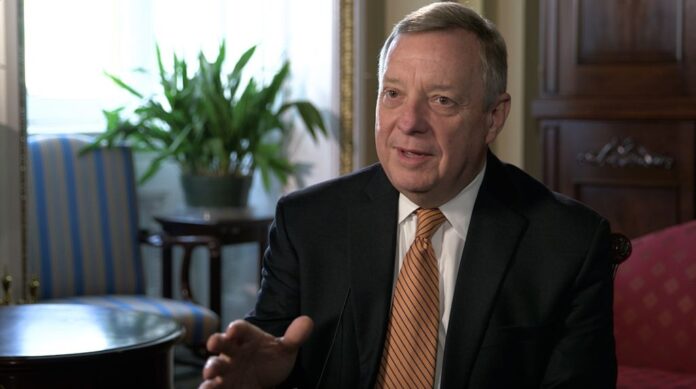 Moving swiftly on the wings of the violent disturbance on Capitol Hill on January 6, the newly sworn in Democratic-controlled 117th Congress is pushing a radical domestic terrorism bill that singles out "right-wing" terrorists and labels local law enforcement officials as potential terrorist threats. 
Introduced by Senator Dick Durbin (D-Ill.) S.894 "The Domestic Terrorism Prevention Act" is a companion bill to House bill H.R. 1931 sponsored by Representative Bradley Schneider (D-Ill.). A version of that bill in the previous congress raised Republican ire after Democrats refused to accept any amendments that made reference to Antifa and left-wing terrorism.
Combatting domestic terrorism is not a left or right, Democrat or Republican issue — it's an American issue. I'm proud to join my colleagues in introducing the Domestic Terrorism Prevention Act to better prevent potential threats against our nation.https://t.co/yY74WlbyXm

— Rep. Brad Schneider (@RepSchneider) January 21, 2021
The bill includes a long list of findings that reference terrorist acts allegedly committed by white supremacists or other "far-right" actors. It includes no reference to any other threats.
The legislation would create "domestic terrorism" units or offices in the Department of Justice, Department of Homeland Security, and the FBI as well as a domestic terrorism "executive committee" within the Department of Justice for coordination.
The legislation directs federal law enforcement and intelligence almost solely against perceived "far-right" threats, as the bill declares "far-right-wing extremists are the most significant domestic terrorism threat facing the United States" and then directs law enforcement to use "limited resources" only against the most "significant domestic terrorism threats."
Currently the FBI does not classify terrorism as "far-right" or "far-left" but has categories such as "racially-motivated violent extremist" which includes both white supremacist and black-identity or black separatist ideologies. Similarly, an "anti-government" classification technically includes both militia groups commonly considered far-right as well as Antifa or other left-wing anarcho-Communist threats.
This attempt to cement a partisan bias into U.S. government terrorism doctrine is deeply worrisome.
Read Full Article on AMGreatness.com
Domestic Terrorism Protection Act PDF
DTPA-of-2021