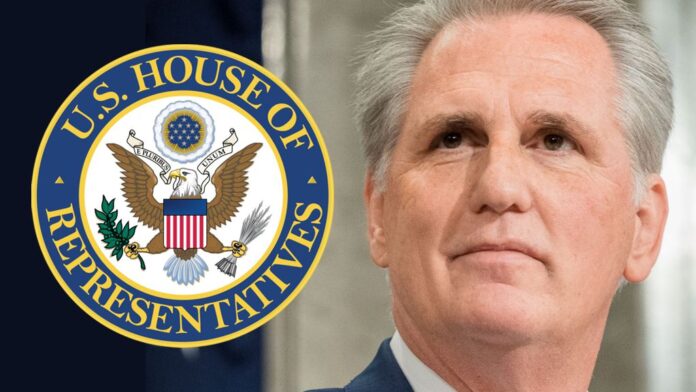 A Letter to House Republicans from Leader McCarthy:
Last Thursday was the tragedy we feared would happen when President Biden embarked on the worst foreign policy disaster in a generation.
American troops were targeted and attacked by ISIS suicide bombers in Kabul. It was the deadliest day for our military in more than a decade, and a catastrophic day for our nation. Eleven Marines, one soldier, and one Navy medic were killed in the attack, and at least 18 service members were seriously injured.
Our men and women in uniform knew there was a threat of an attack and they carried out their mission anyways. Heroic is the only way to describe their actions. I am reminded of the words from the Gospel of John: "There is no greater love than to lay down one's life for one's friends."
We will never forget our fallen heroes:
Marine Corps Staff Sgt. Darin T. Hoover, 31, of Salt Lake City, Utah.
Marine Corps Sgt. Johanny Rosario Pichardo, 25, of Lawrence, Massachusetts.
Marine Corps Sgt. Nicole L. Gee, 23, of Sacramento, California.
Marine Corps Cpl. Hunter Lopez, 22, of Indio, California.
Marine Corps Cpl. Daegan W. Page, 23, of Omaha, Nebraska.
Marine Corps Cpl. Humberto A. Sanchez, 22, of Logansport, Indiana.
Marine Corps Lance Cpl. David L. Espinoza, 20, of Rio Bravo, Texas.
Marine Corps Lance Cpl. Jared M. Schmitz, 20, of St. Charles, Missouri.
Marine Corps Lance Cpl. Rylee J. McCollum, 20, of Jackson, Wyoming.
Marine Corps Lance Cpl. Dylan R. Merola, 20, of Rancho Cucamonga, California.
Marine Corps Lance Cpl. Kareem M. Nikoui, 20, of Norco, California.
Navy Hospitalman Maxton W. Soviak, 22, of Berlin Heights, Ohio.
Army Staff Sgt. Ryan C. Knauss, 23, of Corryton, Tennessee.
We continue to pray for the 13 new Gold Star families. Their loved ones died as American heroes, and we will never forget their service and sacrifice.
We also continue to pray that our brave troops and stranded Americans and allies in Afghanistan return home safely.
Our enemies have taken advantage of the chaotic nature of the withdrawal. Last week, a red line was crossed.
Facing the consequences of this tragedy, President Biden responded with the same false choice between exiting, evacuating, and escalating. He says "the mission will continue" but the Taliban-dictated deadline to withdraw the evacuation efforts remains and will go into effect in less than 48 hours. The President is preparing to leave Americans and allies we made distinct promises to behind. Indeed, he admitted last week "getting every single person out cannot be guaranteed."
Frankly, this is not the tested leadership the President promised. Political decisions designed to get photo ops lead to fatal national security consequences on the battlefield. It was a political decision to act in haste days prior to the anniversary of September 11 — and our men and women in uniform died as a result.
There will be a time for accountability for everyone involved in how we got here. But right now, our only responsibility must be to get every American home.
As a co-equal branch of government, Congress cannot stand idle while our troops are targeted and Americans are trapped. Due to the Administration's colossal failure in evacuating Americans and our Afghan allies, Congress stepped in over the past two weeks on behalf of the thousands of Americans and Afghans trapped in Afghanistan. I'm incredibly proud of the efforts of my colleagues and their staff members' tireless work to leave no one behind enemy lines. We must continue to act quickly to save lives and bring accountability.
Tonight, I want to provide you with an update on how we intend to accomplish that.
Given the grave and immediate situation in Afghanistan, I have urged Speaker Pelosi to bring the House back into session before August 31 so we can receive a classified briefing from the Biden Administration on the next course of action and pass Representative Gallagher's legislation to prohibit the withdrawal of our troops until every American is out of Afghanistan. I am in Washington now and will be joined by our ranking members and our colleagues who served in the military to press this case this week.
The Speaker has so far responded with silence, but we have and will continue to follow a simple principle that our brave men and women in uniform know all too well: leave no one behind. Should the Speaker continue to shrink from her responsibility, we will file a discharge petition on legislation that will empower our military with the support they need to get Americans home. We will then lean on each of you to communicate the human stories of our fellow countrymen still in Afghanistan by meeting and doing events with local veterans in your districts and continuing to message on TV and local media.
There will also be opportunities during House Committee action that is scheduled over the coming weeks, including the NDAA and mark-ups of Democrat reconciliation legislation. We must exert maximum pressure on the Democrat majority with our amendments and debate during these Committee sessions.
Once every American is evacuated and our service members are back on American soil, Congress must swiftly investigate how we got here and hold the Biden administration accountable for its errors. Transparency in this matter is paramount, and our ranking members are already making formal requests for document and record preservation pertinent to the Administration's decision-making surrounding this debacle.
This is a time our country is looking for leadership. Our conference is ready to deliver.