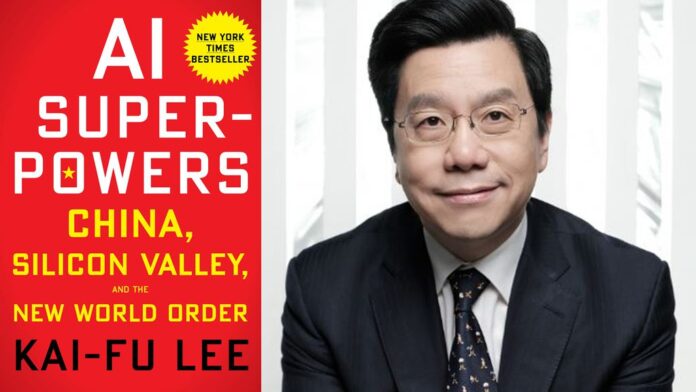 THE NEW YORK TIMES, USA TODAY, AND WALL STREET JOURNAL BESTSELLER
Dr. Kai-Fu Lee—one of the world's most respected experts on AI and China—reveals that China has suddenly caught up to the US at an astonishingly rapid and unexpected pace.
In AI Superpowers, Kai-fu Lee argues powerfully that because of these unprecedented developments in AI, dramatic changes will be happening much sooner than many of us expected. Indeed, as the US-Sino AI competition begins to heat up, Lee urges the US and China to both accept and to embrace the great responsibilities that come with significant technological power. Most experts already say that AI will have a devastating impact on blue-collar jobs. But Lee predicts that Chinese and American AI will have a strong impact on white-collar jobs as well. Is universal basic income the solution? In Lee's opinion, probably not. But he provides a clear description of which jobs will be affected and how soon, which jobs can be enhanced with AI, and most importantly, how we can provide solutions to some of the most profound changes in human history that are coming soon.
About the Author
DR. KAI-FU LEE is the chairman and CEO of Sinovation Ventures, a leading technology-savvy investment firm focusing on developing the next generation of Chinese high-tech companies. Before founding Sinovation in 2009, Lee was the President of Google China. Previously he held executive positions at Microsoft, SGI, and Apple.

Dr. Lee received his Bachelor's degree in Computer Science from Columbia University, his Ph.D. from Carnegie Mellon University, and honorary doctorate degrees from the City University of Hong Kong and Carnegie Mellon. He is a Fellow of the Institute of Electrical and Electronics Engineers (IEEE). Selected as one of the 100 most influential people in the world by Time Magazine in 2013, he has authored ten U.S. patents and over a hundred journal and conference papers. He has written eight top-selling books in Chinese, and has more than 50 million followers on social media.
Editorial Reviews
Review
A New York Times, Wall Street Journal, and USA Today Bestseller!
Featured on CBS 60 Minutes
Kai-Fu Lee named a Wired Icon, as part of Wired Magazine's 25th Anniversary Feature
Publishers Weekly Fall 2018 Top 10 in Business & Economics
Featured in the New York Times, the Wall Street Journal, the Washington Post, Wired, Financial Times, Bloomberg Businessweek, Business Insider, Forbes, and more.
"After thirty years of pioneering work in artificial intelligence at Google China, Microsoft, Apple and other companies, Lee says he's figured out the blueprint for humans to thrive in the coming decade of massive technological disruption: 'Let us choose to let machines be machines, and let humans be humans.'"—Forbes
"Provocative."—Fortune
"Kai-Fu Lee believes China will be the next tech-innovation superpower and in his new (and first) book, AI Superpowers: China, Silicon Valley, and the New World Order, he explains why. Taiwan-born Lee is perfectly positioned for the task."—New York Magazine
"Both a provocative and readable distillation of the conventional wisdom on AI supremacy, as well as a challenge to it."—Financial Times
"AI Superpowers: China, Silicon Valley, and the New World Order, by Kai-Fu Lee, about the ways that artificial intelligence is reshaping the world and the economic upheaval new technology will generate. We need to start thinking now about how to address these gigantic changes."—Senator Mark Warner, when asked about the best book he's read all year, Politico
"Kai-Fu Lee's smart analysis on human-AI coexistence is clear-eyed and a must-read. We must look deep within ourselves for the values and wisdom to guide AI's development." —Satya Nadella, CEO, Microsoft

"In his brilliant book, Kai-Fu Lee applies his superpowers to predicting the disruptive shifts that will define the AI-powered future and proposes a revolutionary social contract that forges a new synergy between AI and the human heart." —Marc Benioff, Chairman & CEO Salesforce

"AI is surpassing human intelligence in more and more domains, transforming the planet. Kai-Fu Lee has been at the epicentre of the AI revolution for thirty years and has now written the definitive guide." —Erik Brynjolfsson, professor, MIT, bestselling co-author of The Second Machine Age and Machine, Platform, Crowd
"Kai-Fu Lee is at the forefront of the coming AI revolution, helping us transcend the limitations of thought, reach, and vision. This seminal book on AI is a must read for anyone serious about understanding the future of our species." —Peter Diamandis, Executive Founder, Singularity University; bestselling author of Abundance and BOLD.
"Truly one of the wisest and most surprising takes on AI. Kai-Fu Lee connects it with humans in a logical yet inspiring way. You'll find this book illuminating and exciting in equal measure." —Chris Anderson, Head of TED
"In this riveting page-turner, one of the founding fathers of China's AI industry tells the inside story of China'a rise as an AI superpower, and shares his inspiring recipe for us flourishing rather than floundering with AI." —Prof. Max Tegmark, professor, MIT and bestselling author of Life 3.0: Being Human in the age of AI.

"Kai-Fu Lee's experience as an AI pioneer, top investor, and cancer survivor has led to this brilliant book about global technology. AI Superpowers gives us a guide to a future that celebrates all the benefits that AI will bring, while cultivating what is unique about our humanity. It's one of those books you read and think, 'Why are people reading any other book right now when this is so clearly the one they need to be reading?'" —Arianna Huffington, founder, HuffPost, and founder & CEO, Thrive Global.
"Kai-Fu Lee has a deep understanding of the science behind the recent progress in AI as well as of China's growth as an AI technological superpower. In this book, he shares illuminating insights on how AI is likely to transform our societies and change its economic and political landscapes, always with the eye of one who cares about humanity and asks us to choose our future wisely." —Yoshua Bengio, scientific director of MILA, deep learning pioneer and co-author of Deep Learning
"Kai-Fu Lee may have the most comprehensive view of the global technology scene of any living person." —Alan Murray, President, FORTUNE

" AI is already presenting new economic opportunities – and new problems of governance – for the United States and China. To deal with this breakthrough, we first must understand how it is being applied to transform our lives and our economies. AI Superpowers is a superb primer on this important driver of change." —George Shultz, former U.S. Secretary of State
"Kai-Fu Lee has great insights on one of today's most exciting and important technological trends. China's rapid development and commitment to the future should bring an interesting and exciting challenge to the U.S.: the game is on." –John Chen, Chairman & CEO, Blackberry

"Kai-Fu Lee has been part of the AI revolution for decades. Now, in this fascinating and galvanizing book, he puts into perspective China's role in the emergence of AI superpowers onto the global scene. He also gives us an optimistic view of a future where, working together with AI systems, people can augment and amplify many aspects of work and life." —Daniela Rus, professor and director, MIT Computer Science and Artificial Intelligence Laboratory.

"A unique book by one of the leading pioneers of the field of AI. Kai-Fu Lee is a top notch researcher, business executive and investor. He tells the tale of AI – in China and the US – better than anyone else. A great read!" —Sebastian Thrun, Rebel, and founder, Udacity

" Kai-Fu Lee has a message for Westerners that should be heard loudly: the Chinese are coming and are positioned to dominate the AI era. As an American technologist, the book well laid out a cautionary tale for my fellow Silicon Valley inhabitants." —Robert Scoble, Futurist

"Kai-Fu Lee's analysis of the perils and promises of AI is clear, convincing, technically sophisticated, deeply personal, and humane. Reading this book has given me a new way to think about the technological future of China, the United States, and the world." —James Fallows, The Atlantic, author of China Airborne and Our Towns.
"Nobody understands the complex of issues that will drive the explosive development of artificial intelligence in China and the U.S. better than Kai-Fu Lee. He is a technical wizard who has led AI research and development teams in both countries, has lived in both cultures, and today operates one of the most prominent AI venture funds in China. His insights into the diverse cultural, governmental and technical factors that will frame the competition between nations make this book a must-read for anybody interested in the future of AI, and how it might change the world order." —Tom Mitchell, professor of Machine Learning, Carnegie Mellon University
"In this riveting narrative, Kai-Fu Lee provides a brief history of China's emergence as an AI superpower in the short span of two decades to rival the United States' previously unchallenged supremacy. A must-read for anyone who is curious about what the future might hold." –Raj Reddy, professor, Carnegie Mellon University, Turing Award Recipient
"Kai-Fu starts off praising Artificial Intelligence, his passion for thirty-seven years, and ends with a heartfelt homage to love. This book is a moving pilgrimage from head to heart by arguably the most successful Chinese engineer in history." —Larry Brilliant, Technologist and philanthropist
"The book offers a wise guide to how we, as individuals, should set our priorities each day, each month, and each year. And it offers an equally wise, global perspective on how society might build a future that harmonizes AI's power to think with humanity's distinctive capacities for love, service, and compassion." —Jeffrey Lehman, vice chancellor, NYU-Shanghai, former president, Cornell University.
"Kai-Fu Lee's book is a must-read for the creators seeking to understand and harness the potential of AI for themselves, their organizations, and for the benefit of the world." —John Hopcroft, professor, Cornell University, and Turing Award Recipient
"In his insightful and heartfelt book, Kai-Fu Lee provides a history and roadmap for Artificial Intelligence from his unique, first-hand, multi-cultural perspective. This instant classic offers a clear-eyed assessment of the state of the art along with its likely impact on the future of work, wealth, and international competition — but it is also much more. Lee delivers his wisdom with characteristic clarity and humility, richly illustrated with inspirational stories and lessons drawn from his lifetime of professional and personal experiences. Every civic-minded engineer, entrepreneur, and public official should keep this book by his or her bedside as an inspirational reminder of what it means to lead a life of purpose and service." —Jerry Kaplan, AI expert, serial entrepreneur, technical innovator, educator, bestselling author, and futurist
"Few people have had Kai-Fu Lee's diverse experience in AI. His experience has made him a sort of oracle when it comes to trends in AI-related technology in Asia and the rest of the world. This book tells the story." —Yann LeCun, director, Facebook Research
"Remarkable and insightful. Meticulously researched and riveting." —Adeline Mah, bestselling author of Falling Leaves
"Having worked closely with both of them, Kai-Fu Lee's brilliance for understanding and explaining the new AI world order is comparable to how Steve Jobs explained how personal computing would fundamentally change humanity. Kai-Fu's book is that good." —John Sculley, former CEO, Apple
"Kai-Fu Lee has spent his career being right about technology. In a world where I fear many op-ed writers are worrying about spurious side-issues of AI or being hopelessly optimistic about technology automatically causing prosperity, Kai-Fu's clear thinking is refreshing. It is particularly important to understand his careful dissection of why US vs China is not a zero-sum game, but with compassion and focus can lead to wins for the whole world. And the personal story of an arch-technologist's response to dire medical news is fascinating. I will be recommending this to all my friends who want a primer on what's really going on with AI." —Andrew Moore, dean, School of Computer Science, Carnegie Mellon University
"Kai-Fu Lee offers an entertaining, insightful, and sobering look at the not-so-distant future of AI and China's role in propelling it forward. Its pages expose our smugness over our own technological prowess and urge us to think carefully about the implications of AI for society and, indeed, humanity at large." —Joi Ito, director, MIT Media Lab

"Kai-Fu Lee has written an essential book for our times. His lively, readable and personal perspective on China's transformative achievements in technology and innovation is especially important—required reading for every policy maker, technologist, and business leader in the West." —Marcus Brauchli, former executive editor, The Washington Post, and managing editor, The Wall Street Journal.
"Kaifu Lee is a legend on both sides of the Pacific. He deserves to be called a genius, because he has shown extraordinary intellect. He is not only an expert in technology, especially AI, but also an entrepreneur who has inspired so many to pursue their dreams. Only a handful of people aspire to change the world, and among them only a handful do. Lee belongs in that rare category, and in this book he offers all of us insight into how he thinks and how he has done what he has done." —Frank H. Wu, president, the Committee of 100
"If you care about the future being brought to us by AI, this is the one indispensable book of 2018. If you're an entrepreneur, investor, or business leader, you'll relish the handicapping of the relative strengths of the US and China as AI superpowers, and the analysis of the stages by which AI will transform the economy. If you're a policymaker, you'll find here the recipe for a successful future human economy, even as more and more tasks are automated. Anyone who reads it will be reminded that AI does not change what really matters." —Tim O'Reilly, founder, O'Reilly Media
"This masterful, moving, and intensely personal story illuminates the future of AI in China and the United States. For prosperity to be shared, Kai-Fu Lee's voice must be heard. Simply a must-read for all." —Stephen A. Orlins, president, National Committee on US-China Relations
"Kai-Fu Lee distinguishes himself from the multitude of pundits on AI that have emerged recently in that he has first-hand experience in research, corporate leadership and investment in the field, as well as deep working experience in the two leading AI powers in the world: US and China. This unique background gives him unmatched insight in this fast-evolving field. This is a timely and important book." —Tony F.Chan, President of Hong Kong Univ of Science & Tech and former assistant director of the National Science Foundation