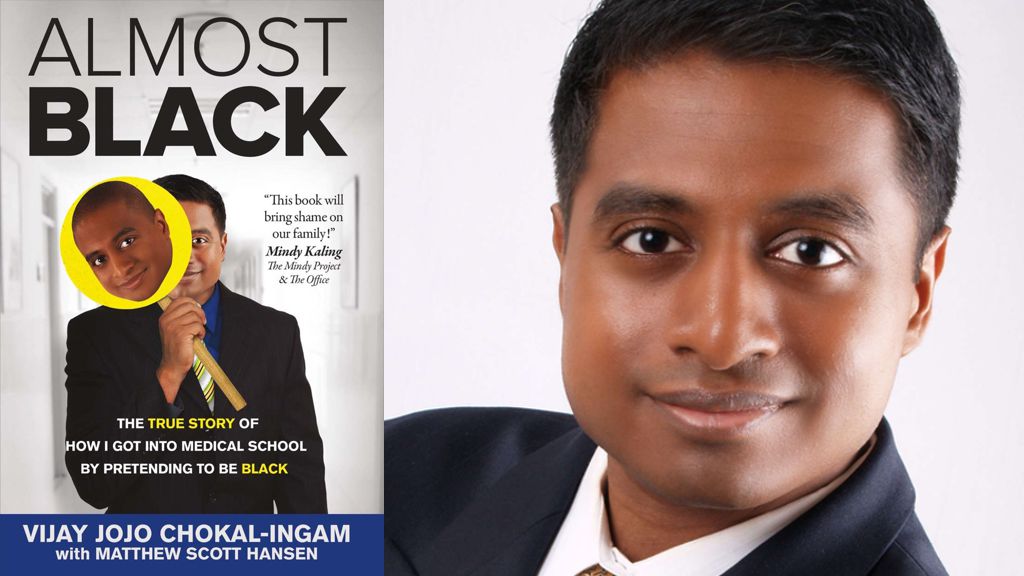 I got into medical school by saying I was black. I lied. Honestly, I am about as black as my sister Mindy Kaling (The Office / The Mindy Project).
Once upon a time, I was an ethically challenged, hard-partying Indian American frat boy enjoying my third year of college. That is until I realized I didn't have the grades or test scores to get into medical school. Legitimately.
Still, I was determined to be a doctor and discovered that affirmative action provided a loophole that might help. The only problem? I wasn't a minority. So I became one. I shaved my head, trimmed my long Indian eyelashes, and applied as an African American. Not even my own frat brothers recognized me. I joined the Organization of Black Students and used my middle name, Jojo.
Vijay, the Indian American frat boy, became Jojo, the African American affirmative action applicant.
Not everything went as planned. During a med school interview, an African American doctor angrily confronted me for not being black. Cops harassed me. Store clerks accused me of shoplifting. Women were either scared of me or found my bald black dude look sexually mesmerizing. What started as a scam to get into med school turned into a twisted social experiment, teaching me lessons I would never have learned in the classroom.
I became a serious contender at some of America's greatest schools, including Harvard University, Washington University, University of Pennsylvania, Case Western Reserve University, George Washington University, University of Pittsburgh, Yale University, University of Rochester, University of Nebraska Omaha, and Columbia University. I interviewed at 11 schools while posing as a black man. After all that, I finally got accepted into medical school.
Almost Black combines the comic tone of 1986's Soul Man, starring C. Thomas Howell, Rae Dawn Chong, and James Earl Jones, with the deeply poignant observations of Black Like Me, John Howard Griffin's classic.
Resembling a mashup of the two works (but far more humorous), the hedonistic frat boy discovered something far more than what he'd bargained for while posing as a black man: the seriousness, complexities, and infuriating injustice of America's racial problems. In Black Like Me, Griffin was a white man posing as a black man in the American South, prior to the Civil Rights Act of 1964. I wasn't on some intense social mission like he was, but just as Griffin did, I came away changed.
Before I finished this book, I stirred a hornet's nest by telling the story. It has been featured in more than 100 media outlets, including CNN, ABC, NBC, FOX, TIME, The Guardian, National Review, Washington Post, Salon, Gawker, VOX, VICE, Complex, Buzz Feed, Huffington Post, Daily Mail, and Perez Hilton. Many loved it, but not everyone approved of what I did. My college classmate, Tucker Max (I Hope They Serve Beer in Hell), disapproved. My sister Mindy Kaling furiously declared, "This book will bring shame on our family!"
I disagree but I'll let you be the judge.
Editorial Reviews
Review
"Mindy Kaling's brother is a cool prankster upsetting the status quo." –Gawker
"This sounds like it's straight out of a sitcom!" –Perez Hilton
"Mindy Kaling's brother may have taken a slightly unorthodox route to get into medical school. –TIME
"Vijay Chokal-Ingam, the brother of writer and actress Mindy Kaling, has sparked controversy with his new book." –NBC News
"Mindy Kaling's older brother took the phrase 'fake it til you make it' to a whole other level." –Entertainment Tonight / CBS News
"Like others who've recently been exposed for falsely claiming racial identities…Chokalingam wanted to claim the fruits of racial affiliation without having to carry black people's burden." –CNN
"Vijay Chokal-Ingam (a.k.a. Vijay Ingam), has published an irreverent and very un-PC memoir about gaming the affirmative action system." –Inquisitr
"This entire enterprise was a joke…it's obvious that you don't take these issues all that seriously." –The Daily Beast
"Chokalingam's story is…surprising because of how shameless he is." –Washington Post
"Vijay Chokal-Ingam, the brother of comic TV writer and actor Mindy Kaling, made a splash…when he claimed to have gotten into med school purely because he pretended to be black." –BuzzFeed
"Mindy Kaling's brother Vijay Chokalingam says he got into med school in the late '90s by pretending to be black to take advantage of affirmative action — which kind of sounds like something Dr. Mindy Lahiri's younger brother Rishi might do on "The Mindy Project.'" –Los Angeles Times
"Vijay Chokalingam, the brother of the actress Mindy Kaling (whose real name is Vera Mindy Chokalingam), has written a book about his experiences posing as a black man, in order to take advantage of positive discrimination policies and gain acceptance to medical school." –The Telegraph
"Some of you may recall 'Soul Man,' the awful 1986 movie starring C. Thomas Howell as a kid who takes tanning pills to qualify for a black-only scholarship at Harvard Law School. Well, Mindy Kaling's older brother Vijay Chokal-Ingam says he did something of the sort." –Boston Globe
About the Author
Vijay Jojo Chokal-Ingam (Chokalingam) is an "Affirmative Action Hacktivist" who was successfully admitted to the St. Louis University (SLU) School of Medicine by posing as a black man, despite having a pitifully low GPA. Vijay detailed his misadventures masquerading as a black man in his recent book Almost Black. His story has been featured on more than 100 media outlets, including CNN, NBC, ABC, TIME, FOX, and Huffington Post.  
Vijay received his B.A. in Economics without distinction from the University of Chicago, where his more academically gifted classmates included Tucker Max (the New York Times best-selling author of I Hope They Serve Beer in Hell / Sloppy Seconds and the founder of the "fratire" literary genre). After failing out of medical school, Vijay got his act together and gained admission to the UCLA Anderson School of Management, a top-ranked business school. This time, Vijay did not pose as a black man, since UCLA does not practice affirmative action in admissions.
Professionally, Vijay works as admissions consultant for SOSCareerService.com. He has helped thousands of clients get into top educational institutions by helping them with their resumes, personal statements, application essays, and interview preparation. Vijay is the author of The Definitive Guide to Ace Your Interview and Get the Job, a guide to job interview preparation, available at major retailers. He is an active member of several writers' communities, including the GrubStreet creative writing center, the Greater Los Angeles Writers Society, and the UCLA Writers' Program. 
Vijay is the brother and nemesis of Mindy Kaling, actress (The Office), comedian, New York Times best-selling author (Is Everyone Hanging Out Without Me? / Why Not Me?), and the creator of the Fox and Hulu sitcom The Mindy Project.  
Visit AlmostBlack.com, follow @almostblack, and use the hashtag #almostblack on Twitter to share your thoughts on Vijay's book, affirmative action, and beyond.