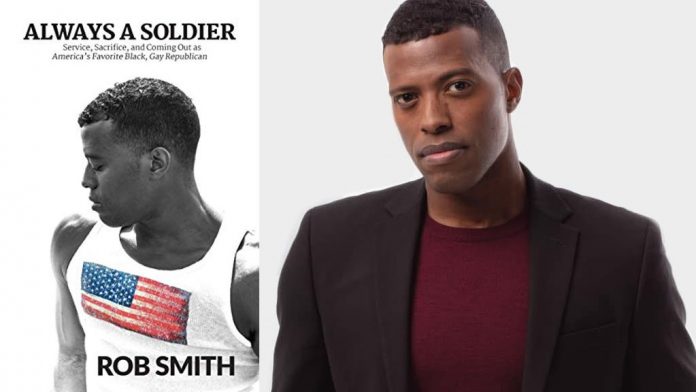 Always a Soldier ia An Iraq War memoir and searing political commentary from Fox News regular and "America's Favorite Black, Gay Republican" Rob Smith
Moonlight meets American Sniper in this groundbreaking memoir and political commentary from a bold new voice in American politics. Before he became a war veteran and political analyst, he was a young black man who enlisted in the U.S. Army right out of high school, survived the notoriously brutal Infantry basic training, and served while remaining a closeted gay man to all but a few of his colleagues. At his first duty station, he finds himself in dangerous territory when the United States declares war on Iraq; in fact, his unit was one of the first called in after the initial invasion.
Rob Smith's experience offers a ground-level view of life on the front lines in the United States Army in an unforgettable coming-of-age story with a military twist. In addition to his memoir, Always a Soldier highlights his thoughts on current hot-button political topics like the new crop of Black Republicans and the escalating tactics of the LGBTQ community, announcing him as a voice in American politics that will be heard for years to come.
Review
"I discovered Rob Smith on social media and brought him aboard the BLEXIT movement because I knew he had something different and unique to offer. His voice is one of many that will lead Black America out of the clutches of the left and into the future of free thought." — Candace Owens, BLEXIT Movement Founder
"Rob Smith's bold point of view and fearless service to his country both abroad and at home represents a fresh, strong voice for a new generation of American patriots!" — Newt Gingrich, Former Speaker of the House, 2012 Presidential Candidate, and Gingrich360 Chairman
"Free-thinking, honest conversations are the only thing that will save America, and Rob Smith is at the front lines of those battles, just as he was in Iraq. I'm always looking forward to seeing what he says or does next!" — Dave Rubin, New York Times Bestselling Author of "Don't Burn This Book"
"Rob Smith is an amazing advocate for the free speech, pro-America values of Turning Point USA, as well as the conservative and veteran communities he represents." — Charlie Kirk, Founder and President of Turning Point USA
"Rob is an American Patriot that served our country honorably. His words of wisdom served throughout this book is an inspiration. Every American can gain something from 'Always a Soldier.'" — Gianno Caldwell, Fox News Political Analyst and author of 'Taken For Granted'
"I am grateful for Rob's courage to help shine a light on issues that are important. We can all learn valuable lessons from his story." — Richard Grenell, Former US Ambassador to Germany and Acting Director of National Intelligence
About the Author
A decorated Iraq War Veteran, Rob Smith served for five years in the United States Army, including two tours in the Middle East. During Operation Iraqi Freedom, he was awarded the Army Commendation Medal and the Combat Infantry Badge.
An activist in the movement to repeal the 'Don't Ask, Don't Tell' law which barred open service by gay and lesbian soldiers, he was the subject of a 2018 Daily Mail profile in which he 'came out' as a conservative in response to the 'outrage culture' of the left.
As a political commentator, he has been seen on Fox News, NBC News, CNN, HLN, and more. He has spoken about politics and current events at Yale University, Google, Deutsche Bank, Vanderbilt University, and dozens of other colleges, universities, and companies across America.
Based in New York City, he holds a Master's Degree from Columbia University.