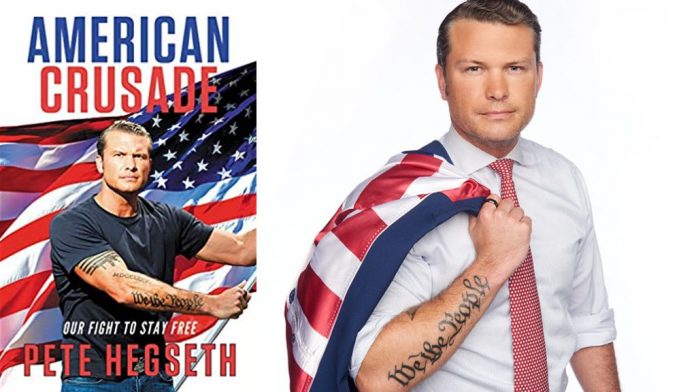 Join the political and cultural fight for America's freedom — and learn how to protect our nation from the leftist agenda — with this essential guide from Fox & Friends Weekend co-host Pete Hegseth.
In American Crusade, Pete Hegseth explores whether the election of President Donald J. Trump was sign of a national rebirth, or instead the final act of a nation that has surrendered to Leftists who demand socialism, globalism, secularism, and politically-correct elitism. Can real America still win? And how?
Hegseth is an old-school patriot who is on a mission to do his part to save our Republic. This book celebrates all that America stands for, while motivating and mustering fellow patriots to stand ready to defend — and save — our great country. As he travels around the country talking to American citizens from all walks of life, Hegseth reveals the common wisdom of average Americans — and how ready they are to join the cultural battlefield. Now is that time, and Hegseth has written the playbook.
American Crusade is written with the same insight, politically incorrect candor, and humor that has made his television show one of the most highly-rated in America.
Editorial Reviews
Review
Pete has been a warrior on the battlefield, and now he is a warrior on the battlefield of ideas. Freedom is fragile and must be defended. Pete charts the course for crushing the Left and keeping America free.―Mark Levin, author of Unfreedom of the Press
Pete pulls no punches with this book! American Crusade delivers the same clarity, passion, and unapologetic patriotism you see from Pete every day on television. Buckle up, because Pete brings the heat!―Sean Hannity
Donald Trump's election didn't solve all of America's problems, but instead made it obvious what they are. Suddenly you saw, often with terrifying clarity, who was on what side. Pete Hegseth's terrific new book will tell you what happens next-and what you can do about it.―Tucker Carlson
From his provocative title to his forensic demolition of all the fashionable "isms" (globalism, multiculturalism et al) to his beautiful call to "fall in love with the gift America delivers", Pete Hegseth has written a brilliant, trenchant, clear-eyed diagnosis of our present troubles and a stirring blueprint for the way forward on the home front. He's right: This is no time to be what he calls "a fifty/fifty American", and there is no better way than this fine, well-argued book to up your percentage in the right direction.―Mark Steyn
In this vitally important new book, Pete Hegseth explains what conservatives are fighting for (the America envisioned by our Founders), why we're fighting for it (America is the last best hope for the West) and what we have to do to win (unapologetically defend American values). His passion for America, a passion strengthened by his experience as a combat veteran of the Iraq War, comes across on every page. American Crusade is a call to arms. We all need to answer it.―Dennis Prager, New York Times bestselling author and nationally syndicated radio talk host
About the Author
Pete Hegseth is a FOX News contributor who regularly appears on FOX & Friends, The Kelly File, and Outnumbered. An infantry officer in the Army National Guard, he is a veteran of Iraq, Afghanistan, and Guantanamo Bay who holds two Bronze Stars and a Combat Infantryman's Badge for his time overseas. He is the former CEO of the veterans advocacy organization Concerned Veterans for America and former Chairman of the pro-victory organization Vets for Freedom. He is also a graduate of Princeton Uni­versity and Harvard University's John F. Kennedy School of Government. He writes regularly for National Review and FOXNews.com and is a term member of the Council on Foreign Relations.