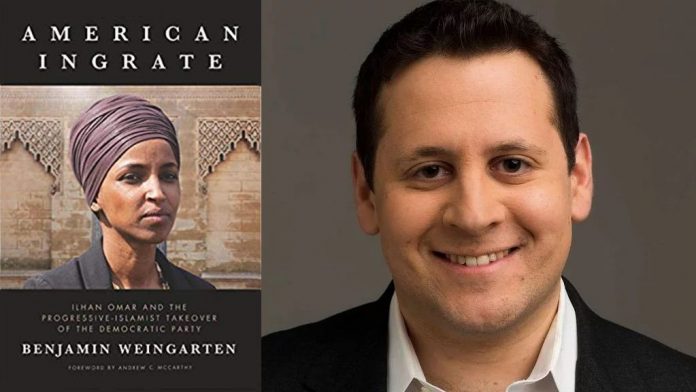 In American Ingrate, Federalist Senior Contributor Benjamin Weingarten exposes Ilhan Omar's radical and revolutionary Left-Islamist agenda, her seminal role in the progressive takeover of the Democratic Party, and the dire threat she poses to U.S. national security by way of her collusion with subversive anti-American forces.
She says that America was "founded by the genocide of indigenous people and on the backs of slaves," and that "ignorance really is pervasive" among Americans today.
She says America must "dismantle" capitalism and "demilitarize" U.S. foreign policy, which she sees "from the perspective of a foreigner," tweeting "thousands of Somalis [were] killed by…American forces…#NotTodaySatan."
She says American support for Israel is "all about the Benjamins baby;" and that American Jews disloyally pledge "allegiance" to Israel's "apartheid…regime," which has "hypnotized the world."
She says of the 9/11 attacks: "some people did something."
Shockingly, Congresswoman Ilhan Omar's (D-MN) words merely scratch the surface of her hatred of America—and the West—and divert our gaze from the nefarious actions she is taking to sabotage it from within.
American Ingrate is the defining book on the size, scope, and nature of the threat posed by Representative Omar—the personification of the anti-American Left-Islamist nexus—heightened by her hidden collusion with like-minded adversaries foreign and domestic, and alleged criminality and corruption.
This is a clarion wakeup call to the dangers epitomized by Rep. Omar. For she is not merely a lone radical in Congress, but the archetype of the new Democratic Party—and a uniquely dangerous figure at the heart of a uniquely dangerous challenge to America.
Editorial Reviews
Review
"Benjamin Weingarten professionally and thoroughly dissects the strange case of Rep. Ilhan Omar (D-MN), and demonstrates that much about the congresswoman is an enigma at best and a fraud at worst…Weingarten suggests that if Omar had not existed, she would have had to be invented, given that she is a metaphor for a larger American pathology of progressive virtue-signaling, and, ultimately, self-loathing." ― Victor Davis Hanson
"American Ingrate is a serious, deeply researched work that makes the compelling case Rep. Ilhan Omar is the new face of the Democratic Party, and delves deeply into her background and beliefs. It compellingly sets forth the argument that she not only personifies but leads a Progressive-Islamist alliance held together by the glue of hatred of America, of Judeo-Christian values, of Western civilization, and of Israel. Read it and weep. Or better, read it and fight back. This is a manual in that fight." ― Dennis Prager
"It has become clear that left-wing ideology and extreme identity politics have cultivated a dangerous strain of anti-Semitism in the Democratic Party that is part and parcel of its increasingly anti-Judeo Christian and anti-Western orientation. Benjamin Weingarten has done a brilliant job of illustrating this phenomenon through the story of Rep. Ilhan Omar's rise to power despite her holding views about Israel, the Jewish people, and America's role in the world which would have been unacceptable just a few years ago. American Ingrate is required reading for anyone seeking to understand the modern Democratic Party's posture towards Israel and its reflexive anti-Americanism." ― Newt Gingrich
About the Author
Benjamin Weingarten is a Senior Fellow at the London Center for Policy Research, Fellow at the Claremont Institute, and Senior Contributor at The Federalist. He was selected by The Fund for American Studies as a 2019 Robert Novak Journalism Fellow, under the auspices of which he will be writing a book on U.S.-China policy and its bold transformation under the Trump administration. Benjamin's work has appeared in publications including among others City Journal, the Claremont Review of Books, and TheBlaze/Conservative Review. He serves as a frequent guest host for nationally syndicated radio programs including "The Buck Sexton Show" and "The Wilkow Majority," and has appeared as a guest on a number of other nationally syndicated radio and television shows. Benjamin holds a B.A. from Columbia University.