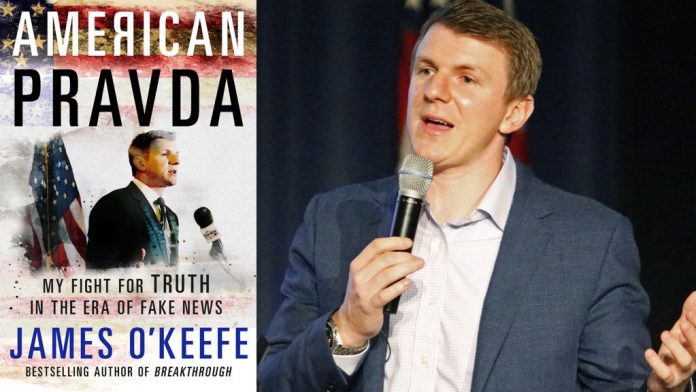 The one real difference between the American press and the Soviet state newspaper Pravda was that the Russian people knew they were being lied to. To expose the lies our media tell us today, controversial journalist James O'Keefe created Project Veritas, an independent news organization whose reporters go where traditional journalists dare not. Their investigative work–equal parts James Bond, Mike Wallace, and Saul Alinsky―has had a consistent and powerful impact on its targets.
In American Pravda, the reader is invited to go undercover with these intrepid journalists as they infiltrate political campaigns, unmask dishonest officials and expose voter fraud. A rollicking adventure story on one level, the book also serves as a treatise on modern media, arguing that establishment journalists have a vested interest in keeping the powerful comfortable and the people misinformed.
The book not only contests the false narratives frequently put forth by corporate media, it documents the consequences of telling the truth in a world that does not necessarily want to hear it. O'Keefe's enemies attack with lawsuits, smear campaigns, political prosecutions, and false charges in an effort to shut down Project Veritas. For O'Keefe, every one of these attacks is a sign of success.
American Pravda puts the myths and misconceptions surrounding O'Keefe's activities to rest and will make you rethink every word you hear and read in the so-called mainstream press.
Editorial Reviews
Review
"It's an entertainingread and it will inspire you and you will be thankful there is a guy named James O'Keefe doing what he's doing. It's called American Pravda." – Rush Limbaugh"[American Pravda] should be assigned in every j-school in America" – Michelle Malkin
"James O'Keefe's book is revelatory, scandalous, shocking and – yes, funny as hell as well. Told by a youthful but battle-hardened warrior deep in enemy lines of the culture wars, "American Pravda" pulls back the iron curtains of institutional corruption to reveal a red-rimmed hellscape of falsehood and manipulation. A powerful and inspirational read, highly recommended" – Stefan Molyneux
"This book is a clarion call on behalf of accountability, transparency, and responsible government: items high on the rhetorical agenda of the bureaucrats that run our lives but somehow always forgotten when it comes to their exercising power." – Roger Kimball
"The mainstream media, led by the Washington Post, New York Times, and CNN, are out for revenge against President Trump for labeling them "fake news" and using social media to get around them, according to an explosive forthcoming book by muckraker James O'Keefe." – Paul Bedard
From the Back Cover
Texas border, August 2014
Sheriff West and his deputies in their F-150s escorted me to a godforsaken spot sixty miles southeast of El Paso. In his Texas bowl hat and deeply lived-in jeans, the man seemed to have stepped right out of Central Casting. Never less than poker-faced, the good sheriff said no more than he had to, and when he did speak it was to the point."You're an idiot," West said to me casually in his monotone Tex-Mex drawl as I scanned the border country though a pair of binoculars. "Why's that?" I answered, not knowing which of a dozen likely responses I might provoke."For doing this," he said. The "this" in question was crossing the Rio Grande dressed as Osama bin Laden. "The U.S. government is going to come after you big time." Soon enough, customs agents in airports across North American would prove that the sheriff understood the ways of government much better than I did.
About the Author
James O'Keefe is an award-winning journalist and the author of the New York Times bestseller Breakthrough. He is the founder and President of Project Veritas and Project Veritas Action, non-profit organizations dedicated to investigating corruption, dishonesty, waste and fraud in both public and private institutions. O'Keefe's investigations have led directly to the passage of new legislation, federal and state investigations, congressional inquiries, the defunding of taxpayer-funded groups, resignations, firings, restrainings and arrests.