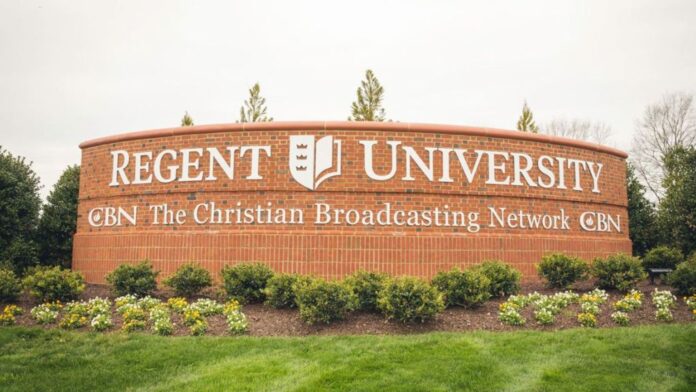 Regent University's Robertson School of Government will host a virtual conference on election integrity on Tuesday, March 23, 2021, from 12 PM to 6 PM ET.
"Election integrity is the foundation for every citizen's right to vote in a free and fair election," said Michele Bachmann, dean of the Robertson School of Government at Regent University. "The electoral process is a significant, fundamental component of political freedom. Through this important conference, our goal is to educate individuals about election integrity and to raise awareness surrounding the electoral process."
Throughout the event, panelists and keynote speakers will highlight the importance of freedom of speech, election integrity in a representative democracy, election irregularities and correlated impacts on future elections, and voter ID, among other topics.
The election integrity conference will feature nationally-renowned speakers and panelists including:
Congresswoman Michele Bachmann, Dean of the Robertson School of Government at Regent University
Dr. Ben Carson, Former U.S. Secretary of Housing and Urban Development
Mr. Mark Steyn, New York Times best-selling author and Tucker Carlson guest host
Mr. Eric Metaxas, New York Times best-selling author and radio host
Secretary Kris Kobach, Former Secretary of State of Kansas
Secretary Jay Ashcroft, Secretary of State of Missouri
Mr. John Fund, Political Journalist for National Affairs Report for National Review Online and Senior Editor at The American Spectator
Mr. Hans von Spakovsky, Attorney, Former Member of Federal Election Commission, Manager of the Heritage Foundation's Election Law Reform Initiative, and a Senior Legal Fellow in Heritage's Meese Center for Legal and Judicial Studies
Messrs. Joe / Jim Hoft, The Gateway Pundit
Additional Expert Panelists
Note: The Regent University Robertson School of Government's "Analyzing American Election Integrity" streaming event on 3/23/21, will archive on www.regent.edu/electionintegrity by the following day.
Learn more on Regent University Website
Schedule:
12:00 – 12:15 pm ET
Welcome and Opening Statement – Dean Michele Bachmann
Opening Prayer – Eric Metaxas – Author, Speaker, and Radio Host. 2011 recipient of the Canterbury Medal awarded by the Becket Fund for Religious Freedom
12:15 – 1:00 pm ET
Keynote Address – Dr. Ben Carson – Secretary, Department of Housing and Urban Development, Neurosurgeon, and Author
1:00 – 2:20 pm ET
Panel: HR1 – An Effort to Correct the Irregularities, or Institutionalize Them?
Moderator: Dean Michele Bachmann
John Fund – National Affairs Reporter for National Review Online, Senior Editor at The American Spectator; authored Stealing Elections: How Voter Fraud Threatens Our Democracy, and co-authored (with Hans von Spakovsky) Who's Counting?: How Fraudsters and Bureaucrats Put Your Vote at Risk
Hans von Spakovsky – Former member of the Federal Election Commission, Manager of the Heritage Foundation's Election Law Reform Initiative, Senior Legal Fellow at the Meese Center for Legal and Judicial Studies; co-authored (with John Fund) Who's Counting?: How Fraudsters and Bureaucrats Put Your Vote at Risk
Jay Ashcroft – Missouri Secretary of State; Organizer of the first National Election Security Summit; Member of the Elections Committee and former Executive Board Member of the National Association of Secretaries of State
2:20 – 3:15 pm ET
Speakers – Jim and Joe Hoft – The Gateway Pundit – Evidence of Voter Fraud
3:15 – 3:30 pm ET
Speaker – Dr. Peter Navarro – Former U.S. Director of Trade (Read Navarro Reports)
3:30 – 4:45 pm ET
Panel: Is Voter ID a Solution?
Moderator: Professor Henry Jones
Dr. Kris Kobach – Former Kansas Secretary of State, Vice Chair of the Presidential Advisory Commission on Election Integrity; former Counsel to the Attorney General of the United States; former Professor of Law at the University of Missouri – Kansas City
William Wachtel – Managing Partner, Wachtel Missry, LLP; Co-Founder of the Drum Major Institute; Co-Founder and Member of the Board of Why Tuesday?; Chairman of the Board at Saker Aviation
The Honorable Robert Neal Hunter, Jr. – Attorney; retired North Carolina Supreme Court Justice and retired North Carolina Court of Appeals Jurist; Former North Carolina Deputy Attorney General; Former Chairman of the North Carolina State Board of Elections
Patricia Nation – Civil Rights Attorney and Appellate Advocate; Former Head of Civil Rights Division of the Department of Homeland Security; Former Civil Rights Civil Liberties Officer for the Department of Homeland Security; Former Department of Justice Civil Rights Division Senior Counsel to the Assistant Attorney General
4:45 – 5:30 pm ET
Speaker – Mark Steyn – Canadian Author and Commentator; Tucker Carlson Guest Host; Author of the New York Times bestsellers America Alone: The End of the World As We Know It and After America: Get Ready for Armageddon
5:30 – 5:45 pm ET
Speaker – Eric Metaxas – His Thoughts
5:45 – 6:45 pm ET
Speaker – Dr. David Clements – Law Professor, New Mexico State University
6:45 – 7:00 pm ET
Closing Remarks – Dean Michele Bachmann
Closing Prayer – Rev. Jim Garlow