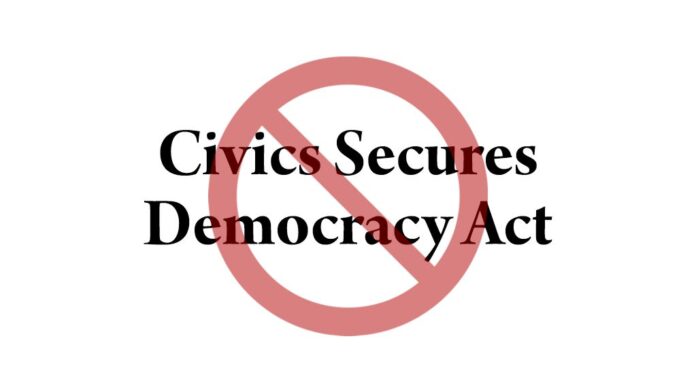 With last week's introduction in Congress of the misleadingly named Civics Secures Democracy Act, we are headed toward an epic clash over the spread of uber-controversial pedagogies — Critical Race Theory and Action Civics — to America's classrooms. I don't know whether the country will wake up to the danger of this legislation before or after it passes. Sooner or later, however, the truth will out. When it does, the culture war will have merged with K–12 education-policy disputes to a degree never before seen.
Because this new legislation is a backdoor effort to impose a de facto national curriculum in the politically charged subject areas of history and civics, the battle will rage in the states, at the federal level, and between the states and the federal government as well. The Biden administration's Education Department will almost certainly collaborate in this attempt to develop a set of national incentives, measures, and penalties that effectively force Critical Race Theory and Action Civics onto states and localities. The likelihood of education controversies moving from third-tier to first-tier issues in federal elections has never been greater.
The Republicans who have co-sponsored the "Civics Secures Democracy Act" in the Senate (John Cornyn) and the House (Tom Cole) have been hornswoggled and hogtied into backing legislation that is about as far from conservative as a bill could be. It should be said in extenuation of their decision that the bill is careful to bury its true ends under anodyne jargon. You have to know a lot about Action Civics, for example, to understand that this bill is designed to force it onto the states. Most conservatives don't even know what Action Civics is, much less understand its misleading jargon. The very term "Action Civics" is a euphemism for political protests for course credit, something close to the opposite of a proper civics course. That's one reason why the "Civics Secures Democracy Act" is so egregiously misnamed.
Read Full Article on National Review