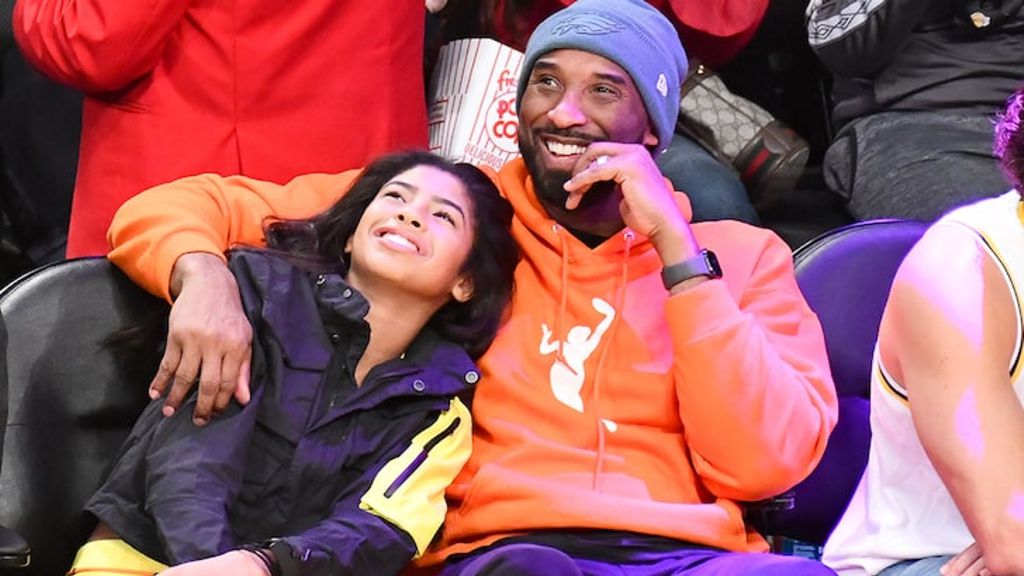 Los Angeles Lakers Pay Tribute To Kobe Bryant
It has been confirmed that Lakers Basketball legend Kobe Bryant, (41), and his daughter, Gianna Bryant, (13) known as Gigi, both died in a helicopter crash in Calabasas, CA at 09:47 in the morning on Sunday, January 26, 2020. Friends on the flight also died including John Altobelli, (56), baseball coach at Orange Coast College, his wife Keri Altobelli and their daughter Alyssa Altobelli; Christina Mauser, assistant coach of the MAMBA girls basketball team and wife of Tijuana Dogs singer Matt Mauser; Payton Chester (13), one of Gianna's basketball teammates and her mother, Sarah Chester. Kobe's private pilot, Ara Zobayan, was also killed. They were on their way to the MAMBA Sports Academy in Thousands Oaks, CA where the girls MAMBA team would be practicing. Gianna was considered a talented basketball player.
this is a picture of kobe bryant and john altobelli, both killed on the helicopter crash that happened early today. rest in peace to both of these men. pic.twitter.com/9mJD1tsTDZ

— makai (@realmakaipahoa) January 26, 2020
Kobe, his daughter and the others were traveling in very heavy fog in the private Sikorsky S-76B helicopter with 7 other people. They contacted Burbank airport telling them that they had been circling for 15 minutes. The pilot eventually headed north along the 118 freeway before turning to the west to follow above the 101 freeway around Woodland Hills, CA. Encountering more weather they unfortunately turned south toward a mountainous area. The pilot tried to climb rapidly and went from 1200 to 2000 feet . Just moments later the helicopter flew into a mountain at 1700 feet traveling at 161 knots. After impact a fire broke out, burning about a quarter acre of the mountain side. Emergency personnel responded quickly, but nobody on board survived. Koby's wife Vanessa Bryant and his 3 other daughters, Natalia, Biamka, and his 7 month old baby girl, Capri, were not on board.
According to eyewitnesses, the helicopter's engine sputtered before it went down. The cause of the crash is under investigation.
Kobe Bryant retired from basketball in 2016 after scoring 60 points in his final NBA game. It was in December 2017 that the Lakers hung banners retiring his No. 8 and No. 24 jerseys on the Staples Center rafters in an unprecedented double honor.
It was just yesterday, January 25, 2020 that LeBron James passed Kobe Bryant to claim sole possession of third place on the NBA all-time scoring list with a 29-point performance against the Philadelphia 76ers. Kobe kindly congratulated him via Twitter:
Continuing to move the game forward @KingJames. Much respect my brother ???????? #33644

— Kobe Bryant (@kobebryant) January 26, 2020
Kobe Bryant was not just a basketball great, he was a basketball great with a heart. He shared that heart by collaborating with visionary animator Glen Keane and legendary composer John Williams to create an animated short film called Dear Basketball (2017), which is based on the poem Kobe wrote. Dear Basketball (2017) explores what it means to achieve your dream, and then leave it behind. The animated film is an adaptation of Bryant's NBA retirement announcement after 20 years with the Los Angeles Lakers. Dear Basketball (2017) is narrated by Kobe Bryant, and the film's hand-drawn animation and emotional score will touch fans of every age with its universal message of love and loss.
Kobe Bryant was the first African American to win the Academy Award for Best Animated Short Film. Additionally, he became the first former professional athlete to be nominated and to win an Oscar in any category. Dear Basketball (2017), Kobe Bryant and Glen Keane won this Oscar in 2018.
Dear Basketball (2017) Short Film
Kobe Bryant's MAMBA Sports Academy
Kobe Bryant has been using his MAMBA Sports Academy to make disciples and inspire others to succeed.
The video below is a Tribute to a legend. Kobe Bryant was lethal from all areas of the court. Pull-ups, fadeways, game-winners… you name it. However you wanted it is how you got it! In honor of #MambaDay here are 20 minutes of No.8/24's top 50 plays of his career.
A Few Tributes & Tweets for Kobe Bryant
Reports are that basketball great Kobe Bryant and three others have been killed in a helicopter crash in California. That is terrible news!

— Donald J. Trump (@realDonaldTrump) January 26, 2020
Michael Jordan on Kobe Bryant's death:
"I am in shock over the tragic news of Kobe's and Gianna's passing. Words can't describe the pain I'm feeling. I loved Kobe — he was like a little brother to me. We used to talk often, and I will miss those conversations very much." He continued, "He was a fierce competitor, one of the greats of the game and a creative force. Kobe was also an amazing dad who loved his family deeply — and took great pride in his daughter's love for the game of basketball. Yvette joins me in sending my deepest condolences to Vanessa, the Lakers organization and basketball fans around the world."
There's no words to express the pain Im going through with this tragedy of loosing my neice Gigi & my brother @kobebryant I love u and u will be missed. My condolences goes out to the Bryant family and the families of the other passengers on board. IM SICK RIGHT NOW pic.twitter.com/pigHywq3c1

— SHAQ (@SHAQ) January 26, 2020
Kobe, We love you brother

We're praying for your family and appreciate the life you've lived and all the inspiration you gave pic.twitter.com/pxbgLOOmpY

— ye (@kanyewest) January 26, 2020
As I try to write this post, my mind is racing. I'm in disbelief and have been crying all morning over this devastating news that Kobe and his young daughter, Gigi have passed away in a helicopter crash. Cookie and I are heartbroken. pic.twitter.com/X2vF0M0a1u

— Earvin Magic Johnson (@MagicJohnson) January 26, 2020
Most people will remember Kobe as the magnificent athlete who inspired a whole generation of basketball players. But I will always remember him as a man who was much more than an athlete. pic.twitter.com/9EZuwk8wrV

— Kareem Abdul-Jabbar (@kaj33) January 26, 2020
I'm feeling numb – words can't describe the impact Kobe has had on the world, LA, and the Lakers – not to mention the influence he had in my life as someone I grew up idolizing. I loved him – and send my condolences to all the families who lost someone today. RIP

— Joey Buss (@Jbuss) January 26, 2020
Kobe was a legend on the court and just getting started in what would have been just as meaningful a second act. To lose Gianna is even more heartbreaking to us as parents. Michelle and I send love and prayers to Vanessa and the entire Bryant family on an unthinkable day.

— Barack Obama (@BarackObama) January 26, 2020
I was so inspired by Kobe Bryant in so many ways. Genuinely shocked to hear he is gone so soon.

This is absolutely devastating news. R.I.P to one of the greatest athletes of all time. #KobeBryant

— Candace Owens (@RealCandaceO) January 26, 2020