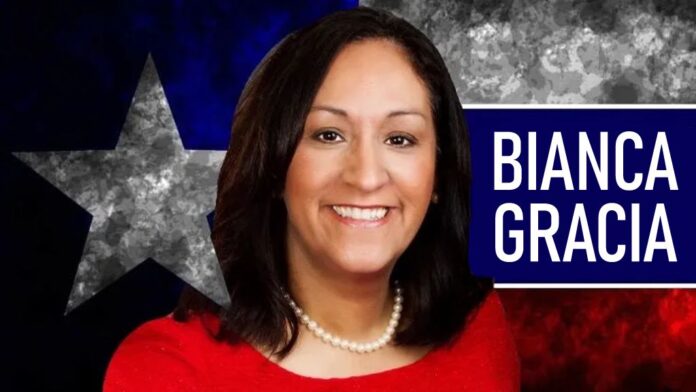 Grounded in Grassroots Conservative Principles of Faith, Family and Freedom!
Bianca Gracia announces her candidacy for Texas State Senate, District 11. She brings exceptional representation for her district to Austin, while fighting to save Texas.
PASADENA, Texas — Bianca R. Gracia announced her candidacy in the 2022 March Republican primary of Texas Senate District 11.
Bianca is a graduate of St. Mary's University degreed in Public Justice with a minor in Legal Studies and studied for a Masters in Strategic Leadership. For the past fifteen years she has dedicated herself to taking on the very important role of Home School Mom. Bianca has also been actively involved in her local community serving as a board member for the Mountains in Motion Ministry; Eucharist Minister and Wedding Coordinator at St. Anne's Catholic Church, soccer and baseball team mom, Cub Scout Leader, PTO President, and Director of her neighborhood HOA.
Through these experiences, Bianca developed a passion for grassroots involvement and political organizing. It is that passion that led her to co-found the grassroots movement, Latino Trump Coalition, which was created to reach Latino communities, raising awareness on the importance of conservative values and principles to ALL Hispanics.
Growing up, Bianca was raised in a Democrat household. But, about thirteen years ago, she came to the realization that her own principles did not align with Democrat policies, so she changed her party affiliation officially becoming a Republican.
She has served at the President of Latinos for Trump Organization 2018-2021; Executive Director of Latinos for America First PAC 2018-2021; Harris County Precinct Chair 2016-2021; 1St Place National Delegate 2020, Texas State Delegate 2018 and 2020, President of Leaderes de la Comunidad; President of Americanos Conservative United. You can listen to her radio commentary on 1440 KEYS AM & 98.7 FM, as "La Conservadora Tejana". She is a contributor on Steve Barmon's WarRoom and is currently on tour with Clay Clark's Health and Freedom Tour headlined by General Michael Flynn.
Bianca has previously worked as Statewide Hispanic Engagement Director for the Republican Party of Texas and State Director for the Faith and Freedom Coalition. She's served on the board of directors for Christian Engaged and is a former advisor and State Director of BLEXIT Texas.
Bianca's proudest achievement is being Mom to her two children; one attending university, junior year, and her youngest whom she homeschools. She's been married for twenty-two years to her police sergeant, Army Veteran husband.
Bianca is NOT a politician. She is, a Constitutional Christian Conservative. She has no interest in joining the "Good 01′ Boys Club" in Austin and will not be corrupted by the antics of establishment elite career politicians, lobbyists or special interest groups. Her mission? To serve the constituents of her district and help save Texas!
She is PRO Religious Liberties, Life, Jobs, Medical Freedoms, Legal Immigration and Pro 2nd Amendment!
Contact: 832-277-5062
Visit Bianca Gracia For State Senate Website