Join The Fight For North Carolina
Bo Hines is a fighter through-and-through. He and his wife embarked on their journey to start a family and they want to do their part to preserve American values and heritage, and ensure North Carolina reaches the heights of its potential. If you believe in North Carolina like the Hines do, support Bo Hines for Congress in NC-13 district this November 2022.
Visit the Bo Hines For Congress Website
The Issues
Immigration Reform
Our country is in dire need of immigration reform to ensure we have a sustainable immigration system that is concentrated on assimilating talented and hardworking individuals that have demonstrated they will abide by the law. Illegal immigration hurts our society and penalizes immigrants who have followed the rules and entered our country legally.
Freedom of Speech
Our right to free speech is a constitutionally protected right, but it is also important to maintaining a civil discord in our society. The culture of free speech is under assault from the Authoritarian Left in our country. We must reclaim the right to speak openly and honestly with one another so that we can ensure our Democracy flourishes.
An America-First Economy
It is crucial that we leverage the power of capitalism to create an economy that serves the American people by protecting American jobs and businesses at home. It is essential we revert back to the "America First" trade and economic policies that incentivized investment in our country and our citizens while discouraging offshoring and corporate inversions.
Visit the Bo Hines For Congress Website
American Infrastructure
The 13th District has woefully fallen behind in infrastructure. We must invest to ensure the entire district has access to high-speed internet and quality cell service, to be able to participate in and benefit from our changing digital economy. In addition, we must also improve our power grid to keep energy costs low, especially in rural regions.
The Second Amendment
I am as pro-gun as it gets. We all deserve the right to protect ourselves, our families, and our property. The Second Amendment protects these and all of our other rights from tyranny. I'm a gun owner and I will always fight to defend the second amendment.
Securing Our Elections
Bo knows that Americans must have trust in the results of our elections. Part of earning that trust includes routinely making sure our elections are: easy to vote in, but hard to cheat in. We must have accurate voter registries, verification of citizenship, and a requirement to show a photo ID before casting a ballot. Those simple requirements are the first steps in ensuring our elections are honest and fair. Bo is committed to securing our elections so the public can trust the outcome no matter who wins.
Visit the Bo Hines For Congress Website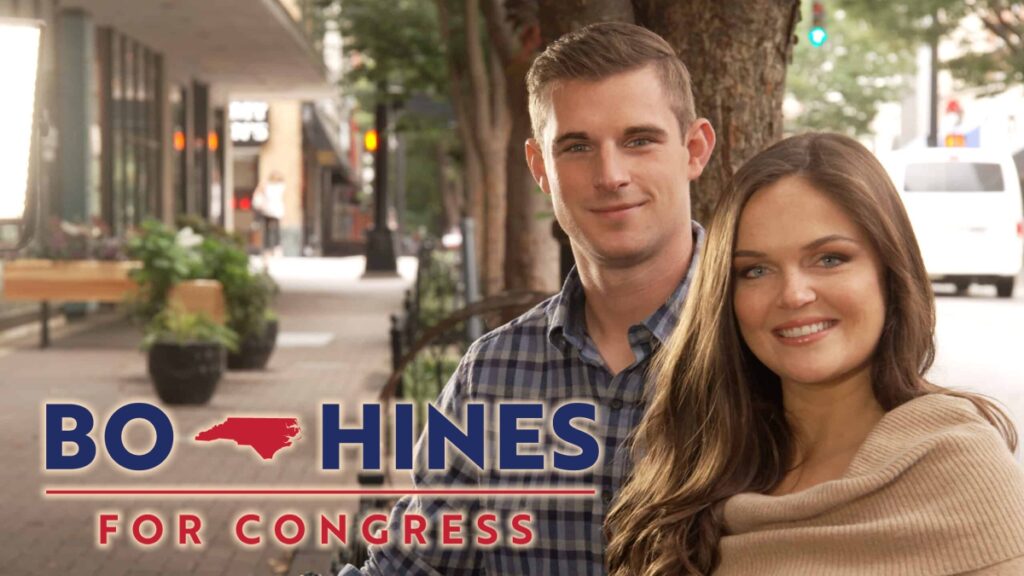 A Message About Bo Hines From Bo Hines
Dear families of North Carolina,
I've always been a hard worker.
I started playing football when I was just six years old. On the field I learned to work hard and persist when things got tough, valuable lessons that eventually earned me a scholarship to play football at NC State.
After my freshman year, I transferred to Yale University to study political science and witness the legislative process first-hand on Capitol Hill. After graduating from Yale, I pursued a law degree from the Wake Forest School of Law to escape the leftist propaganda of the Ivy League.
I'm a fighter through-and-through. As my wife and I embark on our journey to start a family, I want to do my part to preserve our values, our heritage, and ensure North Carolina reaches the heights of its potential.
If you believe in North Carolina like I do, I humbly ask for your support this November.
– Bo Hines
Visit the Bo Hines For Congress Website