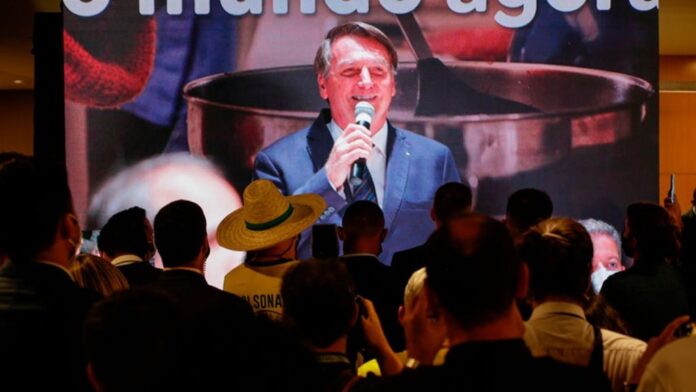 For many Brazilians, Jair Bolsonaro's presidency has been no fairy tale. Since his convincing victory in 2018, he has stood accused of encouraging massive deforestation in the Amazon rainforest and undermining the free press. A Senate panel recommended he be charged with crimes against humanity for willful mismanagement of the coronavirus, which he dismissed as a "little flu."
And yet, to the surprise of some, the same welfare critic who once suggested that one cure for poverty was birth control has also sought to reinvent himself as something of a fiscal Robin Hood, taking from Brazil's public coffers to give to the poor. His latest and largest effort: a potentially historic — some say catastrophic — revision to the social safety net that critics fear could break Brazil's national piggy bank.
Bolsonaro's Auxílio Brasil, or Brazil Aid, program would beef up financial assistance to the less fortunate ahead of next year's election. So expensive as to blast through Brazil's mandatory fiscal ceiling, the social spending spree requires approval in both legislative houses for a rejiggering of state finances to afford it. After clearing the lower house this week, it has moved to the Senate, which has promised a quick airing.
The cornerstone of Bolsonaro's hastily slapped together social agenda, Auxílio Brasil will replace Bolsa Familia, the much-hailed aid effort cobbled together nearly two decades ago by his political archenemy, leftist former president Luiz Inácio Lula da Silva. Perhaps not coincidentally, the two may square off in a clash of political titans in next year's presidential vote. Neither has officially declared their intentions, but many Brazilians expect they will run and the success or failure of Auxilio Brazil is likely to emerge as a hot button topic on the campaign trail.
Yet even some of Bolsonaro's critics concede the far-right leader should be credited with doing right, at least for a time, by Brazil's poor during the pandemic — even if he appeared to do so in a reach for political gain. As Congress last year was debating support for the poor, Bolsonaro appeared to sense an opportunity. His government had proposed a modest pandemic bonus for the poor, a number Congress decided needing beefing up. Not to be outdone, Bolsonaro vowed to one-up Congress's offer.
The result became a globally watched experiment in poverty reduction. By August of last year, as monthly cash assistance for some families reached the equivalent of about $232, extreme poverty hit a historic low of 2.3 percent. In fact, a World Bank report found that out of the 22 million people lifted out of poverty across Latin America by pandemic-related government transfers in 2020, 77 percent of them were in Brazil. Compare that to less generous pandemic assistance offered under leftist President Andrés Manuel López Obrador in Mexico, where 3.8 million more people fell into poverty during the pandemic.
"I don't think anyone would argue that he should not have done something along these lines," Cesar Zucco, a political scientist at Brazil's Getulio Vargas Foundation, told me of Bolsonaro's pandemic efforts for the poor. "Maybe you have to give that one to him. But it was excessive, and it wasn't well designed. It did help him boost his popularity."
Bolsonaro's popularity, in fact, shot through the roof, as the poor backed him in record numbers.
"He became a hero," Ricardo Fernandes, a 31-year old actor from Rio de Janeiro's City of God favela, told the Guardian last year. Gradually, however, that aid was scaled down and millions of Brazilians cascaded back into poverty. As they did, Bolsonaro's approval ratings tanked.
With elections looming next year, he appears to have learned that you can buy popularity.
"He is obsessed with the idea that he needs to give out money in order to boost his popularity," Zucco said.
Doling out cash or food baskets, particularly ahead of elections, is a common political ploy in parts of Latin America. But for Brazil, the impact of Bolsonaro's social safety net revamp could be far longer lasting.
By creating Auxilio Brasil, he is effectively killing Bolsa Familia, the globally recognized effort launched in 2003 that offered cash assistance to the poor in exchange for those families ensuring, for instance, that their children go to school and are properly vaccinated. Over the years, Bolsa Familia has helped lift millions out of poverty and contributed to a reduction in income inequality, of which Brazil has one of the world's highest rates.
Apparently eager to stake his own claim to being a president of the poor, Bolsonaro offers more money to more families in his new program. But critics like Zucco say it has substantial failings — not least of which is that it would be funded for only one year, requiring a new vote in 2022 to keep it alive.
Critics also argue that Bolsonaro's program does not appropriately deal with the realities of extreme poverty. A day-care voucher, for instance, would be offered only to families that demonstrate that they have a job, effectively omitting the unemployed.
"The government has not explained how it will implement the new benefits or who will be responsible for their implementation, evaluation and monitoring," Luciana de Souza Leão, an assistant professor of sociology at the University of Michigan, said in a university publication. "Launching a new program like this is destined to be a failure. Poor families will be the most affected since they will have to navigate a system that not even policymakers seem to understand besides dealing with the uncertainties about the program's future."
It is also very expensive, appearing designed less as a vehicle for long-term poverty reduction and more as a quick way to win votes in the favelas, or urban slums. Calling Bolsonaro bad for Brazil's economy, the Economist also noted that his spending bill allots a "large chunk" of extra money to financing "opaque budget amendments that grant overpriced public-procurement contracts to individual legislators in return for their support for president."
Read Original Article on WashingtonPost.com