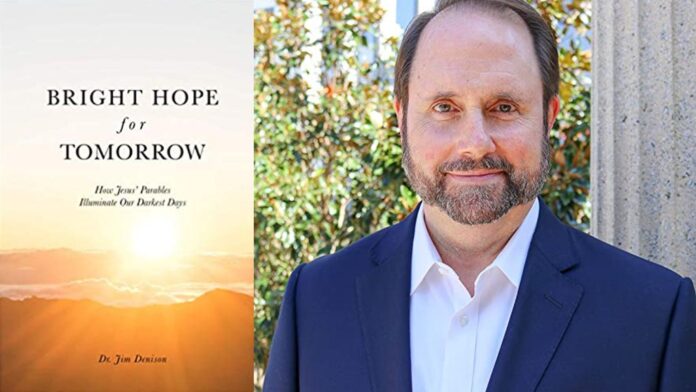 Where do you find hope in hard times?
When sickness strikes . . .
When the economy falters . . .
When political vitriol rages . . .
Where do you turn?
When the daily stress of life is compounded by loss, depression, or doubt, to whom do you look?
Two millennia ago, Jesus told dozens of short stories that still provide the hope we need today.
From the parable of the prodigal son to the parable of the persistent widow, Jesus' timeless words of wisdom provide us "strength for today and bright hope for tomorrow," as the hymnist Thomas Chisholm wrote in "Great Is Thy Faithfulness."
In Bright Hope for Tomorrow: How Jesus' Parables Illuminate Our Darkest Days, Dr. Jim Denison explores ten of Jesus' parables, encouraging you to live with purpose, cultural impact, and hope.

About The Author
Dr. Jim Denison is the author and founder of the Denison Forum. Through "The Daily Article," his email newsletter and podcast, Dr. Denison guides readers to discern today's news—biblically. To subscribe or listen, visit DenisonForum.org.
He is the author of multiple books and has taught on the philosophy of religion and apologetics at several seminaries. Dr. Denison serves as Resident Scholar for Ethics with Baylor Scott & White Health, where he addresses issues such as genetic medicine and reproductive science. He is also a Senior Fellow with the 21st Century Wilberforce Initiative and serves as Senior Fellow for Global Studies at Dallas Baptist University's Institute for Global Engagement.
He holds a Doctor of Philosophy and a Master of Divinity from Southwestern Baptist Theological Seminary. He also received a Doctor of Divinity from Dallas Baptist University. Prior to launching Denison Forum in 2009, he pastored churches in Texas and Georgia.
Jim and his wife, Janet, live in Dallas, Texas. They have two sons and four grandchildren.