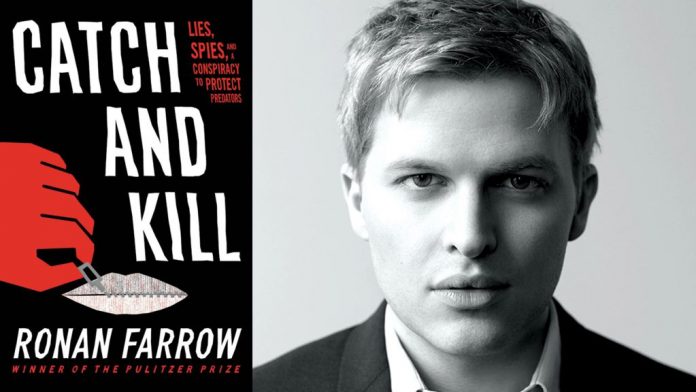 In Catch And Kill, a dramatic account of violence and espionage, Pulitzer Prize-winning investigative reporter Ronan Farrow exposes serial abusers and a cabal of powerful interests hell-bent on covering up the truth, at any cost.
Above video: Ronan Farrow on claims against NBC, Matt Lauer and Harvey Weinstein
In 2017, a routine network television investigation led Ronan Farrow to a story only whispered about: one of Hollywood's most powerful producers was a predator, protected by fear, wealth, and a conspiracy of silence. As Farrow drew closer to the truth, shadowy operatives, from high-priced lawyers to elite war-hardened spies, mounted a secret campaign of intimidation, threatening his career, following his every move, and weaponizing an account of abuse in his own family.
All the while, Farrow and his producer faced a degree of resistance they could not explain — until now. And a trail of clues revealed corruption and cover-ups from Hollywood to Washington and beyond.
This is the untold story of the exotic tactics of surveillance and intimidation deployed by wealthy and connected men to threaten journalists, evade accountability, and silence victims of abuse. And it's the story of the women who risked everything to expose the truth and spark a global movement.
Both a spy thriller and a meticulous work of investigative journalism, Catch and Kill breaks devastating new stories about the rampant abuse of power and sheds far-reaching light on investigations that shook our culture.
Editorial Reviews
Review
A USA Today Best Book of Fall 2019
One of the New York Times's 18 New Books to Watch for this October
An L.A. Times Book Club Pick
One of Entertainment Weekly's Biggest Books of Fall 2019
One of Time's Most Anticipated Books of Fall 2019
One of Boston Globe's Great Books of the Fall
One of Bustle's 10 New #MeToo Movement Books to Read in Fall 2019
One of Book Riot's 50 Best Books to Read This FallOne of Inside Hook's 9 New Books You Should be Reading this OctoberOne of Refinery29's Books That Capture the #MeToo EraOne of Bustle's 30 New Books to Get Excited About in October 2019A Fast Company Book to Check Out in October
About the Author
Ronan Farrow is a contributing writer to The New Yorker, where his investigative reporting has won the Pulitzer Prize for public service, the National Magazine Award, and the George Polk Award, among other honors. He previously worked as an anchor and investigative reporter at MSNBC and NBC News, with his print commentary and reporting appearing in publications including the Wall Street Journal, the Los Angeles Times, and the Washington Post. Before his career in journalism, he served as a State Department official in Afghanistan and Pakistan. He is also the author of the New York Times bestseller War on Peace: The End of Diplomacy and the Decline of American Influence. Farrow has been named one of Time Magazine's 100 Most Influential People and one of GQ's Men of the Year. He is a graduate of Yale Law School and a member of the New York Bar. He recently completed a Ph.D. in political science at Oxford University, where he studied as a Rhodes Scholar. He lives in New York.

Biography
Ronan Farrow is an investigative journalist who writes for The New Yorker and makes documentaries for HBO. He has been an anchor and reporter at MSNBC and NBC News, and his writing has appeared in publications including The Wall Street Journal and The Washington Post. A series of stories he wrote in 2017 exposed the first allegations of sexual assault against the movie producer Harvey Weinstein. Prior to his work as a journalist, he served as a State Department official in Afghanistan and Pakistan and reported to the Secretary of State as a senior official focused on youth uprisings. He is a Yale Law School-educated attorney and studied at Oxford as a Rhodes Scholar. He is a winner of the Pulitzer Prize for Public Service, the George Polk Award, and the National Magazine Award, among other commendations, and has been named one of Time magazine's 100 Most Influential People (and also one of People's Sexiest Men Alive, which doesn't have anything to do with his career, but he still brings it up a lot).