The EU has placed embargoes on the import by the sea of almost all Russian crude oil imports, and since 5 February, refined oil imports are also included. At the same time, the EU and G7 alliance, complemented by Norway, has introduced a price cap that domestic shipping and insurance services must respect when transporting Russian produce. Consequently, the trade of Russian oil is rapidly changing.
The below chart shows (learn more here) the 4-week moving average exports of Russian crude oil for 2021, 2022, and 2023. All oil leaving Russian ports are included, no matter the destination. Numbers are aggregated according to the departure date of the tankers. Notice that 2023 does not seem to be hurt by the sanctions being imposed on Russia.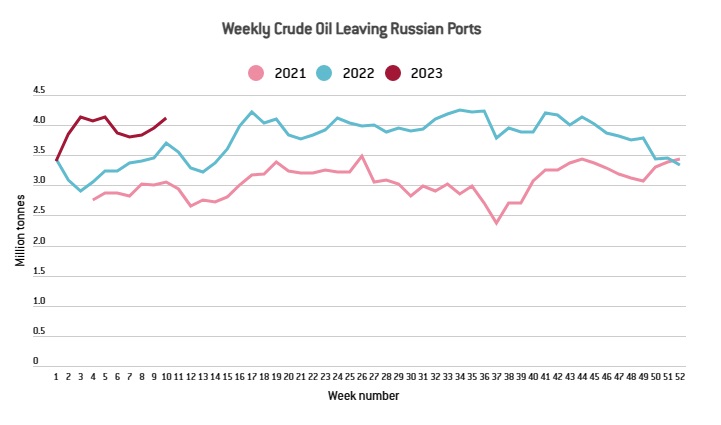 The chart below shows an aggregation of monthly numbers by destination of imported Russian oil. EU countries are in various shades of blue (decomposed by region) and have primarily ceased imports of Russian oil following the embargo. The interesting point here is that though the EU sanctions have stopped the flow of oil to the EU, they have been replaced by non-EU and non-G7 countries.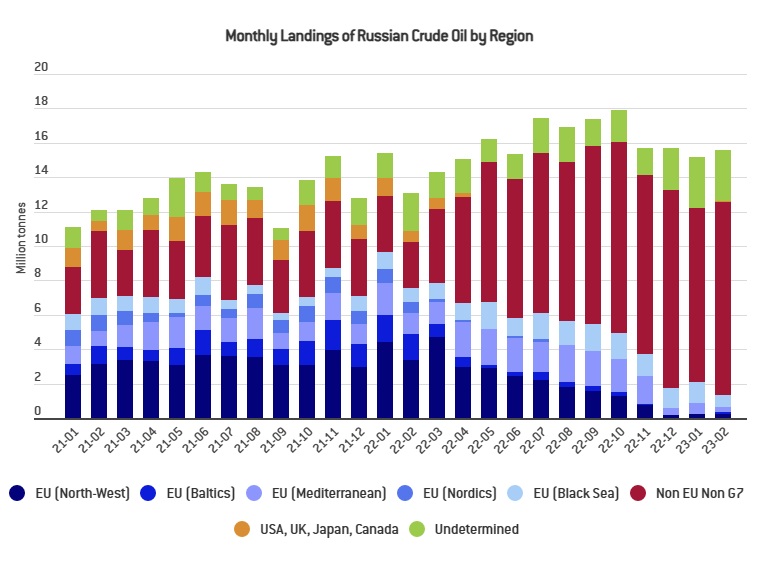 Meanwhile, Russia has committed to a unilateral output cut as part of an agreement by OPEC+ and the Saudis – see here. In short, Russia has been relatively successful in finding new customers for its oil and is participating well with its BRIC partners to obtain hard currency and control global oil prices.
Along with the reality of the mostly failure of the Russian oil sanctions, successful OPEC+ control of the oil markets, and the new realities from the Pentagon leaker that Ukraine may be losing the war – where will oil prices go from here?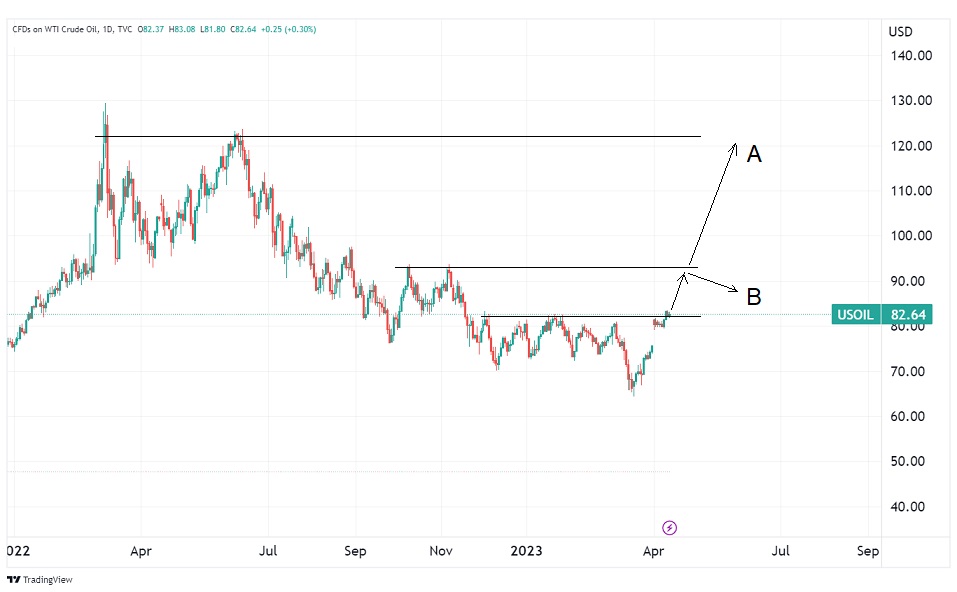 Recently, the oil price looks like it broke resistance at the $82 level and should get traders to pile into a move higher to about the $92 level. From here, it could take two paths depending on how the Ukraine war situation develops.
Option A – says the Ukraine war continues, more sanctions with more restrictions on supply. The continued war will cause global growth to falter and cause central bankers to provide more inflationary stimulus fueling the commodity bubble more. In this case, oil prices may even go past the $92 area.
Option B – says the Ukraine war ends, with the West that tries to save face in another Agansitan-like debacle. In this scenario, it will be taken positively by the markets. Oil supplies will begin to flow again and stabilize markets. Oil prices may also stabilize in this situation.
See more Chart of the Day posts
By Tom Williams