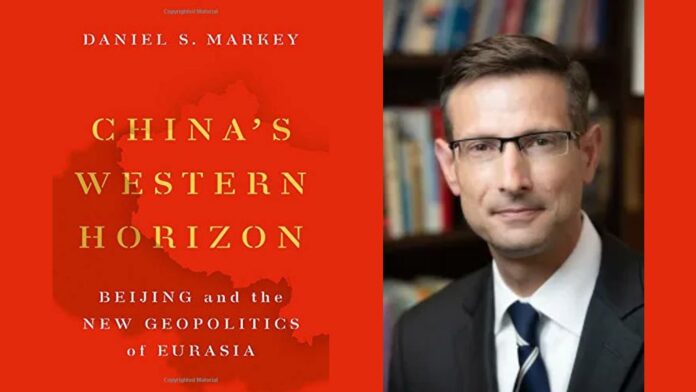 Under the ambitious leadership of President Xi Jinping, China is zealously transforming its wealth and economic power into potent tools of global political influence. But China's foreign policy initiatives, even the vaunted "Belt and Road," will be shaped and redefined as they confront the ground realities of local and regional politics outside China.
In China's Western Horizon, Daniel S. Markey, a scholar of international relations and former member of the U.S. State Department's policy planning staff, previews how China's efforts are likely to play out across the swath of Eurasia that includes South Asia, Central Asia, and the Middle East.
Drawing from extensive interviews, travels, and historical research, Markey describes how perceptions of China vary widely within states such as Pakistan, Kazakhstan, and Iran. Powerful and privileged groups across the region often expect to profit from their connections to China, while others fear commercial and political losses. Similarly, Eurasian statesmen are scrambling to harness China's energy purchases, arms sales, and infrastructure investment. These leaders are working with China in order to outdo their strategic competitors, including India and Saudi Arabia, and simultaneously negotiating relations with Russia and America.
On balance, Markey anticipates that China's deepening involvement will play to the advantage of regional strongmen and exacerbate the political tensions within and among Eurasian states. To make the most of America's limited influence in China's backyard (and elsewhere), he argues that U.S. policymakers should pursue a selective and localized strategy to serve America's specific aims in Eurasia and to better compete with China over the long run.
Editorial Reviews
Review
"A far-reaching and important primer that is filled with insights about the world of today and tomorrow, Markey's fine book is essential reading for anyone interested in international affairs." — Peter Frankopan, Professor of Global History, Worcester College, University of Oxford
"The Chinese leadership nurtures great ambitions on its Western periphery, well beyond its traditional East and South-Asian horizons. But, local countries have their own strategic agendas, their own political and socio-economic conditions, and their own vision for their present and future selves. With eloquence, sagacity and rigor, Markey describes the interactive effects that China's growing presence in South Asia, Central Asia, and the Middle East has on local realities. Beijing's active deployment of diplomatic, economic, and security instruments is already giving shape to a new regional landscape in which the US will have to adapt, and perhaps rethink, its role." — Nadège Rolland, author of China's Eurasian Century
"This is a first-rate guide to the deepening post-Cold War profile of China on the Eurasian continent. Markey shows the strengths and weaknesses of China's Belt and Road Initiative, especially along the strategic access routes from Beijing to the Persian Gulf. Documenting China's quiet yet steadily rising Eurasian presence and its global implications, Markey highlights the region's historic transformation." — Kent Calder, Vice Dean, and Director of the Reischauer Center for East Asian Studies, Johns Hopkins University, School of Advanced International Studies
"Amidst a wave of books about China's Belt and Road that emphasize Beijing's global vision for a new international order, China's Western Horizon skillfully reveals how local actors across Eurasia have seized upon and manipulated Chinese investments and strategic engagement to advance their own domestic and regional agendas. Markey's detailed and penetrating research provides important cautionary evidence that BRI partners may 'pull' China into political entanglements with important unintended and even counterproductive consequences for Beijing" — Alexander Cooley, Claire Tow Professor of Political Science, Barnard College and Director, Harriman Institute, Columbia University
"Markey's important and insightful new book makes a valuable contribution to the literature on China's expanding global presence. Casting his eye across a vast swath of continental Eurasia, Markey analyzes both the forces driving Chinese policy and the factors shaping the responses of the poorer and weaker nations in its path. Markey's research is broad as well as deep, his assessments are balanced and measured, and his conclusions will inform the thinking of scholars and policymakers alike." — Aaron L. Friedberg, Professor of Politics and International Affairs, Princeton University
About the Author
Daniel S. Markey is a senior research professor at Johns Hopkins University's School of Advanced International Studies (SAIS), and the academic director of the SAIS Global Policy Program. From 2007-2015, he was senior fellow for India, Pakistan, and South Asia at the Council on Foreign Relations.
While there, he wrote a book on the future of the U.S.-Pakistan relationship, No Exit from Pakistan. From 2003 to 2007, Dr. Markey held the South Asia portfolio on the Secretary's Policy Planning Staff at the U.S. Department of State.