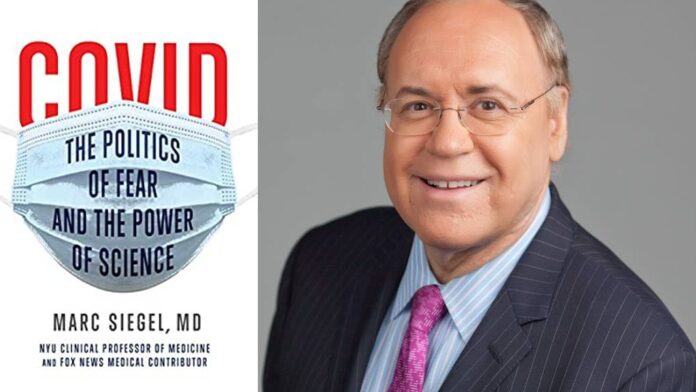 Separating FACT from FICTION in the COVID-19 Epidemic
People are afraid. COVID-19 has upended our lives as it poses new medical dangers, economic suffering and grave uncertainty about the world around us. The collateral damage is enormous, but politics invade perception. There are so many unknowns. Does a treatment work? Is a vaccine coming? How likely are you to catch COVID and how can you best protect yourself and your family? What are the real risks and what is hysteria? Where are our fear leaders? What are their agendas?
From Fox News Medical Analyst and the author of False Alarm (Wiley, 2008) comes COVID and the Politics of Fear by Marc Siegel, M.D. This shocking expose of the facts as the media covers the national pandemic news and spread of the invisible virus, reinforces the notion that we must arm ourselves against fear tactics that limit our abilities to safely make decisions and protect our families in a world of uncertainty.
Life for citizens of the developed world before the pandemic was safer, easier, and healthier than for any other people in history thanks to modern medicine, science, technology, and intelligence– but COVID-19 has stolen that security and our nations peace of mind. Now there is a pandemic virus, as well as a crippling epidemic of fear sweeping America. Why? The answer, according to nationally renowned health commentator Dr. Marc Siegel, is that we already lived in an artificially created culture of fear that was just waiting to be unleashed. In COVID and the Politics of Fear, Siegel identifies three major catalysts of the culture of fear― government, the media, and our own psyche. With fascinating, blow-by-blow analyses of the most sensational false alarms of the past few years, compounded now by the worst contagion of our lifetimes, he shows how fearmongers manipulate our most primitive instincts―often without our even realizing it. COVID shows us how to look behind the hype and hysteria, inoculate ourselves against these crippling fear tactics, and develop the emotional and intellectual skills needed to take back our lives even as we battle the pandemic itself.
Editorial Reviews
Review
"Marc Siegel is the first person we go to when we've got questions about medicine and science… This is the first book I'd read about COVID." –Tucker Carlson, national broadcaster and bestselling author
"Dr. Marc Siegel is the nation's doctor when it comes to expertly addressing the pandemic." – Mark Levin, national broadcaster and bestselling author
Praise for Dr. Marc Siegel
"Dr. Siegel, always good to talk with you– especially at a difficult time when we need to get the facts out to the American people. We talk about a pandemic of virus, but you and I also always talk about the fact that there is a pandemic of misinformation out there… thank you for the work that you've done to help people better understand a disease that quite frankly changes and humbles us each and every day." –Jerome Adams, M.D., M.P. H., Surgeon General of the United States
"I just want to thank you Dr. Siegel. You've played a really important role in helping to educate the American public with really balanced, scientific, factual information and that's very important." –Alex Azar, United States Secretary of Health and Human Services
"Thank you for all you do. It is such an important role you play in getting the information out and getting it out accurately and motivating both our own professional physicians but the public at large to embrace these important public health measures– particularly vaccination." –Robert Redfield, M.D., Director of the Centers for Disease Control and Prevention
"Siegel cuts through the hype about the 'deadly' this and the 'lethal' that, and applies reason in seeking the answers." –John M. Barry, author of The Great Influenza: The Epic Story of the Deadliest Plague in History
"Marc Siegel is an articulate voice of reason in a world beset by hype and hysteria. We would be well advised to listen closely to what he has to say."–Jerome Groopman, M.D., staff writer, The New Yorker
"You've really been the model for health education nationally." –Martin Adel Makary, M.D, M.P. H., Professor of Surgery at Johns Hopkins Medicine and bestselling author
"[Dr. Siegel is] a straight shooter here. You're not going to mix your words. You're not going to pull your punches. It is what is it and I think it's a great form to get the public health messages out." –Brett Giroir, M.D., Assistant Secretary for Health
Review
"I watch you all the time and you're… like my guide to this because, frankly, you really have a good take on it. You know how important it is." – President Donald Trump on Dr. Marc Siegel
About the Author
Marc Siegel M.D., is a leading medical expert on the global Covid-19 pandemic and the chief medical analyst for FOX News. President Donald Trump, in an exclusive interview, calls Dr. Siegel one of his primary "guides" to the Covid-19 pandemic. Dr. Siegel is a member of the board of contributors at USA Today, a columnist for The Hill, a contributor to the Wall Street Journal, a clinical professor of medicine at NYU Langone Health and the medical director for Doctor Radio on SiriusXM. Dr. Siegel is also the author of False Alarm: The Truth About the Epidemic of Fear, The Inner Pulse: Unlocking the Secret Code of Sickness and Health, the novel Bellevue, as well as other books on Bird Flu. With over 30 years of experience in the medical field, Dr. Siegel has written extensively on health, outbreaks and pandemics.