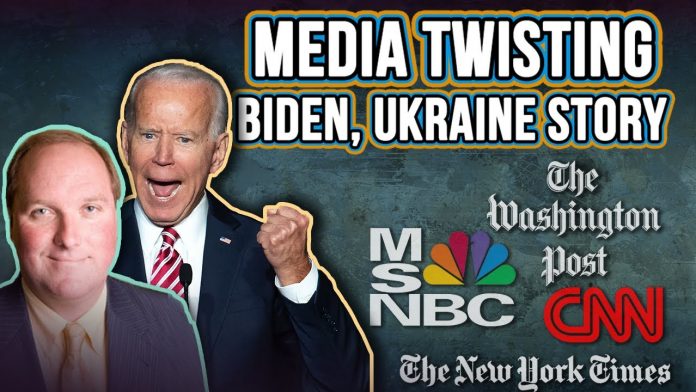 Former Vice President Joe Biden, now a 2020 Democratic presidential contender, has locked into a specific story about the controversy in Ukraine.
He insists that, in spring 2016, he strong-armed Ukraine to fire its chief prosecutor solely because Biden believed that official was corrupt and inept, not because the Ukrainian was investigating a natural gas company, Burisma Holdings, that hired Biden's son, Hunter, into a lucrative job.
There's just one problem.
Hundreds of pages of never-released memos and documents — many from inside the American team helping Burisma to stave off its legal troubles — conflict with Biden's narrative and create doubt on Joe Biden's Ukraine story.
And they raise the troubling prospect that U.S. officials may have painted a false picture in Ukraine that helped ease Burisma's legal troubles and stop prosecutors' plans to interview Hunter Biden during the 2016 U.S. presidential election.
For instance, Burisma's American legal representatives met with Ukrainian officials just days after Biden forced the firing of the country's chief prosecutor and offered "an apology for dissemination of false information by U.S. representatives and public figures" about the Ukrainian prosecutors, according to the Ukrainian government's official memo of the meeting. The effort to secure that meeting began the same day the prosecutor's firing was announced.
In addition, Burisma's American team offered to introduce Ukrainian prosecutors to Obama administration officials to make amends, according to that memo and the American legal team's internal emails.
The memos raise troubling questions:
1.) If the Ukraine prosecutor's firing involved only his alleged corruption and ineptitude, why did Burisma's American legal team refer to those allegations as "false information?"
2.) If the firing had nothing to do with the Burisma case, as Biden has adamantly claimed, why would Burisma's American lawyers contact the replacement prosecutor within hours of the termination and urgently seek a meeting in Ukraine to discuss the case?
Ukrainian prosecutors say they have tried to get this information to the U.S. Department of Justice (DOJ) since the summer of 2018, fearing it might be evidence of possible violations of U.S. ethics laws. First, they hired a former federal prosecutor to bring the information to the U.S. attorney in New York, who, they say, showed no interest. Then, the Ukrainians reached out to President Trump's personal lawyer, Rudy Giuliani.
Ukraine's new president, Volodymyr Zelensky, told Trump in July that he plans to launch his own wide-ranging investigation into what happened with the Bidens and Burisma.
"I'm knowledgeable about the situation," Zelensky told Trump, asking the American president to forward any evidence he might know about. "The issue of the investigation of the case is actually the issue of making sure to restore the honesty so we will take care of that and will work on the investigation of the case."
Biden has faced scrutiny since December 2015, when the New York Times published a story noting that Burisma hired Hunter Biden just weeks after the vice president was asked by President Obama to oversee U.S.-Ukraine relations. That story also alerted Biden's office that Prosecutor General Viktor Shokin had an active investigation of Burisma and its founder.