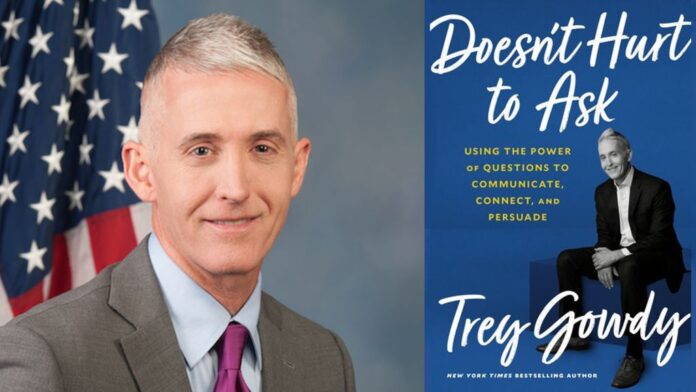 #1 NEW YORK TIMES BESTSELLER • Former congressman and prosecutor Trey Gowdy teaches you how to effectively communicate and persuade on the issues that matter most to you, drawing on his experience in the courtroom and the halls of Congress.
"A must-read for people who want to learn how best to succeed."—Dana Perino, Fox News host and bestselling author of And the Good News Is . . .
You do not need to be in a courtroom to advocate for others. You do not need to be in Congress to champion a cause. From the boardroom to the kitchen table, opportunities to make your case abound, and Doesn't Hurt to Ask shows you how to seize them. By blending gripping case studies from nearly two decades in a courtroom and four terms in national politics with personal stories and practical advice, Trey Gowdy walks you through the tools and the mindset needed to effectively communicate your message.
Along the way, Gowdy reflects on the moments in his life when he learned the most about how to argue and convince. He recounts his missteps during his first murder trial, the conversation that changed his view on criminal justice reform, and what he learned while questioning James Comey and Secretary Hillary Clinton.
Sharing the techniques he perfected advocating in law and politics, Gowdy helps you identify your objective, understand your personal jury, and engage in the art of questioning so you can be heard, be understood, and, ultimately, move others. Whether it's getting a boss to take a chance on your idea, convincing someone to support your cause, or urging a child to invest more effort in an important task, movement requires persuasion. Doesn't Hurt to Ask shows you how to persuade, no matter the jury and no matter the cause.
Editorial Reviews
Review
"Gowdy was tough when he was a federal prosecutor, and he drew on that experience when interrogating individuals who appeared before Congress, during his tenure as a South Carolina representative. He possesses an uncanny ability to ask the right questions to pull out the truth from those on Capitol Hill—no easy feat. Doesn't Hurt to Ask demonstrates how to ask questions to move people and get the answers you need to make decisions and become a stronger communicator."—Sean Hannity, nationally syndicated radio and TV host and bestselling author of Live Free or Die
"If I could have anyone in the world argue my case, it would be Trey Gowdy—the person I trust the most to make common sense. Whether it's made on a football field or in a courtroom, a good argument is a good argument, no matter the authority. In Doesn't Hurt to Ask, Gowdy is the authority."—Lou Holtz, hall of fame coach and bestselling author of Wins, Losses, and Lessons

"Gowdy, one of our finest courtroom lawyers, has written a very fine book on the art of persuasion. In Doesn't Hurt to Ask, you'll learn a lot about the importance of listening to evidence, using words with precision, and, above all, asking good questions. You'll also learn some things about being a better person. In the end, this is a book about finding a purpose bigger than yourself, and then moving others toward that purpose with you."—William J. Bennett, bestselling author of The Book of Virtues
About the Author
Trey Gowdy is a former state and federal prosecutor who experienced the criminal justice system firsthand for nearly two decades. In 2010, he was elected to Congress, where he chaired the House Committee on Oversight and Government Reform and the Select Committee on Benghazi. After serving four terms, he decided to leave politics and return to private law practice. Gowdy is the co-author of the New York Times bestseller Unified. He is married to Terri Dillard Gowdy, and they have two children and three dogs.