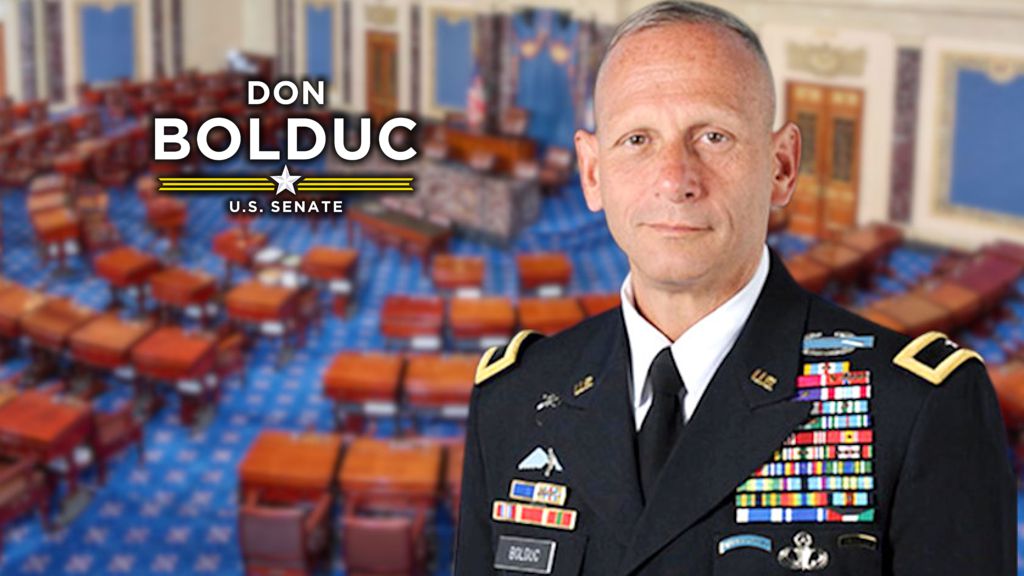 People. Family. Mission
Issues
DC is broken and just isn't getting the job done for New Hampshire. Don Bolduc won't let special interests or partisan politics get in the way of my new mission, serving as your United States Senator.
Visit the Don Bolduc U.S. Senate Website
New Hampshire has the Highest Student Debt
Debt, a ton of debt. Per capita, New Hampshire has the highest student debt in the nation, and it is setting our children up for failure. Every young person should have the opportunity to earn and receive a quality, affordable education.
Visit the Don Bolduc U.S. Senate Website
As Americans, we are protected under the constitution to bear arms.
I have seen firsthand what can happen when people are unable to protect themselves or their families. The federal government must defend the constitution, not adjust it to suit political ideology.
Visit the Don Bolduc U.S. Senate Website
Border security and illegal immigration are about national security
Our current representation has failed to come together and develop an effective strategy. Enhancing the security of our borders is not "anti-immigration." A weak border allows free access to our citizens by those with anti-American intentions and motivated by radical ideologies.
Visit the Don Bolduc U.S. Senate Website
New Hampshire desperately needs a full-service VA hospital
New Hampshire needs a full-service VA hospital. In a state that is home to more than 100 thousand veterans and active duty members of the armed forces, it is beyond time we got this done.
Visit the Don Bolduc U.S. Senate Website
Economic environment has to promote free market competition
Under no circumstances should the federal government be in the business of picking winners and losers. Let's leave it to the individual states to properly legislate the industries that impact local economies. Without skin in the game, blanket over-regulation stymies job growth and inhibits innovation.
Visit the Don Bolduc U.S. Senate Website
The ACA is a bureaucratic mess that is designed and destined to collapse
Since the passage of the Affordable Care Act, many Republicans have campaigned on the message of "repeal and replace." They have gotten it half right. The ACA is a bureaucratic mess that is destined to collapse under its own weight.
About General Don Bolduc
During his 33 year career with the US Army, he received two awards for valor, five Bronze Star medals, and two Purple Hearts. He led one of the first groups in Afghanistan after the 9/11 attacks, riding on horseback to take control of the southern Afghan region from the Taliban. He was also one of the few survivors of both a helicopter crash and a 2,000-pound bomb that inadvertently targeted on his position by friendly fire.
After returning home to New Hampshire, General Bolduc has been a tireless advocate to combat the stigma around and treatment of post-traumatic stress (PTS). He was one of the few senior military officers and the only active duty general officer on record at the time to discuss his own struggles with PTS. His leadership on this issue and others earned him the nickname of "Captain America" and "Everyone's General" by his fellow officers and soldiers.
He has been awarded the Defense Service Medal, the Defense Superior Service Medal, Legion of Merit, Army Commendation Medal with Valor Device and numerous awards from our allies.
Visit the Don Bolduc U.S. Senate Website