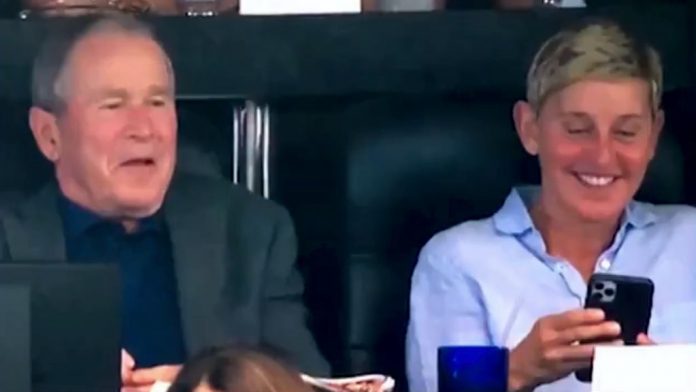 Yes, that was me at the Cowboys game with George W. Bush over the weekend. Here's the whole story. pic.twitter.com/AYiwY5gTIS

— Ellen DeGeneres (@TheEllenShow) October 8, 2019
When I say, 'be kind to one another,' I don't only mean the people that think the same way that you do. I mean be kind to everyone. ~ Ellen DeGeneres
She addressed the criticism she faced because of being seen laughing with President George W. Bush at the Dallas Cowboys football game on October 8, saying "People were upset."
"They thought, why is a gay Hollywood liberal sitting next to a conservative Republican president?" DeGeneres asked. " A lot of people were mad. And they did what people do when they're mad… they tweet."
But instead of sharing some of the negative tweets that were aimed at her, DeGeneres shared a positive tweet which said "Ellen and George Bush together makes me have faith in America again."
"Exactly. Here's the thing. I'm friends with George Bush," she said. "In fact, I'm friends with a lot of people who don't share the same beliefs that I have."
Ellen DeGeneres went on to explain that she believes people have forgotten that we are all different and that that's OK.
"But just because I don't agree with someone on everything doesn't mean that I'm not going to be friends with them," she said. "When I say, 'be kind to one another,' I don't only mean the people that think the same way that you do. I mean be kind to everyone."
Bush was a guest on "The Ellen DeGeneres Show" in 2017.