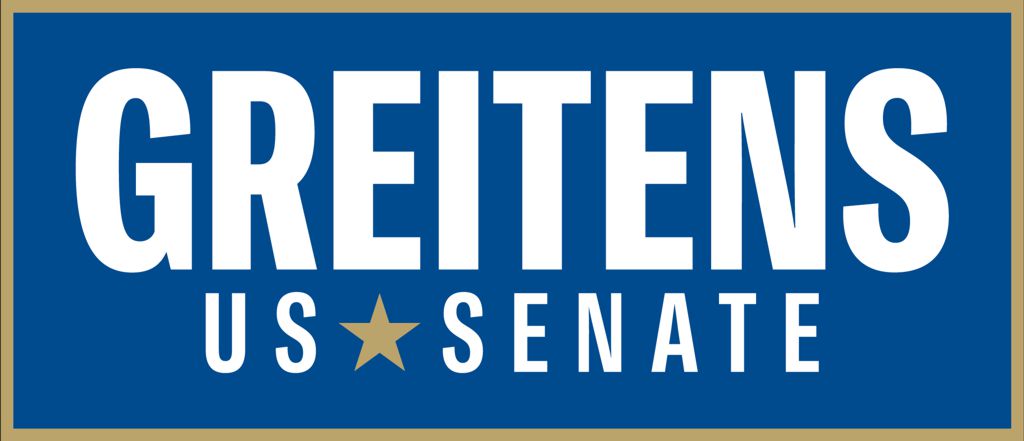 Visit Eric Greitens For U.S. Senate Website
Trump's Missouri Senate Endorsement
"There is a BIG Election in the Great State of Missouri, and we must send a MAGA Champion and True Warrior to the U.S. Senate, someone who will fight for Border Security, Election Integrity, our Military and Great Veterans, together with having a powerful toughness on Crime and the Border. We need a person who will not back down to the Radical Left Lunatics who are destroying our Country. I trust the Great People of Missouri, on this one, to make up their own minds, much as they did when they gave me landslide victories in the 2016 and 2020 Elections, and I am therefore proud to announce that ERIC has my Complete and Total Endorsement!"
~ By Donald J. Trump
About Eric Greitens
Eric Greitens was educated in public schools and earned an Angier B. Duke Scholarship to attend Duke University. Selected as a Rhodes and a Truman Scholar, he attended the University of Oxford, where he earned a master's degree and a Ph.D. His doctoral thesis, Children First, investigated how international humanitarian organizations can best serve war-affected children.
He has worked as a humanitarian volunteer, documentary photographer, and researcher in Rwanda, Cambodia, Albania, Mexico, India, Bosnia, and Bolivia.
Eric served as a United States Navy SEAL officer and deployed four times during the Global War on Terrorism to Afghanistan, Southeast Asia, the Horn of Africa, and Iraq. He served as the Commander of a Mark V Special Operations Craft Detachment, Commander of a Joint Special Operations Task Unit, and as Commander of an al Qaeda Targeting Cell.
In 2005, Eric was appointed by President George W. Bush to serve as a White House Fellow, and in 2011 the Association of the United States Navy named him the Navy Reserve Junior Line Officer of the Year. His military awards include the Military Outstanding Volunteer Service Medal, the Navy Achievement Medal, the Joint Service Achievement Medal, the Navy Commendation Medal, the Joint Service Commendation Medal, the Combat Action Ribbon, the Purple Heart, and the Bronze Star.
After returning from Iraq in 2007, Eric donated his combat pay to found The Mission Continues, a national organization that challenges and inspires returning wounded veterans to serve in communities across America. As CEO, Eric was frequently recognized as one of the most innovative leaders in America. Major League Baseball and PEOPLE Magazine named Eric an "All-Star Among Us," and the National Conference on Citizenship named him its "Citizen Soldier of the Year." In 2008 President Bush personally presented Eric with the President's Volunteer Service Award.
Visit Eric Greitens For U.S. Senate Website
Visit Eric Greitens For U.S. Senate Website
For his work with veterans, Eric was named to TIME magazine's list of the 100 most influential people in the world for 2013. In 2014, Fortune magazine recognized him as one of the 50 greatest leaders in the world.
A conservative and a political outsider, Greitens was elected Governor of Missouri in 2016. He championed support for police officers, fire fighters, first responders, and veterans; ended lobbyist gifts, killed a pay raise for politicians, cut taxes, eliminated burdensome regulations, zeroed out corrupt insider tax credit schemes, and promoted the well-being of foster children and foster families. For his work as Governor, he was inducted into the American Academy of Achievement.
Eric's first book, Strength & Compassion, was recognized as ForeWord Magazine's Photography Book of the Year and was the Grand Prize Winner of the New York Book Festival. The Heart and the Fist: The Education of a Humanitarian, the Making of a Navy SEAL, was a New York Times Bestseller. The Warrior's Heart was recognized as one of the Best Teen Books of 2012 by Barnes & Noble and Kirkus Reviews, and his latest book, Resilience, was also a New York Times Bestseller.
Eric is a sub-3 hour marathon runner and the winner of the Shamrock Marathon at Camp Fallujah, Iraq. As a boxer, he won two Oxford Boxing Blues and the Gold Medal at the BUSA National Boxing Championships. A Missouri state and USNTF national champion in sparring, he holds a 2nd Dan Black Belt in Taekwondo.
Visit Eric Greitens For U.S. Senate Website