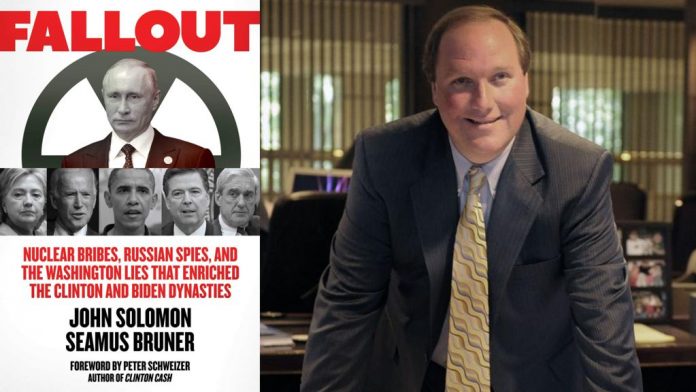 "This book is a MUST BUY!" – President Donald J. Trump
"The Russia and Ukraine scandals are unraveled, corruption and greed exposed. No one is better at uncovering the truth than these two investigative journalists." – Gregg Jarrett, FOX News legal analyst and author of the #1 NYT bestsellers The Russia Hoax and Witch Hunt
An exhaustively researched book that reads like an investigative thriller, Fallout reveals how Obama's "Russian Reset" led to corruption, scandal, and a desperate bid to impeach Donald Trump.
In 2015, a major story broke exposing Hillary Clinton's role in approving the sale of American uranium assets to the Russian state nuclear agency, Rosatom. Not only did the sale of Uranium One put 20 percent of America's domestic uranium supply under the control of Vladimir Putin, there was also evidence that the Clintons themselves had hugely profited from the deal.
When presidential candidate Donald Trump made Uranium One the centerpiece of his "Crooked Hillary" attacks, the Clinton team feared its potential to damage Hillary's campaign. Others in the Obama-Biden camp worried that if elected, Trump would expose their role in selling out America's security to Putin. Their desperate need to neutralize the issue led them to launch an unprecedented investigation into the Trump campaign's purported ties to Russia.
The infamous Steele dossier, produced by Clinton-connected Fusion GPS, sparked an investigation under FBI Director James Comey. Instead of ending after the election, the investigation grew bigger, eventually leading to Comey's firing and the appointment of Special Counsel Robert Mueller. When Mueller failed to find grounds for impeachment, Democrats seized on an ambiguous phone call with the Ukrainian president as a pretext to remove Trump from office. This gambit blew up in their faces when it exposed the secrets that Democrats tried hard to keep buried.
Fallout is an indispensable guide to the hidden background of recent events, Fallout shows how Putin's bid for nuclear dominance produced a series of political scandals that ultimately posed one of the greatest threats to our democracy in modern American history.

Editorial Reviews
Review
"Solomon and Bruner's Fallout will inform all Americans seeking truth and justice. Only read this book if you want THE TRUTH!" — Sidney Powell, Federal Appellate Attorney, Former Federal Prosecutor and Author of the runaway bestseller Licensed to Lie: Exposing Corruption in the Department of Justice
"The Russia and Ukraine scandals not only corrupted government decisions, they helped enrich lots of Washington insiders. Fallout tells it all." — Sharyl Attkisson, five-time Emmy Award-winning Investigative Journalist

About the Author
John Solomon is the award-winning author of DSK: The Scandal that Brought Down Dominique Strauss-Kahn. During his quarter-century career in print and broadcast media, Solomon has covered a variety of issues, from the convicted serial killer, Jeffrey Dahmer, to an in-depth look at teachers who returned to classrooms after child molestation convictions. In 2008, Solomon joined TheWashington Times as executive editor. Before joining the Times, Solomon was a national investigative correspondent at TheWashington Post, where he uncovered former New York mayor Rudolph Giuliani's secret security firm clients, former senator John Edwards' relationship with a controversial hedge fund, and the FBI's misuse of an anti-terrorism tool that allowed agents to gather phone and computer records of Americans without court approval.
Seamus Bruner is the author of Compromised: How Money and Politics Drive FBI Corruption and the Associate Director of Research at the Government Accountability Institute. Bruner has worked with Peter Schweizer since 2011 and GAI since 2013, providing research and support for numerous New York Times bestsellers. Bruner's research has been featured on the front page of top publications like The New York Times, The Wall Street Journal, and The Washington Post and resulted in multiple 60 Minutes exposés. Bruner has discussed the results of his findings on national TV and radio.