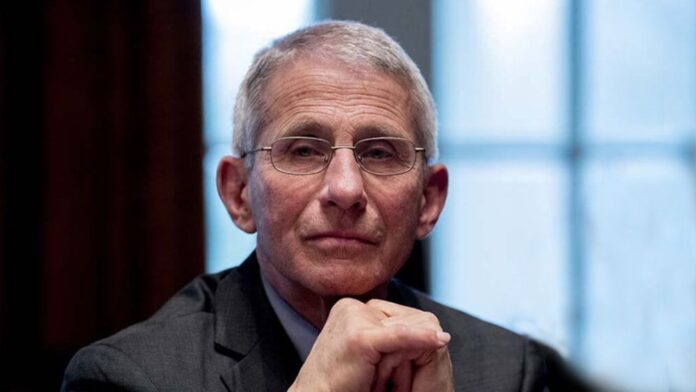 National Institute of Allergy and Infectious Diseases director Anthony Fauci said federal health officials are considering recommending that fully vaccinated people wear masks in public again.
"This is under active consideration," Fauci told CNN in response to a question about whether masks should be used again despite individuals' COVID-19 vaccination status. Fauci, who serves as President Joe Biden's chief medical adviser, added, "If we don't vaccinate people, the model is going to predict that we're going to be in trouble as we continue to get more and more cases."
Some areas, including Los Angeles County and Chicago, recently said that everyone, regardless of vaccination status, should wear masks in public settings. The U.S. Centers for Disease Control (CDC), additionally, recommended that all children who are not vaccinated wear masks when they return to class in the fall.
"That's a local decision that's not incompatible with the CDC's overall recommendations that give a lot of discretion to the locals," Fauci said Sunday regarding the local policies. "And we're seeing that in L.A. We're seeing it in Chicago. We're seeing that in New Orleans, because the officials there, many of them are saying, 'Even if you're vaccinated, it's prudent to wear a mask indoors.'"
During the Sunday interview, Fauci didn't provide a specific reason why vaccinated people should wear masks.
Some officials, including New York City Mayor Bill de Blasio, said that the reimposition of mask-wearing would cause people to develop a lack of confidence in COVID-19 vaccines and would question why both should be required.
Another, Florida Gov. Ron DeSantis, said Florida would not impose any mask mandates at public schools during the pandemic regardless of the CDC's guidance.
"There's been talk about potentially people advocating at the federal level, imposing compulsory masks on kids," DeSantis said during a bill signing event in Fort Pierce on July 22. "We're not doing that in Florida, OK? We need our kids to breathe."
Read Full Article on TheEpochTimes.com