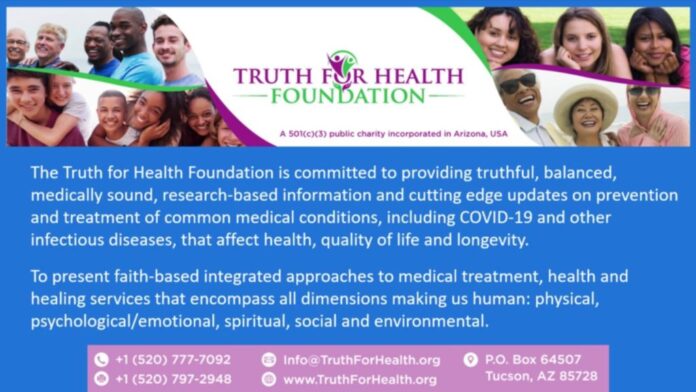 Truth for Health Foundation – Stop the Shot Continuation – Press Conference outlining Fertility Problems resulting from the COVID-19 Vaccines took place on August 19, 2021.
About Truth for Health Foundation
The Truth for Health Foundation is committed to providing truthful, balanced, medically sound, research-based information and cutting edge updates on prevention and treatment of common medical conditions, including COVID-19 and other infectious diseases, that affect health, quality of life and longevity.
To present faith-based integrated approaches to medical treatment, health and healing services that encompass all dimensions making us human: physical, psychological/emotional, spiritual, social and environmental.
Why pregnant women should AVOID the genetic COVID shots
July 3, 2021
Truth for Health Foundation's Chief Medical Advisor in a powerful 2:34 minute interview on DayStar TV with Marcus and Joni Lamb discussing the dangers of the experimental COVID shots in pregnancy. Please watch and share widely. We must warn pregnant women not to jeopardize their health and the health or life of the baby with these shots.
For more on the subject of the vaccine risks in pregancy, listen to Dr. Vliet's interview of two additional experts in Maternal-Fetal Medicine and Reproductive Immunology describe more about why these genetic COVID shots are so damaging to mother and baby.
COVID Vaccines and Pregnancy: Common Sense vs. Confusion
Listen Original to PodCast on AmericaOutLoud.com