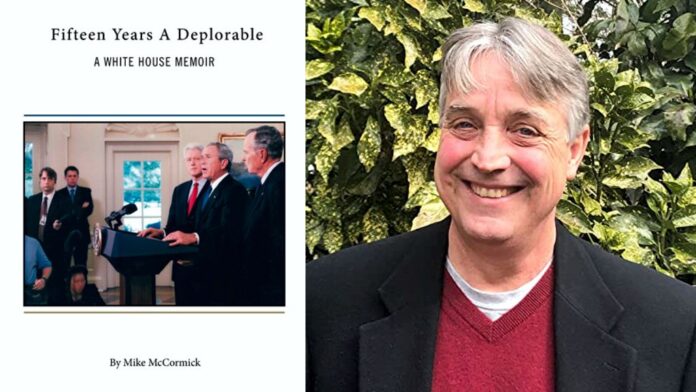 Finally, Fifteen Years A Deplorable, a White House tell-all turns the tables on the "swamp" and outlines the genius of President Trump's Make America Great Again campaign!
Pulling no punches, former White House stenographer Mike McCormick describes with eyewitness precision why Donald Trump's hard-earned 2016 election was the result of MAGA Americans' disgust with the ineptitude of Barack Obama, Joe Biden, and Hillary Clinton's and the do-nothing Democrats.
Readers who demand an unbiased media will appreciate McCormick's candor and honesty in unmasking offending "journalists" at CNN, NBC, CBS, and other organizations who behave differently off-camera than they do on-camera.
Sick of hearing about White House misconduct? McCormick's account reveals it's journalists who are committing acts of racism, hate, and dishonesty.
The Obama White House was a pernicious environment for a Trump supporter, so McCormick stayed below the radar until an inadvertent slip-up among colleagues at the outset of our now vicious "cancel culture" cost him dearly. But with his unique Obama White House insider's perspective, McCormick dissects the 2016 election with month-to-month descriptions of Donald Trump's amazing march to the presidency!
There are never-before-reported anecdotes on Hillary Clinton's indefensibly poor campaign. Trump fans will enjoy McCormick's firsthand accounts of how Team Obama's many failures resulted in the election of President Donald Trump!
McCormick also takes full advantage of his front-row White House vantage point spanning 15 years to generate insights into the causes for America's current vicious political climate, as well as a novel solution.
McCormick's love of democracy and the American spirit shines through in his anecdotes of the strength and dignity of our American servicemen and servicewomen whom he met in a variety of theaters and activities, including as the co-founder of a volunteer kayak therapy program at the Walter Reed Army Medical Center from 2004 to 2007.
Fair-minded Americans will appreciate McCormick's portrayal of George W. Bush's compassionate genius, and George H.W. Bush's and Bill Clinton's grace, industry, and bipartisan cooperation in the saving of millions of lives in 2005, as well as his humorous anecdotes of Michelle Obama's zest for life, and Joe Biden's incessant bungling.
This is a book of real history, by an author who lived it — on Air Force One, Air Force Two, in the Oval Office, the West Wing, Iraq, China, Russia, and every state in America. If you believe in democracy and the American spirit, read this book!
If you are sick of media unfairness against Donald Trump and democracy, read this book!
If you are a proud Deplorable and believe Donald Trump is a great president, read this book!
If what you hear about President Trump has you worried that our country and world are going from bad to worse, read this book!
If you are a politically aware Democrat, Republican, or independent and want the best for America, read this book!
"Finally, we must think big and dream even bigger," President Donald Trump in his first Inaugural Address.
About the Author
Mike McCormick, lifelong whitewater kayaker
Stenographer White House Press Office (2002-2018)
World traveler on Air Force One and Air Force Two, including combat zones
Oval Office and West Wing duties, 24/7, sometimes so late and lonely the ghosts come out
Co-founder of Team River Runner, a kayak therapy program for wounded service members at Walter Reed Army Medical Center (2004-2007)
Lives with his wife and children in suburban Washington, D.C.
About his White House years Mike says:
"Truth about our political leaders these days is hard to find, especially if you are, like me, a reasonable American disgusted by the ocean of BS we have to navigate to get it.
"My case is a little different, though, because unlike most reasonable Americans, I actually worked closely with those political leaders. I was a stenographer in the White House Press Office for the Bush, Obama, and Trump administrations … It was an exciting job. History happened right in front of me. But then so did a lot of BS. I saw it and heard it firsthand. Much of it the media told you about, but some of it they didn't."
About his Joe Biden years Mike says:
"Working for Joe Biden as his stenographer for six-plus years meant discretion was built into my job requirements. It was my duty not to say what I saw and heard unless it was within the boundaries of official business. But that duty with Joe ended in the winter of 2017.
"And then one year later, after working as a stenographer in Donald Trump's White House, I left that job and wrote my first book, Fifteen Years A Deplorable: A White House Memoir.
I'm proud of that book and the tough truths it relates. It centered on my experiences from the inside with biased White House journalists, unreported shortcomings of the Obama White House, Hillary Clinton's hapless 2016 presidential campaign, and the genius of President Donald Trump.
This book is different. In it I focus specifically on one major American politician, Vice President Joe Biden. I am not spewing hate — there's more than enough of that being done. On both sides. But I am writing the truth — the good and the bad. This isn't hearsay, this is "I say". These are the things I saw."
About his dedication to Presidents Bush, Obama, and Trump Mike says:
"I hear every day about the hate that has consumed our country, especially in the political arena. From my White House vantage point I've watched our war of words increase in scope and ferocity over the past 15 years to a point where people who shouldn't hate each other do.
"But as a grateful White House veteran, I believe deep in my heart our democracy will eventually resolve it. Eventually… Presidents are amazing people. My time among them requires me to state unequivocally: Our presidents love our country. Our presidents work hard for our country — all of our country, every single citizen in it. Our presidents don't deserve our hate."