Frank Lloyd Wright was born Frank Lincoln Wright on June 8, 1867. After his parents divorced, he choose to change his middle name from Lincoln to Lloyd in honor of his mother's family, the Lloyd Joneses. His mother, Anna Lloyd Jones, was a trained teacher. She believed her son would grow up to build great buildings. She first introduced him to architecture through engravings of English cathedrals torn from a periodical and hung in his nursery. In 1876, when Frank was nine, she bought her family educational blocks. The blocks were geometric shapes, part of a range of educational materials designed by Friedrich Fröbel, to provide self-directed activity for children. The blocks were used as part of the foundation of Wrights innovative kindergarten curriculum. Of them Wright said, "For several years I sat at the little Kindergarten table-top . . . and played . . . with the cube, the sphere and the triangle—these smooth wooden maple blocks . . . All are in my fingers to this day . . ." This is what probably lead to Wright's preoccupation with geometric forms and on to intersecting planes.
Wright is known as an American architect, interior designer, writer and educator. He designed more than 1,141 buildings. These buildings included houses, offices, churches, schools, skyscrapers, hotels, libraries, bridges, and museums. He completed Five hundred and thirty-two of his designs and 409 still stand today.
Wright believed in what he called "organic architecture", structures were designed to be in harmony with the environment and humanity. Fallingwater (1935), is the best example of his design philosophy and has been called "the best all-time work of American architecture". Wright was a leader of the Prairie School movement of architecture. Their design was marked by horizontal lines, flat or hipped roofs with broad overhanging eaves, windows grouped in horizontal bands, integration with the landscape, solid construction, craftsmanship, and discipline in the use of ornament. The use of horizontal lines helped relate the structure to the native prairie landscape.
Wright had a unique vision for urban planning. He developed "Usonian Homes". These houses were small, single-story dwellings without a garage or much storage. They were L-shaped to fit around a garden terrace and so they would fit on inexpensive lots. They were made with native materials, had flat roofs and large cantilevered overhangs designed for  passive solar heating and natural cooling. Clerestory windows provided natural lighting and they used radiant-floor heating. Wright wanted his Unisonian homes to visually connect the interior space with the exterior space, thus staying in harmony with the environment and his organic architecture concept. The word carport was coined by Wright to describe an overhang for a vehicle to park under.
Wright also experimented with the hemicyle form or half-circle in architecture, incorporating the hemicycle into a wall, building, or architectural feature. An example of one of Wright's hemicyle structures is the Guggenheim Museum in New York City.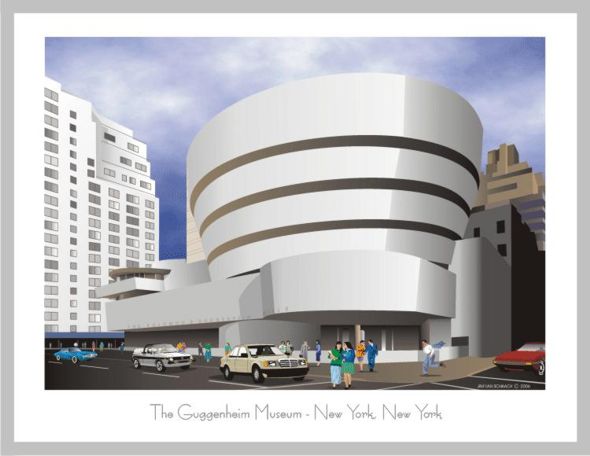 Price Tower, completed in 1956, is architect Frank Lloyd Wright's only built skyscraper. This handsomely designed structure was Wright's pioneer experiment of a multi use skyscraper, combining retail, business offices and apartments. It is located in Bartlesville, Oklahoma.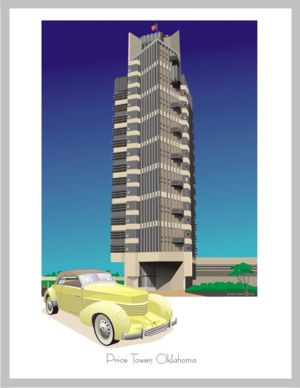 Wright didn't limit himself to structure design, but he also designed many of the interior elements of his buildings, including furniture. Wright once again brought his style of using geometric forms and intersecting planes into his furniture design, as well as attempting to make his furniture functionally and visually unify with their surroundings. He designed a series of metal desks and chairs for the Larkin Building in Buffalo, New York and they are a perfect example of this.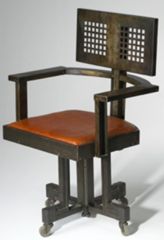 Wright also created in stained glass. Most often he used natural shapes as inspiration for stained glass designs, and he usually used neutral colors. He did a wonderful design for clerestory windows for a playroom in a private home using geometric forms and primary colors perfect for a child's play area.

Wright was a popular lecturer in the United States and in Europe and he wrote more than 20 books and many articles.
Frank Lloyd Wright was well known during his lifetime and in 1991 he was recognized by the American Institute of Architects as "the greatest American architect of all time."
Frank Lloyd Wright died in Arizona on April 9, 1959, at the age of 91.