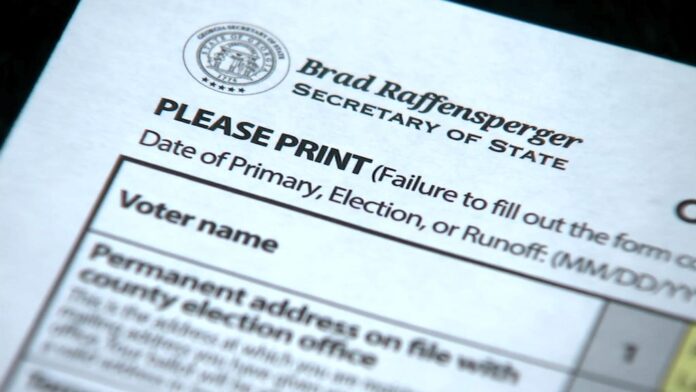 Twenty-nine page memo obtained by Just the News cites double counting, insecure storage, "massive chain of custody problem" and a worker's threat to "f*ck sh*t up."
In a nationally televised interview in January, Georgia Secretary of State Brad Raffensperger rattled off an impressive list of measures his state used to ensure the November election count was accurate. "We had safe, secure, honest elections," he declared to "60 Minutes."
That rosy assessment, however, masked an ugly truth inside his agency's own files: A contractor handpicked to monitor election counting in Fulton County wrote a 29-page memo back in November outlining the "massive" election integrity failures and mismanagement that he witnessed in the Atlanta-area's election centers.
The bombshell report, constructed like a minute-by-minute diary, cited a litany of high-risk problems such as the double-counting of votes, insecure storage of ballots, possible violations of voter privacy, the mysterious removal of election materials at a vote collection warehouse, and the suspicious movement of "too many" ballots on Election Day.
"This seems like a massive chain of custody problem," the contractor Carter Jones warned in the memo delivered by his firm Seven Hill Strategies to Raffensperger's office shortly after the election.
That glaring notation was written around 4:00 p.m. on Election Day, when Jones observed absentee ballots arriving at the county's central absentee scanning center at Atlanta's State Farm Arena "in rolling bins 2k at a time."
"It is my understanding is that the ballots are supposed to be moved in numbered, sealed boxes to protect them," he wrote, noting these ballots weren't.
He also feared the flow of absentee ballots seemed too voluminous. "Too many ballots coming in for secure black ballot boxes," he observed.
You can read the full report obtained by Just the News from the Secretary of State's office here:
State Election Board Report – November 13, 2020 Unabridged Notes Detailing Everything Witnessed Nov 2-Nov 7, 2020
SOS7HillStrategyFultonCountyNotes

Read Full Article on JustTheNews.com