CAROLINE JEFFORDS et al. v. FULTON COUNTY
UPDATE 2130 EST – Update: It has been confirmed that today's Supreme Court order also applies to the case of Garland Favorito et al. v. Alex Wan et al. as both cases were originally dismissed under the same premise.
UPDATE 1512 EST – Letters to preserve ballots going out immediately…
---
This ruling potentially paves the way for a review of actual evidence brought forward in Jefford's original complaint. Lack of "standing" was cited in a number of cases brought forward as evidence of possible malfeasance mounted following the November 2020 election.
Public concern has continued through the last two years as few Courts were willing to hear evidence. Following the release of Dinesh DeSousa's documentary "2000 Mules", public awareness in Georgia and across the Country has broadened with renewed calls for election transparency and investigations.
Today's ruling may set the stage for further investigation into what actually occurred during November 2020.
December 20, 2022 – Today, the Georgia Supreme Court granted a petition for certiorari, vacated the previous judgement and remanded the case of CAROLINE JEFFORDS et al. v. FULTON COUNTY et al. The Court ordered that the lower Court of Appeals reconsider the case which was previously dismissed for lack of "standing."
Read Original Article on GeorgiaRecord.com
Voter GA plaintiffs now have standing to sue Fulton County agencies that violate Georgia election law.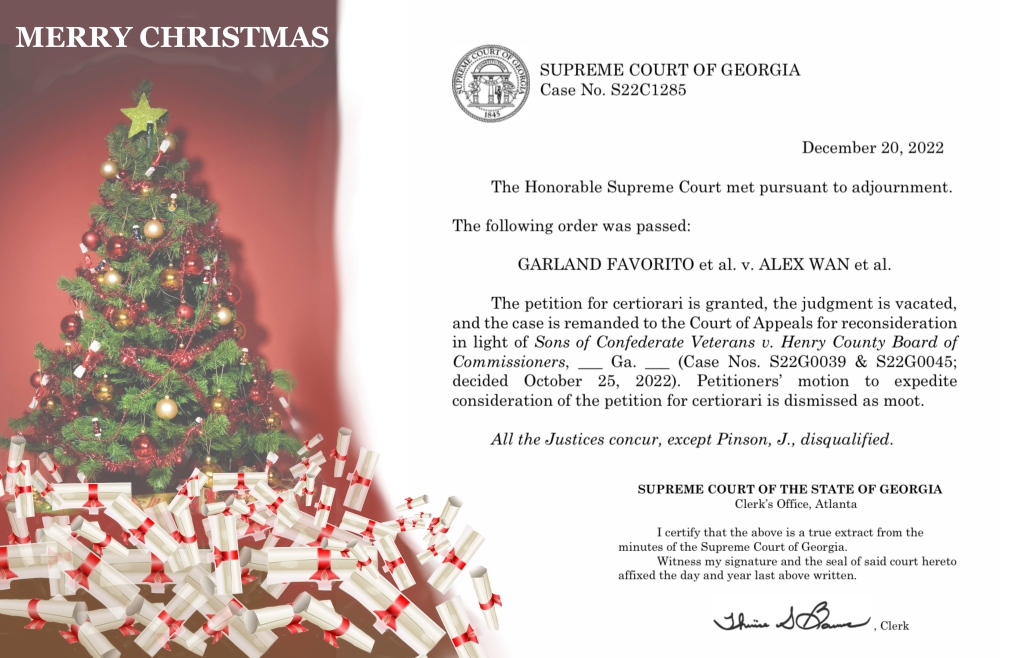 Favorito v. Wan Georgia Supreme Court Order Text
SUPREME COURT OF GEORGIA
Case :-No. S22C1285
December 20, 2022
The Honorable Supreme Court met pursuant to adjournment.
The following order was passed:
GARLAND FAVORITO et al. v. ALEX WAN et al.
The petition for certiorari is granted, the judgment is vacated, and the case is remanded to the Court of Appeals for reconsideration in light of Sons of Confederate Veterans v. Henry County Board of Commissioners, Ga. (Case Nos. S22G0039 & S22G0045; decided October 25, 2022). Petitioners' motion to expedite consideration of the petition for certiorari is dismissed as moot.
All the Justices concur, except Pinson, J., disqualified.
SUPREME COURT OF THE STATE OF GEORGIA
Clerk's Office, Atlanta
I certify that the above is a true extract from the
minutes of the Supreme Court of Georgia.
Witness my signature and the seal of said court hereto
affixed the day and year last above written.
Name of Clerk, Clerk
Favorito v. Wan Georgia Supreme Court Order PDF
Favorito-v.-Wan-GA-Supreme-Court-order