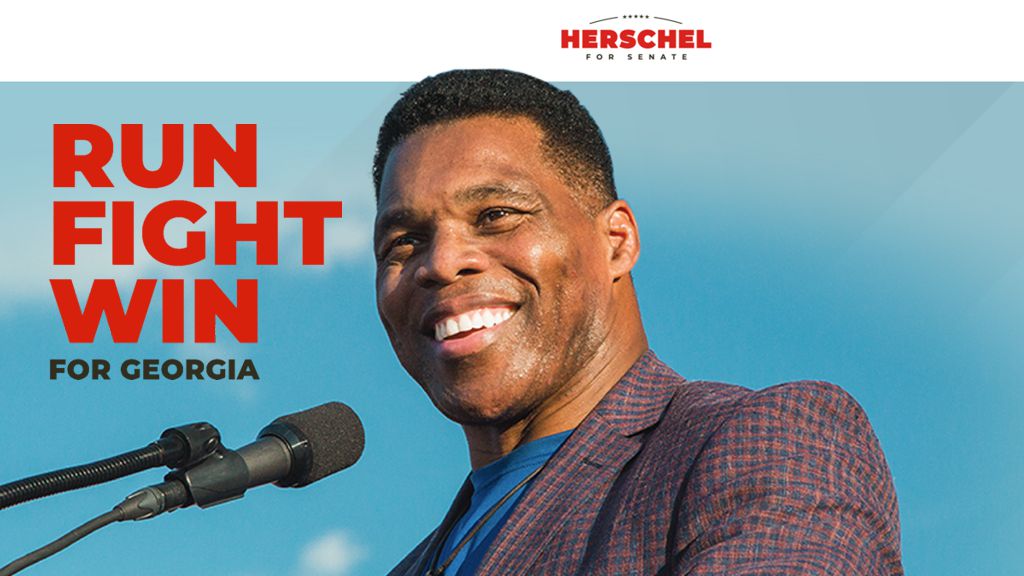 A Conservative for Georgia
Visit The Herschel Walker For Senate Website
Issues
Putting Georgia And Georgians First
Herschel loves Georgia and wants to give back to the state that has given him so much. Georgia's strong agriculture, tourism, film production, and manufacturing industries, along with the booming Savannah Port, have helped make Georgia the number one state for business. Herschel will fight every day in the Senate for policies that keep Georgia leading the way with job creation, lower taxes, and less government red tape.
Make America Energy Independent
Gas and energy prices are skyrocketing as a result of bad Democratic energy policy decisions. If there's one thing we've learned from the past year, America cannot depend on other countries for our essential resources, including energy. Herschel will fight to make America energy independent once again, leading to lower gas prices, more American jobs being brought back from overseas, and stronger national security.
Stand For Conservative Family Values
As a Christian, a father, and a husband, Herschel knows that strong families are the bedrock of our country. Herschel's upbringing in rural Georgia instilled a personal faith in God, which he carries with him to this day. He prays every day for this country, and with God's help will bring those values with him to Washington. Herschel is a compassionate conservative who is pro-life and pro-family.
Visit The Herschel Walker For Senate Website
Support For Small Businesses And American Workers
After a 15-year professional football career, Herschel decided to build his own business from the ground up. What started as a small operation has grown to be one of the largest minority-owned food suppliers in the United States. He knows firsthand the struggles of owning a business, balancing a budget, and dealing with government red tape. He will fight for lower taxes, fewer government regulations, and more free-market capitalism.
Secure Our Borders And Protect Americans
Unfortunately, the border crisis isn't just a border state problem, it is a Georgia problem that is bringing drugs, crime, and human trafficking to our state. While Herschel is fully supportive of those who follow the legal immigration process, he believes that our leaders have a Constitutional obligation to secure America's borders and keep Americans safe. Herschel will work to secure our southern border and fix the immigration problem, which Washington politicians have failed to address for decades.
Defend, Not Defund, The Police
Herschel thinks that defunding the police is a ridiculous idea. Crime is out of control in many of our major cities, including Atlanta, because politicians have demoralized, defunded, and undermined the good men and women in uniform who risk their lives every day so that we can be safe. Herschel will fight to fully fund all of our public safety officials by ensuring that they have the staff, equipment, and training needed to keep every neighborhood free from fear.
Visit The Herschel Walker For Senate Website
Always Support Our Troops
Herschel doesn't just talk about supporting the troops, he has dedicated the past 13 years of his life to traveling the country and the world meeting with members of our military to share his own story and encourage our great troops. Herschel has seen firsthand the tremendous sacrifices that our men and women in uniform make and will always put American interests first at home and abroad. He believes that we must invest heavily in our military to ensure we have the best personnel and equipment, can never negotiate with terrorists, and should never leave any American behind.
Keep The American Dream Alive
As a small-town kid who has achieved the American Dream, Herschel knows the best way to help people succeed is not to give them a handout but to teach them how to fish. Herschel has personally seen how when you work hard and stay in the fight, anything is possible. He will fight to keep that same American Dream alive for you and your kids too.
Protect And Preserve Our Constitution
Too often, politicians make promises on the campaign trail and then abandon them once in office. Herschel is not a politician, and you can count on him to stand up for our rights guaranteed by the Constitution. Herschel will vote to confirm Constitutional judges to our courts who will protect our right to bear arms, to ask questions, and to make our own decisions for our families.
Visit The Herschel Walker For Senate Website
About Herschel Walker
Whether on the football field, in the classroom, at the Olympics, in Mixed Martial Arts, as CEO of multiple businesses, or as spokesman for the Patriot Support Program, Herschel's work ethic, commitment to excellence, and love for America has inspired millions.
Now, he is tackling his next challenge: winning a seat in the United States Senate.
Herschel Walker was born on March 3, 1962, to his parents, Willis and Christine Walker. Raised in Wrightsville, Georgia, Herschel was taught faith in God and the small-town values of discipline and sacrifice.
During his high school years, he led both his football and track teams to state championships while also graduating top of his class at Johnson County High School.
Herschel Walker is considered by many to be the greatest college football player of all time. As a freshman at the University of Georgia, Walker helped the Bulldogs win the 1980 national championship. He earned consensus All-American honors three consecutive years in both football and track & field, set 10 NCAA and 15 SEC records, and capped a sensational college career by winning the 1982 Heisman Trophy. In 1999, he was voted into the College Football Hall of Fame and was selected as the greatest player in college football in the last half-century.
After three spectacular years at UGA, Walker gave up his final year of collegiate eligibility to play professional football. During his 15-year pro-football career in the USFL and NFL, Walker played for the New Jersey Generals, Dallas Cowboys, Minnesota Vikings, Philadelphia Eagles, and New York Giants, setting the current single-season pro-football rushing record of 2,411 yards, leading the NFL in rushing, gaining more total yards than anyone in professional football history, and receiving numerous All-Pro and Pro-Bowl honors.
Visit The Herschel Walker For Senate Website
Additionally, Walker broke a world record in the 60-yard dash, represented the United States in the 1992 Winter Olympics in bobsledding, earned a fifth-degree black belt in Tae Kwon Do, and went undefeated as a Mixed Martial Arts fighter. Herschel has also performed in the Fort Worth Ballet, competed on The Apprentice, and won the Celebrity Cook-Off on the Food Network. In recognition of his numerous athletic accomplishments, President Donald J. Trump appointed Herschel chair of the President's Council on Sports, Fitness and Nutrition. To encourage a healthy lifestyle for all Americans, Herschel visited Capitol Hill multiple times to meet with members of Congress and discuss the importance of fitness and nutrition.
Walker's unmatched work ethic extends far beyond athletics. He is also the successful owner and CEO of two businesses in the food and service industry, H. Walker Enterprises, LLC and Renaissance Man Food Services, LLC. In true Herschel fashion, his brands have become successful food service lines to major hotel chains, the United States military, schools, concessions, and retail chains.
Since being diagnosed with Dissociative Identity Disorder (DID) as a result of trauma he experienced in childhood, Herschel has dedicated his life to helping others struggling with mental health. Prior to his college football career, Herschel strongly considered joining the Marines and has since looked for ways to honor our heroes in uniform.
That dream came true when he was appointed spokesman for Universal Health Services' Patriot Support Program where he has visited hundreds of military bases sharing his personal story to help remove stigmas around mental health. He also wrote Breaking Free, a memoir chronicling his battle with DID which has encouraged thousands who face similar struggles to ask for help and seek treatment.
He lives with his wife, Julie, and dog, Cheerio, in Atlanta.
Visit The Herschel Walker For Senate Website