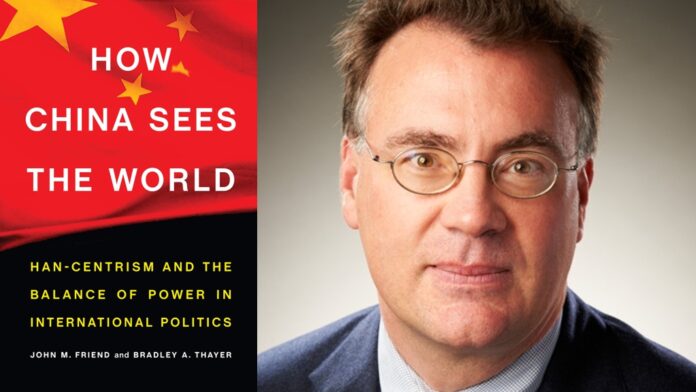 Han-centrism, a virulent form of Chinese nationalism, asserts that the Han Chinese are superior to other peoples and have a legitimate right to advance Chinese interests at the expense of other countries. Han nationalists have called for policies that will allow China to reclaim the prosperity stolen by foreign powers during the "Century of Humiliation." The growth of Chinese capabilities and Han-centrism suggests that the United States, its allies, and other countries in Asia will face an increasingly assertive China—one that thinks it possesses a right to dominate international politics.
John M. Friend and Bradley A. Thayer explore the roots of the growing Han nationalist group and the implications of Chinese hypernationalism for minorities within China and for international relations. The deeply rooted chauvinism and social Darwinism underlying Han-centrism, along with China's rapid growth, threaten the current stability of international politics, making national and international competition and conflict over security more likely. Western thinkers have yet to consider the adverse implications of a hypernationalistic China, as opposed to the policies of a pragmatic China, were it to become the world's dominant state.
Review
"Essential reading for anyone who wishes to understand the People's Republic of China, in particular Han nationalism, a shrill, aggressive, and often racialist view of the modern world that all too often lurks behind the country's international politics, from its inexorable advance into the East and South China Seas to how it treats the Global South."—Frank Dikötter, Chair Professor of Humanities at the University of Hong Kong and author of Mao's Great Famine: The History of China's Most Devastating Catastrophe, 1958–1962— Frank Dikötter Published On: 2018-03-02
"Friend and Thayer argue that China is increasingly in the grips of what they call 'Han-centrism,' a form of ethnic and racially based nationalism that stresses the unity and supposed superiority of Han Chinese people. Especially as its power grows, China's external behavior may be shaped by these beliefs, with potentially troubling implications for other nations, not least the United States. This is a provocative and disturbing examination of an understudied topic."—Aaron L. Friedberg, professor of politics and international affairs at Princeton University and author of A Contest for Supremacy: China, America, and the Struggle for Mastery in Asia— Aaron L. Friedberg Published On: 2018-03-02
About the Author
​John M. Friend is an assistant professor of political science at the College of St. Benedict and St. John's University. His articles have appeared in New Political Science, Social Science and Medicine, and Health Psychology. Bradley A. Thayer is a visiting fellow at Magdalen College, University of Oxford. He is the author of several books, including Deterring Cyber Warfare: Bolstering Strategic Stability in Cyberspace, coauthored with Brian M. Mazanec, and American Empire: A Debate, coauthored with Christopher Layne.