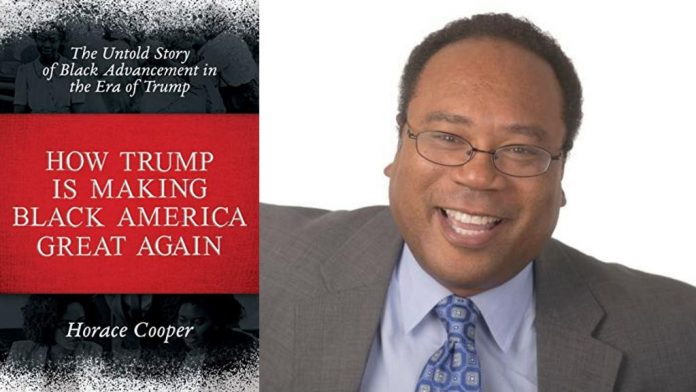 "'How Trump Is Making Black America Great Again: The Untold Story of Black Advancement in the Era of Trump.' By Horace Cooper. A great new book!" – President Donald J. Trump
Explore the unappreciated benefits African Americans enjoy thanks to Donald Trump.
The election of President Donald Trump has been portrayed in the mainstream media as a doomsday event—especially for America's racial minorities. And yet, reality has proven quite the contrary. Not only are African Americans employed at a greater rate than any other time since the late 1950s, black business formation is at an all-time high.
In this groundbreaking book, longtime academic and political commentator Horace Cooper explains how Trump's economic policies—including lowering taxes, eliminating stifling regulation, and renegotiating trade agreements—are producing an unforeseen boon to Black America. This book provides a philosophical framework through which Trump's presidency can be viewed as a benefit to Black America, rather than a stumbling block.
Editorial Reviews
Review
"Horace Cooper's incisive strategic insights applied to the plight of Black America under President Trump are forceful and timely. The traditional civil rights establishment has found itself increasingly marginalized amidst the Democratic Party's shift away from African Americans as the 'most favored minority' towards illegal immigrants from south of the border. Cooper's call for a realignment of political priorities among Black Americans is a clarion call for a new self-Emancipation off the Left's 'political plantation.'"
— Sebastian Gorka, Ph.D, Former Strategist to PresidentTrump, Host of AMERICA First
"I have known my brother Horace Cooper for over thirty years and can attest to his intelligence, integrity, and strong adherence to conservative Christian values. When he advocates conservative social values as a prescription for what ails Black America, he's speaking from personal experience. How Trump is Making Black America Great Again is sure to become a seminal text. It will stand the test of time."
— Armstrong Williams CEO, HSH Holdings, Broadcast Television Owner, Host of The Armstrong Williams Show
"Horace Cooper makes an elegant and convincing case for how Trump's policies can and have worked for black America. He writes with clarity and unique insight. This is a must read, not only for black Americans concerned with their future, but also for any American who seeks to appreciate the impact of Trump's core economic and social agenda. I have been working with Horace as a guest and a friend for as long as I can remember. And much like the relationship between student and sensei, just when I think I have everything I need to know about the Constitution, he presents me with a new intellectual challenge. When the topic of complicated Constitutional issues come up, he is at the top of my list for on-air booking."
— Andrew Wilkow, Political Commentator, Radio Host
"Horace Cooper is one of the most insightful voices in America today. Whether you like Trump or not, this book will give you a lot to think about. Ignoring Horace is a big mistake." — Peter Schweizer, Bestselling Author of Profiles in Corruption and Clinton Cash
About the Author
Horace Cooper is a senior fellow with the National Center for Public Policy Research, co-chairman of the Project 21 National Advisory Board, and a regular television commentator on major networks. Horace taught constitutional law at George Mason University in Virginia and served as senior counsel to U.S. House Majority Leader, Dick Armey.