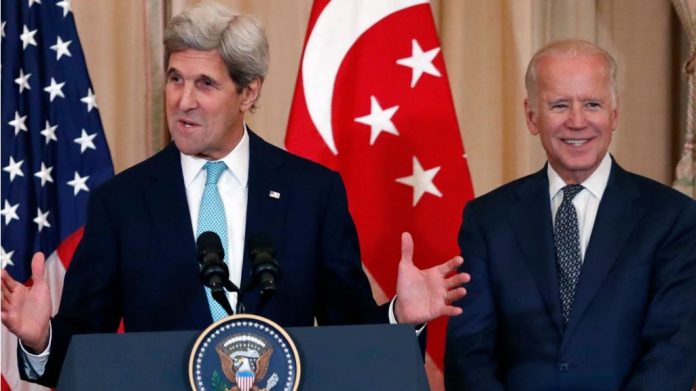 "My frustration," writes Peter Schweizer in his new book, "Secret Empires: How the American Political Class Hides Corruption and Enriches Family and Friends," "is not that the solid reporting on Trump has been too tough, but that the reporting on the Obama administration has been way too soft or in some cases nonexistent." The author of the 2016 sensation "Clinton Cash" says Trump and his children didn't invent the blurring of government and business, and details a number of ethical violations on both sides of the political aisle. One example: the little-noticed private equity firm run by the sons of Democrats Joe Biden and John Kerry, as detailed in this exclusive first excerpt.
Joe Biden and John Kerry have been pillars of the Washington establishment for more than 30 years. Biden is one of the most popular politicians in our nation's capital.
His demeanor, sense of humor, and even his friendly gaffes have allowed him to form close relationships with both Democrats and Republicans. His public image is built around his "Lunch Bucket Joe" persona. As he reminds the American people on regular occasions, he has little wealth to show for his career, despite having reached the vice presidency.
One of his closest political allies in Washington is former senator and former Secretary of State John Kerry. "Lunch Bucket Joe" he ain't; Kerry is more patrician than earthy. But the two men became close while serving for several decades together in the US Senate. The two "often talked on matters of foreign policy," says Jules Witcover in his Biden biography.
So their sons going into business together in June 2009 was not exactly a bolt out of the blue.
But with whom their sons cut lucrative deals while the elder two were steering the ship of state is more of a surprise.
What Hunter Biden, the son of America's vice president, and Christopher Heinz, the stepson of the chairman of the Senate Committee on Foreign Relations (later to be secretary of state), were creating was an international private equity firm. It was anchored by the Heinz family alternative investment fund, Rosemont Capital. The new firm would be populated by political loyalists and positioned to strike profitable deals overseas with foreign governments and officials with whom the US government was negotiating.
Read Full New York Post Article