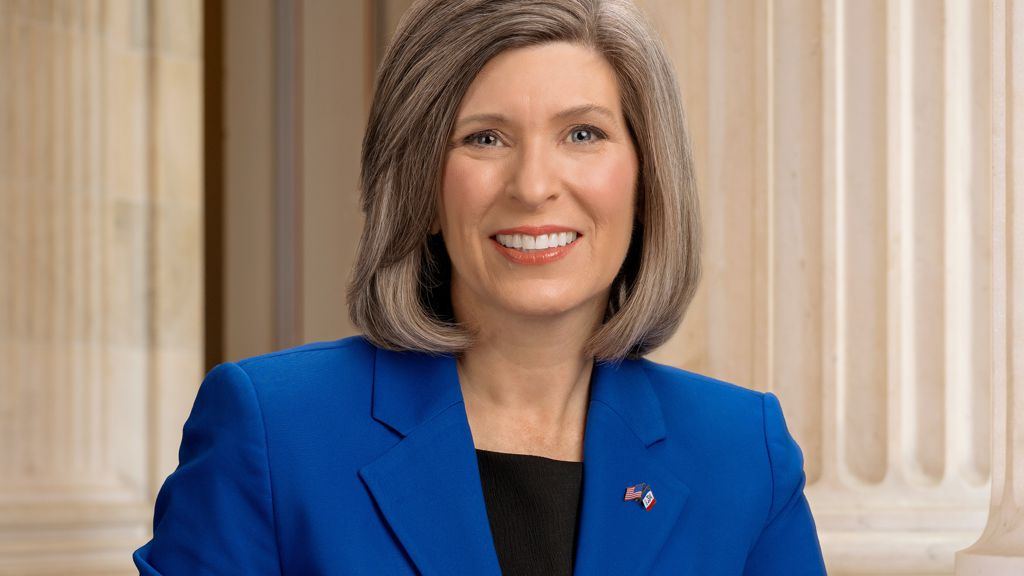 LEADER
Joni Ernst is a mother, a soldier and a leader. From the start, she has taken on Washington and delivered on her pledge to "Make 'em Squeal."
In 2014, Iowans called for bold leadership. Someone who would work hard, stand up to the coastal elites, and always fight for Iowa. That is exactly what they got in Joni Ernst who became the first woman elected to represent Iowa in federal office, and the first female combat veteran to serve in the Senate. She relentlessly tackles the most pressing issues facing our country including continuing to grow the economy, cutting reckless spending, and keeping our nation safe and secure.
Joni believes accessibility, transparency and accountability are fundamental, which is why every year, she travels the state visiting every county to better serve Iowans and deliver results.
A LIFETIME OF SERVICE
A farmers' daughter, Joni was taught to work hard, live simply, and help her neighbors. To pay for college, she worked construction jobs during the summer with her dad and made biscuits in the mornings at Hardees.
Service is more than a word to Joni – it is who she is. She served her country both in the Army Reserves and Iowa National Guard for over 23 years, including leading a unit in the Middle East in support of Operation Iraqi Freedom that drove convoys through Kuwait and Southern Iraq. She retired in 2015 as a Lieutenant Colonel in the Iowa National Guard, having served in every leadership position from platoon leader to battalion commander.
Upon returning from her overseas deployment, Joni continued to serve her community. She was elected as Montgomery County Auditor and later to the Iowa State Senate where she helped pass the largest tax cut in Iowa history. Following a decisive election to the U.S. Senate, Joni pledged to bring the Iowa way to Washington.
ALWAYS PUTTING IOWA FIRST
When she was sworn into the Senate, Joni made her focus clear: Iowa first. It is why she prioritizes meeting with Iowans every day whether it is in the Senate or holding town halls in Iowa's largest cities and smallest towns on her 99 county tour. Additionally, Joni has been committed to assisting Iowans in getting the benefits they deserve.
Joni has delivered for Iowa from the start in the Senate:
When some in Washington tried to do away with the Renewable Fuel Standard (RFS), Joni pushed back and defended it. Joni succeeded in her efforts to secure E15 year-round and help lower the price at the pump.
Working for farmers across Iowa, Joni successfully led efforts to scrap the Obama administration's Waters of the United States (WOTUS) rule, which would have regulated about 97 percent of land in Iowa.
Having helped with flood protection efforts during the Cedar Rapids flood disaster in 2008 while serving in the National Guard, Joni knew firsthand how desperately the city and surrounding area needed assistance and how long they had been waiting. After she was sworn in, she got to work immediately to secure the needed resources for the Cedar Rapids flood project after the city had experienced massive destruction.
Iowans do not skip out of town on vacation without doing their job and neither should Congress. That is why Joni called on Congress to go without pay until it does its job and passes a budget and also spearheaded efforts to eliminate perks for Washington insiders.
At a time of extreme partisanship, Joni pushes past the noise to advance Iowa values in Washington. Whether it is working with Democrats or Republicans, Joni has a proven record as an Iowan who works tirelessly to find a path forward toward a brighter future with opportunity for all.
About Joni Ernst
Senator Joni Ernst, native of Red Oak, Iowa, has dedicated her life to her state and country, having served in the military for over 23 years and now in the United States Senate.
In November 2014, Joni was elected as the first woman to serve in federal elected office from the State of Iowa and also became the first female combat veteran elected to serve in the United States Senate. In Washington, Joni serves on five Senate committees of major importance to Iowans: Armed Services; Agriculture, Nutrition and Forestry; Environment and Public Works; Judiciary; and Small Business and Entrepreneurship.
Joni is focused on growing a vibrant economy and ensuring the government runs effectively and efficiently which means cutting out-of-control spending, reducing taxes, eliminating harmful regulations and balancing the budget.
Born and raised on a farm in Montgomery County, Joni's parents instilled in her the values important to Iowans: hard work, service and sacrifice. As a mother, soldier and independent voice, Joni is committed to bringing these values to Washington, D.C.
Joni received her undergraduate degree from Iowa State University where she joined the university's ROTC program. After graduating, Joni joined the U.S. Army Reserves. In 2003, Joni served as a company commander in Kuwait and Iraq, leading 150 Iowa Army National Guardsmen during Operation Iraqi Freedom. Joni retired as a Lieutenant Colonel in the Iowa Army National Guard after 23 years of military service.
Known for her independent leadership and commitment to public service, Joni previously served as the Montgomery County Auditor where she worked to eliminate wasteful government spending and protect taxpayers' hard-earned dollars. As a state senator, Joni fought to balance the state budget and helped turn Iowa's $900 million budget deficit into a $1 billion surplus. In addition to her work to balance the budget, Joni worked tirelessly to grow jobs and the economy, cut taxes, improve education, and reduce the role of government in Iowans' lives.
Donate to the Joni Ernst Campaign