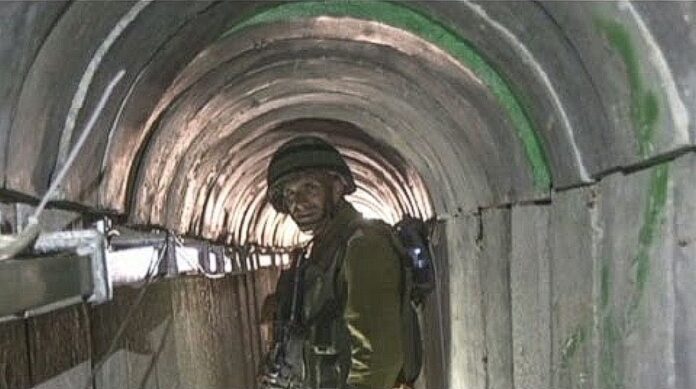 The Israeli military has announced the destruction of 9.3 miles of a so-called "terror tunnel" network used by Hamas forces as part of its effort to degrade the ability of terror groups to launch strikes against Israel.
"Our fighter jets neutralized 9.3 miles of the Hamas 'Metro' terror tunnel system overnight. That's 9.3 miles that can no longer be used for terror," according to a statement on the official Twitter account of the Israel Defense Forces (IDF) on Monday.
Hostilities broke out last Monday, when Hamas, Islamic Jihad, and other Islamist terrorist groups fired long-range rockets at Jerusalem after weeks of clashes in the holy city between Palestinian protesters and Israeli police. Hamas said its rocket assault was in response to weeks of tensions over a court case to evict several Palestinian families in East Jerusalem, and in retaliation for Israeli police responding to Palestinian protests.
In response, Israel has launched more than 1,000 precision air and artillery strikes aimed at Hamas and other targets that are often built close to civilian landmarks in the densely populated coastal strip.
Since Monday, 192 people, including 58 children and 34 women, have been killed in Gaza, according to the Palestinian health ministry. In Israel, 10 people, including one child, have been killed, according to Israel's emergency response service.
In an update on Operation Guardian of the Walls, launched last Monday by the IDF in response to what it characterized as "non-stop rocket fire on Israeli civilians," the Israeli military said over 820 terror targets had been struck and at least 130 terrorists had been neutralized, while over 3,150 rockets have been fired at Israel.
President Joe Biden spoke with Israeli Prime Minister Benjamin Netanyahu on Saturday, reiterating his strong support for Israel's right to defend itself against missile attacks.
BY TOM OZIMEK
Read Full Article on TheEpochTimes.com