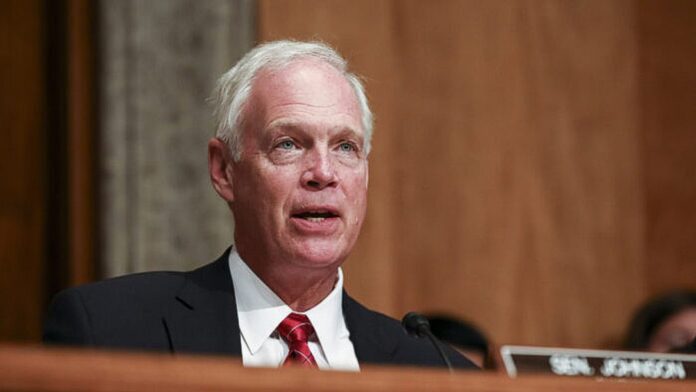 Sen. Ron Johnson (R-Wis.) said Sunday that the Colonial Pipeline cyberattack and ensuing shutdown have exposed "existential"-level vulnerabilities in America's fuel and electrical grid, calling it "a devil of a problem" for which there's no easy fix, while arguing that the Democrats' Green New Deal would make the problem worse.
Colonial Pipeline, which delivers about 45 percent of the fuel consumed on the East Coast, halted operations last week after revealing it had been targeted by hackers. The shutdown affected gasoline supplies in parts of the East Coast, with some people waiting for hours at gas stations, a situation made worse by panic buying. Colonial Pipeline said Saturday that it has returned its systems to "normal operations."
Johnson was asked by "The Cats Roundtable" host John Catsimatidis in an interview Sunday about the possibility of future attacks on the nation's critical infrastructure systems.
"Cybersecurity is a devil of a problem," Johnson replied, adding, "there are no easy solutions."
The Wisconsin Republican said part of the fix is holding cyberattackers accountable.
We should "make them pay for these types of intrusions," Johnson said, although he acknowledged that identifying those behind such attacks is difficult.
The FBI and administration officials have blamed a criminal syndicate named DarkSide for the Colonial Pipeline attack.
President Joe Biden said at a May 13 press briefing that, while the administration does not believe the Russian government was involved in the intrusion, "we do have strong reason to believe that criminals who did the attack are living in Russia."
"We have been in direct communication with Moscow about the imperative for responsible countries to take decisive action against these ransomware networks," Biden said, adding that the administration would "pursue a measure to disrupt their ability to operate" and that the Department of Justice (DOJ) had launched a new task force for prosecuting ransomware hackers.
BY TOM OZIMEK
Read Full Article on TheEpochTimes.com