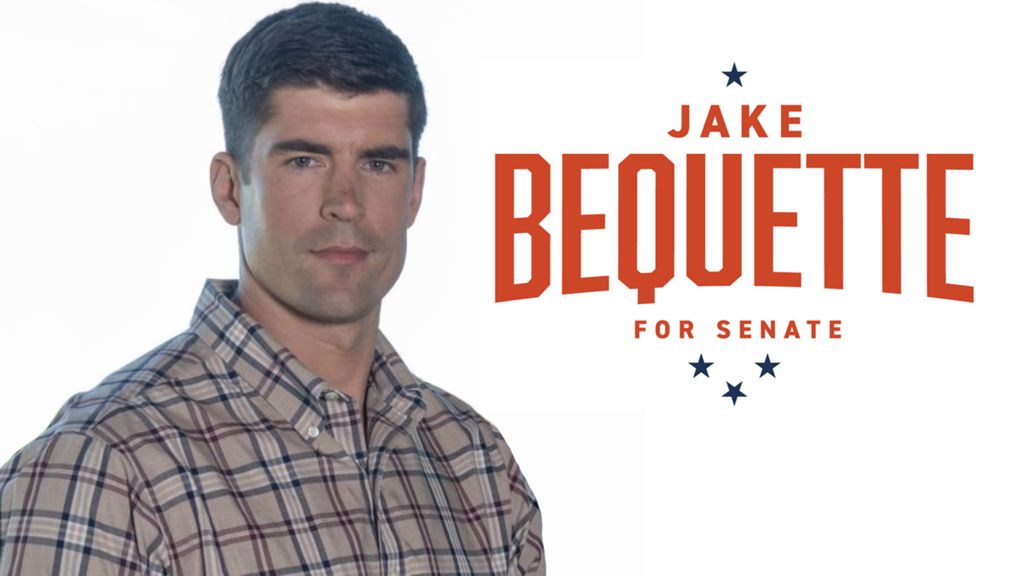 "I'm running for U.S. Senate to carry the conservative values that I've learned on the field, in service to my country, and in helping others, to Washington on behalf of all Arkansans."
Visit Jake Bequette For Senate Website
The Issues
2nd Amendment
Jake Bequette is a staunch defender of the Second Amendment and the Constitutional right of Americans to keep and bear arms. He is a gun owner himself and believes that Arkansans, and all Americans, are entitled to safely own firearms for sport and for protection, as our Founding Fathers intended. In Congress, Jake will be a 100% supporter of our 2nd amendment rights.
Term Limits
Washington is full of career politicians who have spent far too many years in the D.C. swamp advancing their own agendas. Jake Bequette is an outsider who will be a fresh voice in Congress. In the U.S. Senate, he will fight to enact term limits to ensure that Arkansans are represented by those who serve their constituents, not their careers and special interests. That's why he's signed the U.S. Term Limits pledge to support a constitutional amendment for term limits on the U.S. House and Senate.
Secure Borders & Immigration
As a Veteran of the United States Army and the 101st Airborne Division, Jake Bequette has defended America overseas. But he knows we also need to defend it here at home—starting with secure borders. As the Left pushes for open borders, our national security is threatened every day by drug cartels, trafficking, and criminals entering into our border states illegally.

Jake Bequette knows we must resolutely stand against illegal entry into our country and that leniency for those entering criminally is an affront to hardworking patriots who have settled here lawfully.
Visit Jake Bequette For Senate Website
The Trump Agenda
President Biden and liberals in Washington are leading America in the wrong direction. Our country and our freedoms are under the threat of socialist ideals, harmful economic policies, higher taxes, and weak national security. The Left is continuously putting America last. Jake Bequette is a true conservative who will advance the Trump conservative agenda and put America first. In the U.S. Senate, he will work for tougher stances on China, stand up for law enforcement, cut taxes, and create jobs to grow our economy.
Pro-Life
A man of strong Christian faith, Jake Bequette is proudly pro-life and believes that human life begins at conception. He will always stand up for the rights of our most vulnerable Americans—the unborn. Jake is opposed to taxpayer and federal funding of abortion and will fight for tougher policies that protect innocent life.
Spending & Budget
From COVID-19 "relief" packages containing millions in unrelated earmarks, to the multi-trillion-dollar national debt, the liberal spending spree in Washington is out of control. In the last twenty years, the national debt has grown by an outrageous $17.6 Trillion. It is the responsibility of those in Congress to balance America's budget. Jake Bequette is a strong fiscal conservative with a plan to rein-in the Left's big spending and restore our country's economic reputation. Every dollar spent by the government is one less in the pockets of hardworking Americans. In the U.S. Senate, Jake will advocate for lower taxes, less government spending, and a balanced budget.
Visit Jake Bequette For Senate Website
About Jake Bequette
A true all-American conservative, Jake Bequette has lived a life dedicated to service, sacrifice, and the southern values of Arkansas.
Jake was born and raised in Little Rock. He received his education at Little Rock Catholic High School and the University of Arkansas. During his four years as a Razorback, Jake excelled both in the classroom and on the football field as an All SEC defensive end and an Academic All American.
Jake's abilities and drive on the field earned him the third-round draft pick of the New England Patriots in 2012. He played as part of the Super Bowl XLIX championship team in 2014 before ending his run in the NFL the following year.
While playing in the NFL was the opportunity of a lifetime, to Jake, the bigger privilege was serving in the United States Army. In 2017, Jake joined the service and was commissioned as an Infantry Lieutenant. He graduated from the U.S. Army Ranger School and was deployed to Iraq with the 101st Airborne Division.
Jake has a calling for public service that runs deep. In January he launched The Arkansas Fund, a nonprofit dedicated to helping small businesses in Arkansas that have struggled as a result of the COVID-19 pandemic. To date, The Arkansas Fund has raised over $100,000 and distributed 35 grants to aid small businesses statewide.
The values that Jake Bequette has fostered on the field, in service to his country, and in helping others make him well-poised to represent Arkansans in the United States Senate.
Visit Jake Bequette For Senate Website