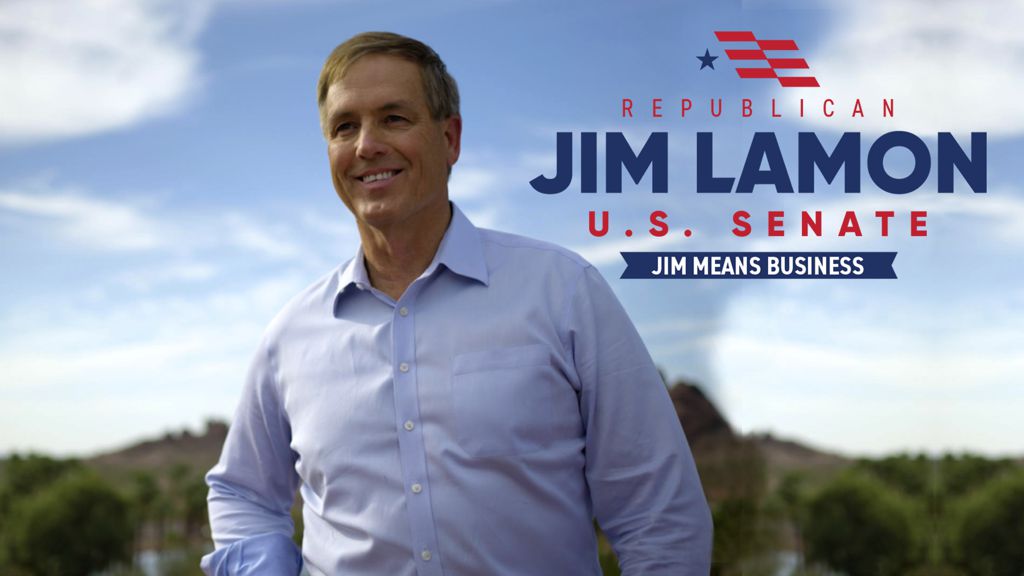 U.S. Senate Candidate Jim Lamon is a veteran, father and founder of one of the fastest-growing solar power companies in America. He is a committed conservative who will put America first, secure our border, and streamline the federal government.
Issues
Jobs & Economy
When it comes to jobs and economic growth, government is typically the problem, not the solution. From deciding what businesses are essential to imposing excessive regulations, government stifles American innovation, depresses wages, and hurts American workers.
As the founder of one of the largest engineering and construction companies in the U.S. that employs over 1,600 American workers, I am laser-focused on expanding job opportunities and growing the U.S. economy. In the U.S. Senate, I will reduce regulatory burdens on business and support policies that prioritize full employment for all American workers at good wages.
Immigration
Our weak southern border and inconsistent enforcement policies have led to a national crisis. Joe Biden, Chuck Schumer, and Mark Kelly's lack of action is allowing massive quantities of drugs, human traffickers, gangs and criminals to illegally enter our country in record numbers. This dereliction of duty hurts American workers, families, and endangers our communities.
I will urgently push to secure the border and stop all illegal immigration immediately. I support requiring all businesses to use E-Verify – just as my company does – and will push to immediately complete the wall and stop sanctuary cities. I will also support increased prosecution and extradition of criminal gang members and drug or human traffickers who are living in this country illegally.
National Defense
As an Army Officer veteran, I recognize the challenges our military men and women face. We must ensure they are trained and equipped to combat threats from our foreign enemies, especially the Communist Chinese Party. Congress should stay out of micro-managing the military and stop the social experiments with our fighting forces. In the Senate, I will vote to focus our military might on protecting the homeland, putting a stop to the endless foreign wars that have cost us far too many American lives and tax dollars.
End Politics As Usual
Too many politicians in Washington have their best interests in mind, not yours. They are bought and paid for by lobbyists, answer to special interests, and fail to deliver for the American taxpayer. The federal government must be focused and limited, not intrusive to American families, businesses, or places of worship.
As your Senator, I will fight for our Constitution and answer only to you, the People of Arizona. I will lead by example, donating my salary to Arizonans in need, refusing the government pension, and committing to serving no more than two terms in the U.S. Senate.
Government Spending
Washington does not have a revenue problem; it has a spending problem. While the American people balance their own budgets, politicians are using our national credit card to burden our children and grandchildren with trillions in debt.

In the Senate I will fight to refocus the national budget, prioritizing essential departments that keep American citizens safe, secure, and prosperous. I will support reevaluating government agency effectiveness, phasing out non-essential agencies, and making all government entities more accountable to the American taxpayer. I will sign the No New Taxes Pledge to oppose any new or higher tax on Americans.
Energy
American energy independence is essential to our national security and prosperity. I will focus on policies that protect American workers, safeguard our energy independence, and bring manufacturing back to the most environmentally responsible country on our planet – the United States of America.

From 20 years working in the coal and natural gas power industry, to founding one of our country's fastest-growing solar companies, I know what it takes to power America. Instead of pursuing socialists' Green New Deal, I will sponsor energy policy that benefits American workers, businesses, ratepayers, and our environment by prioritizing a low-cost blend of clean natural gas and solar.
Standing Up To China
Relying on China for our raw materials and manufacturing has become a national security issue. For decades, China has used unfair trade deals to steal intellectual property, damage our businesses, and steal American jobs. We can no longer allow China to take advantage of the United States and our workers. In the Senate, I will fight to level the international playing field for American workers and businesses by ensuring that goods coming into the U.S. are not made with cheap slave labor, unfettered environmental pollution, and unsafe working conditions.
Education
The power of a good education is the most valuable gift we can pass to the next generation. Teachers' union bosses and the Department of Education are failing our kids. Far too many children have had their education possibilities limited by their socioeconomic status. A family's zip code should not be the primary indicator of the quality of their child's education.
All children deserve a chance to have a bright future, and every parent deserves the right to choose the best educational environment for their child. In the Senate, I will sponsor a nationwide Right to School Choice to empower parents and give children from all backgrounds the opportunity to receive an excellent education.
Protecting the Constitution
I believe that America is a good and gracious country. I firmly believe in the ideals laid out by our Founding Fathers in the Declaration of Independence, and I've always taken my oath to Protect and Defend the Constitution very seriously. As your Senator I will support free speech, the 2nd Amendment, and our unalienable Right to Life.
About Jim Lamon
A Fortune 500 executive with more than 30 years' experience in the engineering and construction of large-scale power plants, Jim Lamon is the Founder and Chairman of DEPCOM Power, headquartered in Arizona.
Responsible for creating 1,600 jobs across the country, DEPCOM is one of the fastest-growing solar power companies in the U.S. and was ranked the fifth fastest-growing private company in the U.S. by Inc. 5000 in 2018. DEPCOM's corporate practices reflect Jim's deep commitment to serving the community, honoring the sacrifices of veterans, and supporting American workers.
Under Jim's leadership, DEPCOM donates ten percent (10%) of its net income to charities across our country, $7 million to date and growing to help Arizona's and America's less fortunate. Twenty percent (20%) of DEPCOM's staff served in the United States Military, four times the national average of those who have served.
Jim is a veteran himself, having served six years as an Army Officer, with three of those in Germany during the Cold War, where he saw the stark difference between American freedom and Communist oppression.
Jim's company is the industry leader in pursuing a "Made in America" policy, with seventy percent (70%) of company dollars spent staying in America. In its first eight years, DEPCOM has spent more than $3 billion on American steel, electrical cable, and construction workers.
Prior to founding DEPCOM, Jim worked for 20 years in the coal and gas-fired power plant industry. Jim knows what it takes to power America.Jim is actively involved in Arizona politics, supporting Republican candidates for public office and, most recently, committing $2 million to the AZ51 Voter Registration Project which is expanding voting opportunities by registering tens of thousands of new conservative voters in Arizona ahead of the 2022 midterms.
As a candidate for the United States Senate from the great State of Arizona, Jim Lamon is dedicated to putting America First, just as he has done as a business leader. He will take on China, fight back against rampant theft of technology, and work to level the playing field for our American manufacturers and workers. Jim will work to stop endless wars and deployments and refocus our military mission on China as our predominate adversary.
He will insist that jobs go to American citizens, by working to secure our borders, require E-Verify and deport illegal immigrants that endanger our communities. Jim will be a strong voice for a more streamlined federal government that spends less, has fewer regulations, and is mission-focused on delivering core essentials to the American taxpayer. Put America First, Secure the Border, Streamline the Federal Government: that is the Jim Lamon Plan.
Growing up on a farm, Jim learned to work hard and value Faith, Family, and Country. Jim's first paying job was shoveling manure at age 7, at $0.25 per stall. That experience has left him well-prepared to clean up Washington. He learned teamwork and dedication when he played football for the legendary coach Bear Bryant. Jim followed in the footsteps of his father, who was a construction engineer and a Command Sergeant Major in the United States Army Reserve. His mother ran the home while also working part-time.
Today, Jim is the father of two grown children and proud grandfather of two grandchildren. He is active in his Christian faith and philanthropy. He enjoys weight training, hiking and yoga.
Jim Lamon is not the candidate of special interests, and definitely not the favorite of Communist China. When elected to the Senate, Jim will only answer to the voters of Arizona. He will work for us, putting the taxpayer first. Jim will support balanced budgets, term limits, and spending reforms. He will fight to defend our constitutional rights, including the right to bear arms. He will donate his entire salary and unlike many lawmakers out to enrich themselves, he will not accept a government pension.